Apple TV Vs. Roku Vs. Chromecast Vs. NeoTV Vs. Bravia Smart Stick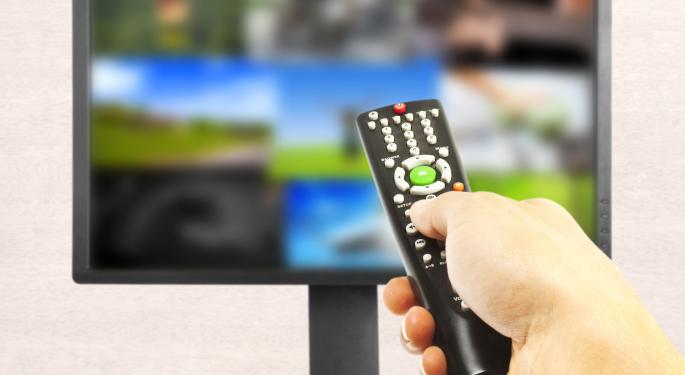 There are too many streaming devices on the market right now.
That's not to say that consumers shouldn't have choices. But does the world really need another set-top box for Netflix (NASDAQ: NFLX) subscribers?
Between Sony (NYSE: SNE), Apple (NASDAQ: AAPL), Netgear (NASDAQ: NTGR), Google, Roku and a farrago of others, consumers have plenty of options.
And if they don't like what's currently available, Amazon (NASDAQ: AMZN) might release its own set-top box later this fall.
In the meantime, consumers might be wondering if any of these streaming devices are worth their hard-earned cash. Benzinga put together a list of the latest available to find out.
NeoTV
Netgear offers a little-known series of set-top boxes -- NeoTV, NeoTV Pro and NeoTV Max -- that range from $50 to $70.
All three feature the same key capability: the ability to stream a wide array of channels.
The company claims that its boxes can stream "hundreds" of channels, but the app listing currently comes to roughly 100.
Even so, the lineup is fairly impressive. Most of the staples -- Hulu, Netflix, YouTube, CinemaNow and Vudu, to name a few -- are offered.
HBO Go and Showtime Go are not currently available, but users can tune in to behind-the-scene podcasts for both networks.
For those seeking lower-cost streaming, this seems like a solid option.
Apple TV
Apple's popular set-top box is rumored to be upgraded this October or November. It hasn't happened yet, however, leaving consumers with only the latest version (released in 2012) to choose from.
It is a pretty snazzy device, however, allowing users to access more than two dozen channels. Some of them are free, but the cream of the crop -- HBO Go -- can only be used with an accompanying subscription. And in order to subscribe, users must also have cable.
Unlike Roku, Comcast (NASDAQ: CMCSA) fully supports HBO Go on Apple TV (and on Xbox 360, for that matter).
Disney (NYSE: DIS) recently brought some new channels to Apple TV, allowing kids to enjoy a selection of on-demand entertainment.
Aside from the ill-fated Google TV, Apple TV is currently the only device that can stream Qello, an on-demand streaming service that offers full-length HD concert films and music documentaries.
Chromecast
Chromecast is by far the cheapest streaming video device released in 2013. But it also has the weakest lineup of all the streaming video devices.
Only five streaming video apps are currently available for Chromecast. The list includes Netflix and Hulu (the two consumers want most), but the device does not yet support HBO Go.
There is a third-party monthly service that is attempting to remedy this issue by delivering more channels, but what's the point in cutting the cord if you still have to pay a monthly fee?
Chromecast requires users to select videos with a smartphone or tablet. Since this is an Android device, Google did not make it easy to use Chromecast with an iOS handset.
That said, if consumers have an Android phone and they only want to stream Netflix and Hulu, Chromecast is a great buy.
Roku
The little streaming box that could is back with a handful of upgrades.
The company claims that its device -- Roku LT, Roku 1, Roku 2 and Roku 3 -- can stream more than 1,000 channels. HBO Go is included in that list, but as mentioned above, Comcast restricts its subscribers from taking advantage of the Roku app.
With prices ranging from $49 to $99, Roku attempts to offer a set-top box for everyone. It is also one of the few companies that sells a version with a USB port for hard drive extensions, a headphone jack and a motion-controlled remote for gaming.
Bravia Smart Stick
Little is known about Sony's newly announced Bravia Smart Stick.
Designed as the company's next Google TV device, the Bravia Smart Stick only works with Sony TVs. Hulu and other Bravia apps will be available even though they are not currently supported by the Google TV format.
Now that Chromecast is available, it seems unlikely that Google TV will survive much longer.
Right now, it does not appear that the $149 Bravia Smart Stick will go above and beyond Apple TV (which retails for $100) or Chromecast (which retails for $35) in any regard. This could make it the least popular in TV-connected streaming video devices.
Disclosure: At the time of this writing, Louis Bedigian had no position in the equities mentioned in this report.
Louis Bedigian is the Senior Tech Analyst and Features Writer of Benzinga. You can reach him at louis(at)benzingapro(dot)com. Follow him @LouisBedigianBZ
Posted-In: Apple Apple TV Bravia Smart Stick Chromecast Google TV HBO Go HuluTech Best of Benzinga
View Comments and Join the Discussion!