'We Just Move Quick': The Story Of Algomus, A Startup That's Streamlining Big Data With AI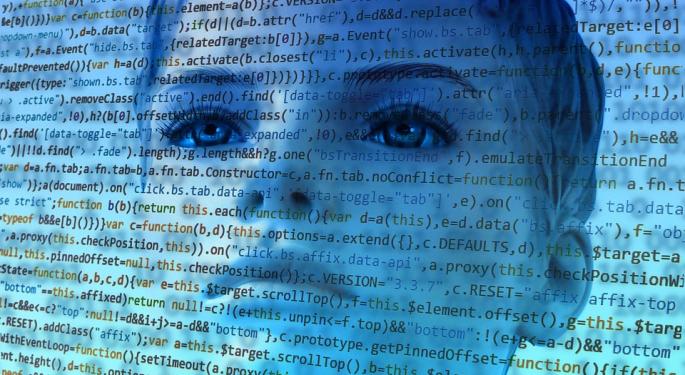 It's been less than a year since the startup Algomus launched its collaborative intelligence platform Algo, and the company has taken on clients ranging from Hollywood studios to appliance manufacturers, many of which are Wal-Mart Stores Inc (NYSE: WMT) suppliers.
The 2.0 version of Algo, a platform that merges artificial intelligence with human input, is being readied for a fourth-quarter launch, said Algomus CEO Amjad Hussain.
"We just move quick," he said.
Algomus is self-funded without venture capital money, its CEO said.
Hussain dismisses the notion that a tech startup needs to be located on the East or West Coast or near a major engineering school in order to be successful. Most of Algomus' 50 or so employees are located in a building the company owns in Troy, Michigan, about 20 miles north of Detroit. Algomus has a second office in Berkeley, California, and is opening a third in Los Angeles.
"You don't have to be in Palo Alto or Cambridge to do it. You can be in Troy, Michigan and do it," Hussain told Benzinga. "Michigan has amazing talent."
Algo: How It Works
Algo is built on the concept of people and machines working together, Hussain said during an interview at Algomus' Troy headquarters.
The notion that artificial intelligence and human beings can't work side by side is "flawed," the CEO said.
"You need an integrated workflow environment where machines can do what they are good at and humans can do what they are good at."
The Algo platform processes big data such as shipments, points of sale, returns, planograms and product attributes for clients.
Many of those tasks can be learned and automated, and Algo can learn to perform some "tedious tasks," Hussain said.
Algo uses a text narrative and generates data visualizations such as charts and dashboards for its clients.
"This is the story of the data," Hussain said. "I can see what the data looks like."
While Hussain declined to name any of Algomus' clients to Benzinga, a recent story in Small Business Trends highlighted Time Warner Inc (NYSE: TWX)'s Warner Bros. and Sony Corp (ADR) (NYSE: SNE)'s Sony Pictures Home Entertainment as two of them.
"Our customer churn to date is zero. We intend to keep it that way," Hussain said of Algomus' clients. The platform is sold on a monthly subscription basis.
Developers at Algomus release new features for Algo every week. As befits an AI-driven platform, some of the suggestions for software updates come from the software itself, Hussain said.
Users give Algo a virtual thumbs up or down to indicate whether the platform is understanding the context of the data at hand — the stickiest point for AI, Hussain said. "Contextual understanding is difficult even for humans."
Algo also recognizes silence, or a lack of objection, as a sign of progress.
The forthcoming Algo 2.0 will include "more personification [and] more of a human touch," Hussain said.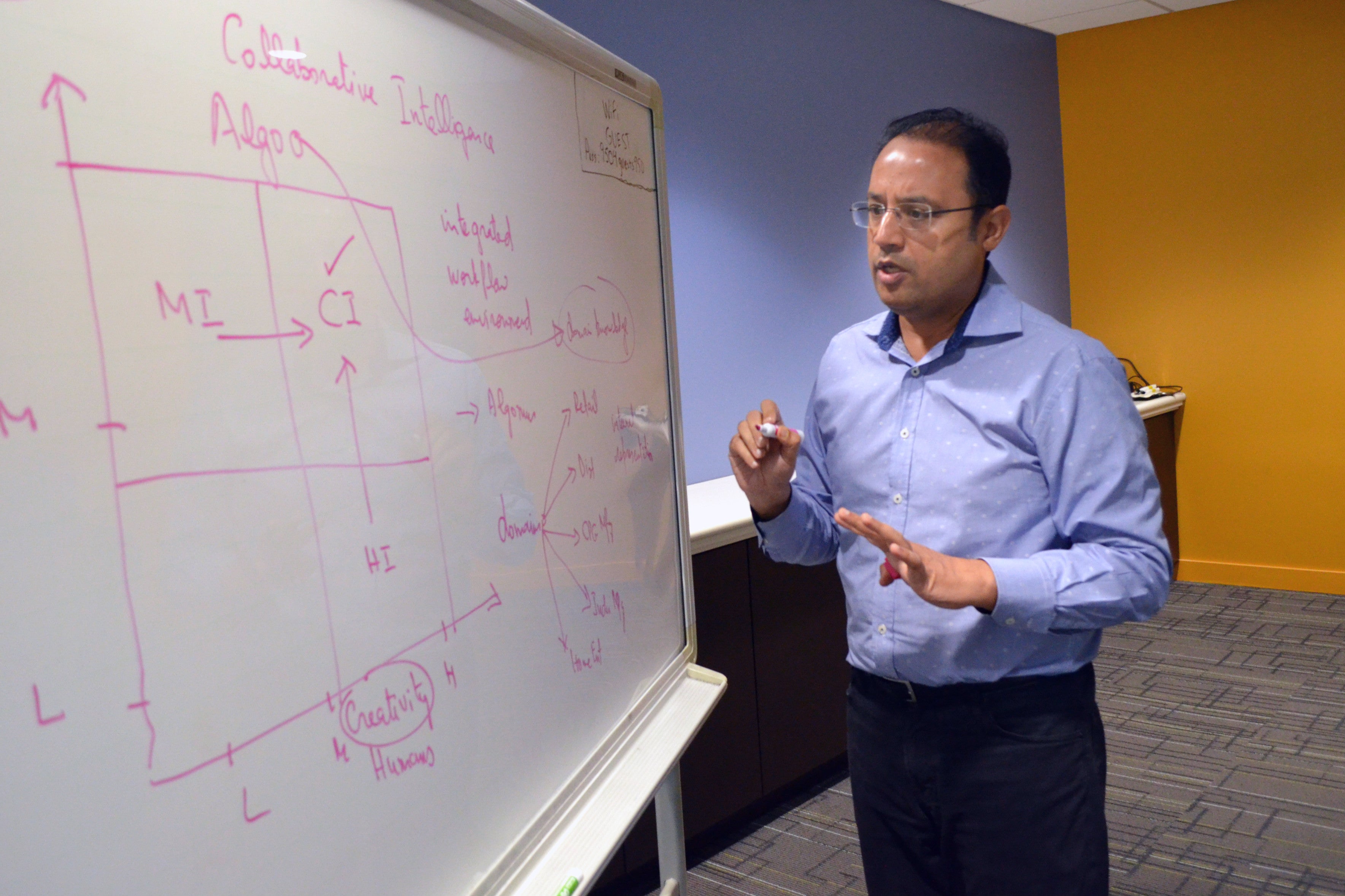 "You need an integrated workflow environment where machines can do what they are good at and humans can do what they are good at," says Algomus CEO Amjad Hussain. Photo by Dustin Blitchok.
A Student Of AI — Before It Was Cool
Hussain, 48, was born in Pakistan to two schoolteachers and came to Michigan in 1995. He studied computer science at the University of Manchester Institute of Science and Technology in the U.K. and then MIT.
Beginning in the late 1980s, Hussain became fascinated with artificial intelligence and neural networks.
"It was mostly theory as to what these models could do at the time," he said.
After working in software engineering on business intelligence technologies, Hussain struck out on his own in 2008 and started his own software technology companies.
The success of one of those companies, Algomus, comes after "failing a few times and learning from it [and] being successful a few times and being humble about it," he told Benzinga.
AI Fears 'Grossly Misplaced'
Business leaders as prominent as Tesla Inc (NASDAQ: TSLA) CEO Elon Musk have called for proactive regulations on artificial intelligence development.
"AI is a fundamental risk to the existence of human civilization, in a way that car accidents, airplane crashes, faulty drugs or bad food were not," Musk said in July.
Concerns about AI are "grossly misplaced," said Algomus' Hussain, adding that collaborative intelligence platforms will create "tremendous net new value" in the economy in the next 10-15 years.
The CEO said he supports "openness and transparency" in AI development.
Instead of a "Terminator"-esque scenario with self-aware machines, the true risks with AI lie in how it's used by humans, as well as "governments and non-state actors with funny agendas as a cyberwarfare tool," Hussain told Benzinga.
"The real danger is the technology in the wrong human hands."
Related Links:
What Is Machine Learning? Deep Learning? Here's Your AI Glossary
Amazon's One Big Weakness Represents A Huge Opportunity For Walmart
Posted-In: Algo Algomus Sony Time WarnerStartups Exclusives Tech Interview Best of Benzinga
View Comments and Join the Discussion!