Blue Chip Companies Leading On Climate Change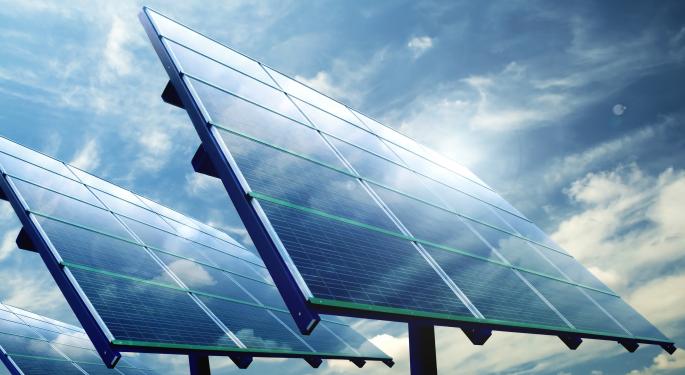 We are all stakeholders when it comes to the environment, pollution and climate change -- but arguably protecting the environment can be expensive. However, investors can still profit from companies actively striving to reduce greenhouse gases and preserve natural resources.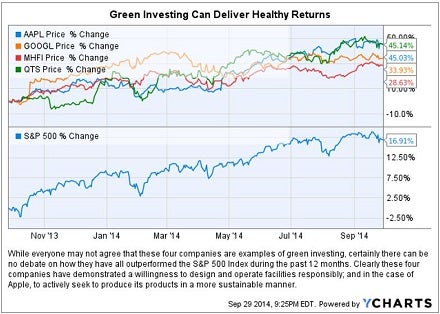 Apple's Leadership
Back on September 22, Fortune reported on Apple Inc. (NASDAQ: APPL) CEO Tim Cook speaking at Climate Week NYC, a day prior to a major U.N. summit on climate change. Cook challenged corporations to do more to illustrate the environmental impact of their products and facilities.
Related Link: The Blackstone Group-Vivint Solar IPO: A Potential Green Triple Play?
"Companies have to communicate to consumers about what they are selling and they have to do it in a way that incorporates the whole of their footprint not just one piece of it that they are looking good," Cook said. "If you have enough companies that begin to do this, then consumers will vote with their dollars."
Cook discussed Apple initiatives, including releasing an environmental checklist with each new product that shows they are free of toxins, recyclable and energy efficient. Cook noted that as part of their efforts, companies had to audit members of their supply chains.
Apple also set a goal of powering its data centers with 100-percent renewables, as well as building the country's largest private solar farm.
Google Green Data Center Design
The breadth and scale of Google Inc. (NASDAQ: GOOG), (NASDAQ: GOOGL) investment in green initiatives is readily available on the company website:
Data centers that are 50 percent more energy efficient than industry average.
Renewable energy and carbon offsets sufficient to reduce Google's carbon footprint to zero. Google has been carbon neutral since 2007.
Gmail being a cloud hosted email service is 80 times more energy-efficient than a typical small business hosting email on its own servers.
More than $1 billion invested so far in renewable energy initiatives such as wind farms and roof-top solar generation –- enough to power approximately 500,000 homes.
Additionally, Google's 2.5 million square feet of campuses are LEED certified. The list can go on and on, as energy awareness appears to be an integral part of Google's corporate culture.
Google: "Don't Be Evil"
Nonetheless the company's efforts have faced some criticism. On September 26, a Wall Street Journal editorial entitled "Google Kills Birds," prompted Google Executive Chairman Eric Schmidt to reply in a letter posted on the company's website on September 29. Here is an excerpt:
"We have committed $1.5 billion around the world to help bring more renewable energy sources onto the grid, investments that have the capacity to generate 2.5 GW—far more energy than we consume as a company.
Much of corporate America is buying renewable energy in some form or another, not just to be sustainable, but because it makes business sense, helping companies diversify their power supply, hedge against fuel risks, and support innovation in an increasingly cost-competitive way.
The Wall Street Journal refers to our 'trendy appeals to green virtue.' Environmental consciousness is not trendy. It's an absolute imperative. And we're committed to doing our part to build the better world that this moment demands—and that future generations deserve."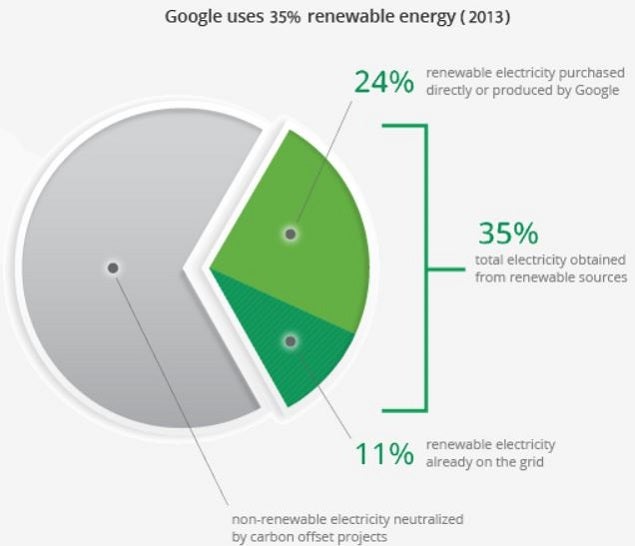 The evidence seems to support Schmidt's presentation of Google as investing and leading the way in sustainable practices to help minimize climate change.
Standard & Poor's Solar
McGraw Hill Financial Inc (NYSE: MHFI) may not be a household name. However, the financial services brands that are under its umbrella are, including Standard & Poor's Rating Agency, S&P Capital IQ, as well as the Dow Jones S&P Indices.
After the bell on July 2, 2014, data center REIT QTS Realty Trust Inc. (NYSE: QTS) announced that they had entered into a sale-leaseback arrangement with McGraw Hill whereby QTS would own and operate an existing 560,000 square foot, 12 megawatt facility containing 58,000 SF of raised floor, located on a 194 acre campus in New Jersey.
The property was under-utilized by McGraw Hill, as there is the ability to add another 100,000 square feet of raised floor and 20 megawatts of power. An existing 50-acre, 14.1 megawatt solar field is adjacent to this facility, one of the largest privately owned solar facilities in the western hemisphere. This solar field is large enough to power over 14,000 homes in the region.
Green From Being Green
Both consumers and investors are in a position to vote with their dollars. A thoughtfully constructed portfolio -- whether it is intended to fund college education or retirement years -- can provide attractive returns while supporting sustainable initiatives for the planet.
Posted-In: Apple Eric Schmidt Google McGraw Hill FinancialREIT Tech General Real Estate Best of Benzinga
View Comments and Join the Discussion!