Zuckerberg Delivers Powerful Message Of Purpose At Harvard Commencement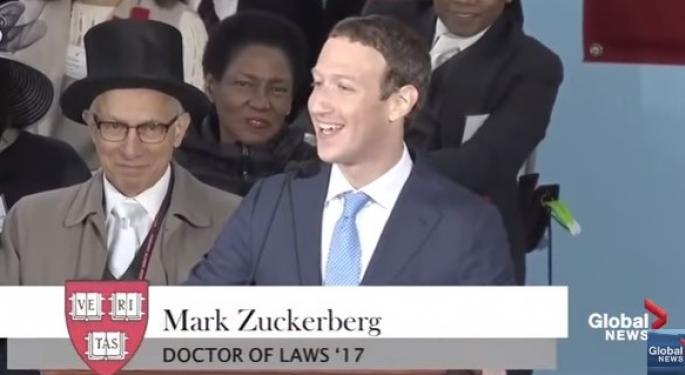 For Harvard, it's commencement day.
In the pouring rain, Facebook, Inc. (NASDAQ: FB) founder Mark Zuckerberg delivered the Class of 2017 commencement address. It was a speech focused on the importance of finding a sense of purpose in a world that so desperately needs one.
Highlights From The Address
The address started off in a joking manner as he told the graduates, "You accomplished something I never could. If I get through this speech, it will be the first time I ever finished something at Harvard."
The crowd laughed as Zuckerberg recalled his brief stint at the school, but then he got serious as he dove into his key lesson. "Finding your purpose isn't enough. The challenge from our generation is creating a world where everyone has a sense of purpose. A purpose is what creates true happiness," said Zuckerberg.
He outlined his solution into three key sections:
The Importance Of Taking On Big Meaningful Projects Together
Zuckerberg described how one of the most important ideas for students is just to get things started. We live in a world that is afraid of making mistakes, but he stressed, "That can't stop us from getting started."
If the world works together and seeks to accomplish its goals — citing climate change and curing diseases as examples — everyone can find sense of purpose, he said.
'Redefining Our Idea Of Equality, So Everyone Has The Freedom To Pursue Their Purpose'
The Facebook co-founder described how everyone today is extremely entrepreneurial and that the world has so much potential to create progress.
He pointed out how many individuals are unable to pursue their dreams because they have no cushion to fall back on. Zuckerberg admitted how he would not be here without a little luck by pointing out he was born into a financially stable family and was able to code instead of worrying about being homeless.
But, this need to be fortunate might be what is preventing the millennial generation from finding its purpose, according to Zuckerberg. He pointed out the importance of ideas like Universal Basic Income, so everyone has a chance to pursue their dreams without feeling like they have nothing to fall back on.
He concluded this point by stressing, "We can all make time to give someone a hand. Let's give everyone a hand to pursue their purpose because when we give one person a chance to pursue their dreams, we are all better off [because of] it."
Building A Global Community
Zuckerberg referred to this as a global community.
He said students need to start building local communities right now, whether that is through sports teams or acapella groups. He used his story as an example by saying he was "a student in a dorm, connecting one student at a time until one day hoping someone could connect everyone in the world."
This community ultimately will help the world find its purpose, according to Zuckerberg. He concluded by citing the prayer, "May the source of strength, who's blessed the ones before us, help us find the courage to make our lives a blessing." Zuckerberg hopes everyone in the world finds that courage to make their lives a blessing.
The full commencement address is available below:
Related Links:
How The Top 15 Smartphone Apps Have Changed Over The Last Few Years
What Goes Into Facebook's Massive Task To Limit Inappropriate Content? ______ Image Credit: Screengrab from Harvard Commencement, YouTube
Posted-In: News Education Entrepreneurship Events Economics Success Stories Personal Finance General Best of Benzinga
View Comments and Join the Discussion!