What Are The Key Differences Between The 3 Most Common Retirement Funds?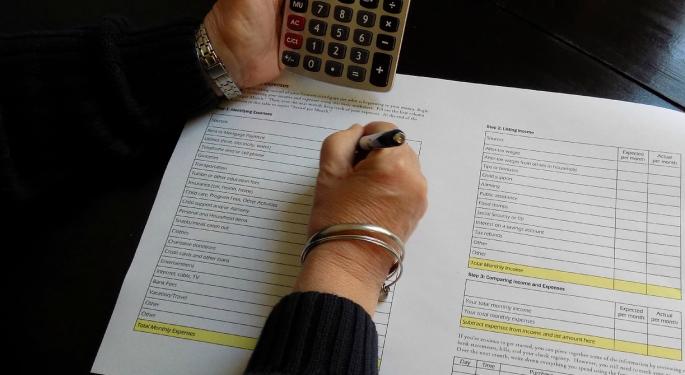 Securing enough for retirement is a huge concern, particularly as financial rhetoric intensifies as the days to November 8 dwindle into the single digits. While the candidates' jargon has broadly steered clear of retirement and the political atmosphere has laid heavy with non-platform-related matters, economic uncertainty fears are alarmingly high this election season.
Therefore, it's a great opportunity to review common retirement fund options in order to dispel misunderstandings. Take this time to sharpen your financial literacy so that regardless of what happens November 8, on November 9, your retirement goals are still on track.
The Big 3
When speaking about retirement, 401(K)s and IRAs are all the rage, but it is important to distinguish these from each other and further differentiate Roth IRAs from Traditional IRAs instead of simply coupling the two as a single entity juxtaposed against 401(K) options.
Simply speaking, traditional IRAs and Roth IRAs are frequently clumped into a broad category referred to as an IRA, which stands for "Individual Retirement Account," but the problem frequently encountered when not differentiating between "Traditional" and "Roth" is that Traditional IRAs are more akin to 401(K)s in many ways than they are to Roth IRAs.
Therefore, it's important to stop thinking of Traditional IRAs, Roth IRAs and just plain IRAs as interchangeable phrases — it's best to compartmentalize Traditional IRAs, 401(K)s and Roth IRAs in their own individual spaces.
401(k)s
401(k) funds are offered through employers, and therefore are only available to employees whose employers provide this option. Not all employers are required to offer 401(k)s, and not all employer-offered retirement funds are 401(k)s.
That being said, for those offered, there are typically three flavors of the fund: employer matching contributions, employer contributions via profit sharing and employee-elective salary deferrals.
401(K)s are considered tax-advantaged, as they are tax free until the account holder begins to withdraw funds.
Traditional IRAs
As alluded to before, Traditional IRAs are similar to 401(K)s. These funds are also tax deferred. The main difference is that these funds are not offered through your employer, therefore, the possibility of an employer match does not exist.
Roth IRAs
Roth IRAs are also not offered through employers. However, as opposed to 401(K)s and Traditional IRAs, contributions are taxed beforehand. Therefore, once the money is in your account, all distributions are tax-free at withdrawal.
Below is a chart that explains these key differences between Traditional and Roth IRAs, including other central points critical to retirement-funding decisions, such as when distributions can begin and contribution limits.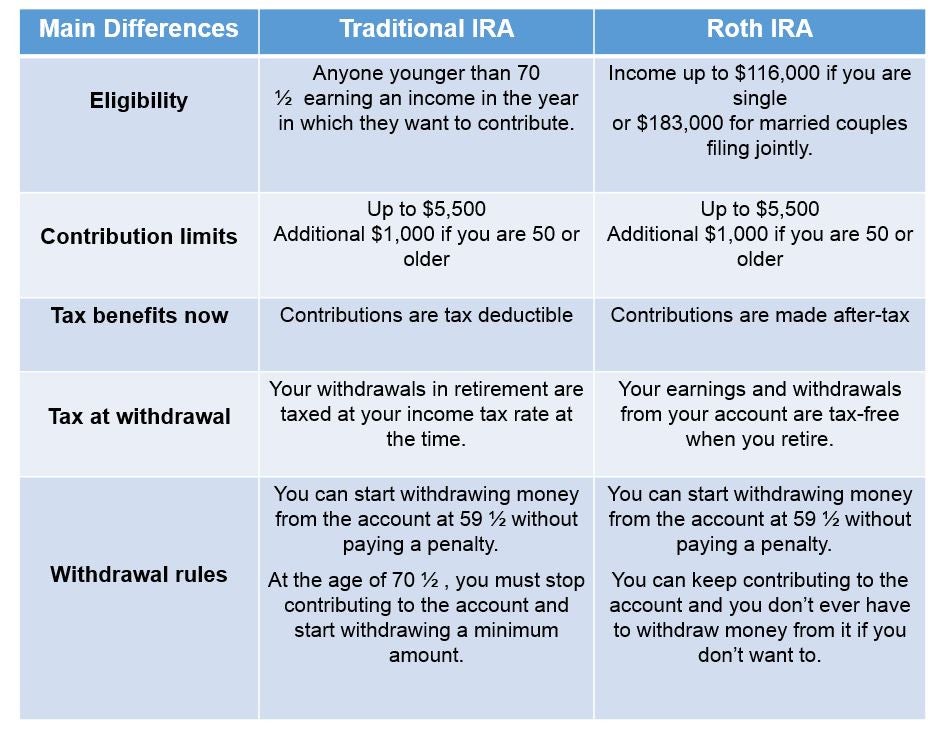 Remember, while these three are the most common retirement funds, they are not the only options available to secure your retirement. Talk to your financial advisor today about what options are available to you and which fit your budget and retirement goals the best. The decisions are inconsequential when placed against the decision to not plan at all. Don't become bogged down by not knowing which choice is the "best," reach out, talk options and act. Inaction is the only incorrect choice.
Editor Note, 11/11/2016: A previous version of this article included a chart with outdated information. Despite the disclaimer, "Subject to limitations and IRS guidelines. Due to various factors, including changing market conditions and/or applicable laws, the presented material(s) may no longer be reflective of current opinions or positions. You should not assume that the information contained in this chart serves as the receipt of, or as a substitute for, personalized investment advice from PWM. Please consult with your financial professional regarding such services" we apologize for this error.
View Comments and Join the Discussion!
Posted-In: 401(k) reitrement retirement funds Retirement Planning Roth IRA Traditional IRAPersonal Finance General Best of Benzinga