Crude Prices Grip On Market: Halliburton, Baker Hughes Pop And Drop After Earnings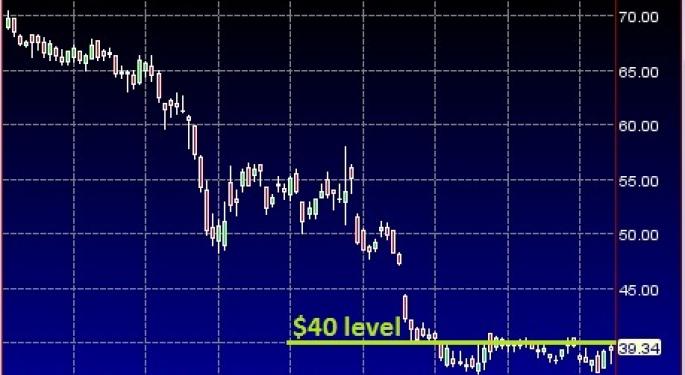 While the crude oil market has cratered from the $80.00 per barrel level in November to under $45.00 per barrel last week, it has taken down a host of oil-related issues along with it.
Beat Down In Crude, Beat Down In Halliburton
Over that same time period, Halliburton Company (NYSE: HAL) shares declined from the $50.00 level to $37.21 on December 16. That low represents a 50 percent haircut from its all-time high ($74.33) made in July 2014. Crude oil futures topped in June 2014 and the last time it was over $100.00 per barrel was in July, coinciding with the Halliburton's all-time high.
Related Link: Can KB Home Rebound?
Merger During Turmoil
Along the way, Halliburton made an acquisition of Baker Hughes Incorporated (NYSE: BHI). When word hit the Street on November 13 about the acquisition, both issues staged fierce rallies. On November 17, the deal was confirmed. At that time, the price of the deal was based on Halliburton's closing price as of November 12 ($53.23). That level correlated to $78.62 per share of Baker Hughes. It should be noted that both issues rallied off the merger news, but the rallies were short-lived. On that day, Baker Hughes peaked at $67.81 (well ahead of the proposed take-out level) and Halliburton peaked at $51.78 in that same session.
Since the Baker Hughes price was based on the November 12 closing price ($53.23), it makes sense it would not reach the much-higher agreed upon takeover price. Large shareholders of both issues used the deal to exit both issues. After the November 17 announcement, both issues held steady for a week, but then collapsed along with the crude oil futures prices.
Sympathy Rally With Rebound In Crude
As crude oil prices staged a rally off its January 13 low ($44.68), Halliburton and Baker Hughes made sympathy moves that were not nearly as impressive. Halliburton, which matched its December 16 low ($37.21) reaching $37.27, rallied to end the week at $39.13. Baker Hughes shares staged a similar rally finding support at $53.48 and ended the week at $56.56.
Related Link: Will The Rally In Tekmira Pharmaceuticals Hold?
Earnings Beat Adds To The Rally In Pre-Market Trading
The rally in both issues appeared to have some follow through on Tuesday, as both companies posted better-than-expected earnings. Halliburton announced EPS of $1.19 vs. an estimated $1.14, but missed on revenue ($8.77 billion vs. $8.90 billion). Baker Hughes announced Q4 EPS of $1.44 vs. $1.07 and better-than-expected revenue of $6.6 billion vs. $6.47 billion).
After surging to $40.50 in pre-market trading after the release, Halliburton immediately backed off. The pre-market high for Halliburton coincided with its two highs from January 8 ($40.40) and January 9 ($40.49). During the regular session, Halliburton peaked at $40.00 and declined to $38.12 before rebounding to $39.00 level. Baker Hughes mirrored the move, reaching $58.20 in the premarket and only reaching $57.50 during the regular session before declining to $55.08. Its rebound took it back above $56.00.
Posted-In: Crude OilTechnicals Movers & Shakers Intraday Update Trading Ideas General
View Comments and Join the Discussion!