#PreMarket Primer: Thursday, October 30: Fed Exits The Markets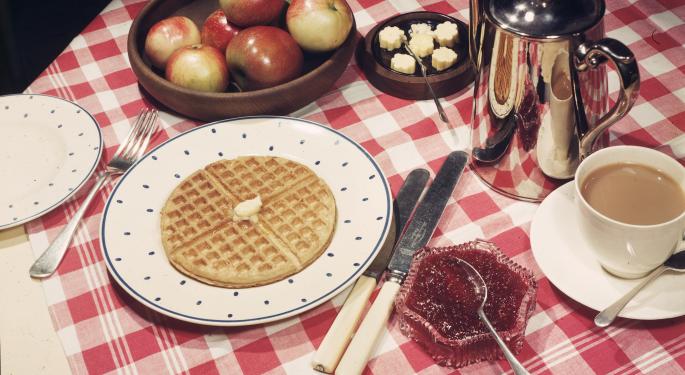 The U.S. Federal Reserve announced the end of its quantitative easing program at the close of its two-day meeting on Wednesday.
The bank withdrew the final $15 billion worth of asset purchases this month, taking the U.S. economy one step closer to standing on its own.
The next big question is when the bank plans to increase interest rates, which the bank addressed in its forward guidance, saying that it plans to maintain low interest rates for a "considerable period."
Many are speculating that the bank will raise rates in mid-2015 as concerns about weak inflation and outside pressure from struggling economies in Europe and China could put pressure on the U.S. economy in the near term.
In other news around the markets:
NATO Sees Increased Activity In Russian Military Aircraft
NATO has seen a marked increase in Russian military aircraft activity this year, with the organization having intercepted more than 100 Russian planes, three times the level of activity seen in 2013. This week, Russia's military conducted aerial maneuvers in international airspace around Europe, prompting NATO to send up its own jets and underscoring the growing tension between Russia and the West. Although the flights didn't violate international regulations, NATO has said they could have endangered civilian flights in the area.
Islamic Militants Attempt To Deter Kurdish Reinforcements
As Iraqi Kurdish fighters made their way toward Kobani, a town on Syria's border with Turkey, Islamic State militants prepared for their arrival by cutting off some of the city's crossings and pushing to gain better positions. On Thursday, Kobani officials reported heavy shelling as ISIS fighters pushed closer to Turkey's border in an effort to make progress before reinforcements arrived.
Nurse Placed Under Quarantine Plans Court Appeal
Kaci Hickox, a nurse who has been forced into mandatory quarantine after treating Ebola patients in West Africa, has said she will go to court on Thursday if the quarantine restrictions have not been lifted. Hickox and her lawyer say the mandatory quarantines being enforced in New York and New Jersey are a violation of her civil rights.
Russian Officials Demand Upfront Payment To Supply Gas For Ukraine
As the winter approaches, Ukraine is working to come to an agreement with Russia's Gazprom in order to unblock the nation's supplies. As of Thursday, no resolution had been reached as Russian officials are demanding that the European Union pay for Kiev's energy needs upfront. Without a secure payment plan in place, Gazprom has said it is unwilling to begin sending Ukraine's gas supplies. See a visual of the situation in the Eastern regions of Ukraine here.
Asian Markets
Asian markets were mixed; the NIKKEI was up 0.67 percent and the Shanghai composite gained 0.75 percent, but the KOSPI lost 0.11 percent, the Shenzhen composite fell 0.01 percent and the Hang Seng index was down 0.49 percent.
European Markets
European markets were mostly higher with the exception of the FTSE and the IBEX, which lost 0.05 percent and 0.04 percent, respectively. The DAX rose 0.48 percent, the CAC 40 was up 0.79 percent and the STOXX 600 was up 0.44 percent.
Energy futures were lower; Brent futures lost 0.70 percent and WTI futures were down 0.80 percent. Gold and silver lost 1.80 percent and 2.46 percent, respectively, while industrial metals were mostly higher with the exception of copper, which lost 0.81 percent. Aluminum was down 1.70 percent, zinc lost 1.73 percent and tin was down 1.26 percent.
The dollar gained momentum on Thursday after the Fed withdrew the last of its asset purchases. The greenback gained 0.23 percent against the yen, 0.24 percent against the pound and 0.11 percent against the Australian dollar. The euro was moving in the opposite direction, down 0.53 percent against the dollar, 0.27 percent against the pound and 0.30 percent against the yen.
Earnings
Notable earnings released on Wednesday included:
Stocks moving in the #PreMarket included:
Notable earnings expected on Thursday include:
Economics
Notable economic releases expected on Thursday include British consumer confidence, the Japanese unemployment rate, Japanese CPI, German CPI, Germany's unemployment, Spanish GDP, Spanish CPI, U.S. initial and continuing jobless claims and U.S. GDP.
For a recap of Wednesday's market action, click here.
Tune in to Benzinga's #PreMarket info show with Howard Lindzon, Sean Udall & Harlan Pyan here.
Posted-In: Earnings News Commodities Forex Economics Pre-Market Outlook Markets Movers
View Comments and Join the Discussion!