#PreMarket Primer: Monday, October 6: Hewlett-Packard Company To Announce Plans For A Split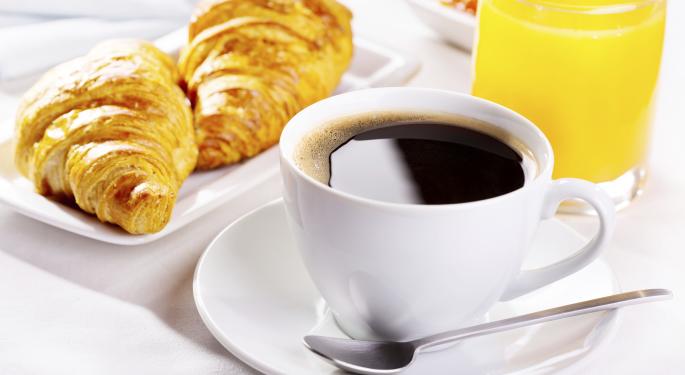 Hewlett-Packard Company (NYSE: HPQ) is reportedly planning to announce Monday its plans to break into two publicly traded companies.
According to The Wall Street Journal, the company will separate its corporate hardware and services business from its computer and printer division in an effort to increase profits.
Each new company is expected to bring in more than $50 billion annually and could spark a new round of deal-making within the tech sector.
In other news around the markets:
European Union Clashes With France On Budget
The European Union is facing a difficult battle with France over its 2015 budget as the nation's latest budget includes spending cuts that total just 0.2 percent of GDP, far below the 0.8 percent originally agreed to with the EU. The budget will likely be rejected by Brussels and sent back to France to be revised. However, Paris has already said that it isn't considering making any further cuts, setting the stage for a very public clash between the two.
Related Link: Brent Steady Near $92
Islamic State Maintains Power In Iraq And Syria
Despite ongoing airstrikes from the United States and its allies, the Islamic State has maintained its grip on Iraq and Syria. Although recent bombings have hit important targets including oil fields, command bases and other infrastructure, ISIS has continued on with its push by overtaking Kurdish towns near the Syrian border. The group has been able to react and adapt to the strikes by scattering and relocating, something which will prove difficult for the U.S.-led coalition to combat without troops on the ground.
Walt Disney Helps Struggling Euro Disney
On Monday, Euro Disney agreed to accept 1 billion euros worth of funding from The Walt Disney Company (NYSE: DIS). The deal will include a share sale and debt restructuring, and Walt Disney will launch a tender offer on Euro Disney shares. The Paris-based theme park has struggled recently as economic factors have weighed heavily on the number of visitors.
Protests In Hong Kong Placate
Hong Kong returned to business as usual on Monday as protests died down. Most schools reopened, and protest sites were significantly smaller as protesters began negotiations with the government. Though government officials have said they won't budge on the current election process, protesters look to be respecting the city's request that protesters clear out of the city's streets by Monday.
Asian Markets
Asian markets were mostly higher with the exception of the KOSPI, which lost 0.39 percent. The NIKKEI was up 1.16 percent, the Shenzhen composite rose 0.54 percent, the Hang Seng index gained 1.09 percent and the Shanghai composite was flat.
European Markets
European markets were up across the board; the FTSE rose 0.45 percent, the STOXX 600 gained 0.65 percent, the DAX was up 1.37 percent and the CAC 40 was up 0.71 percent.
Energy futures were higher, Brent futures gained 0.08 percent and WTI futures were up 0.22 percent. Gold was up 0.03 percent and silver gained 0.65 percent, and industrial metals were also higher. Copper gained 0.33 percent, aluminum was up 1.30 percent and zinc rose 0.58 percent.
The Euro was steady at $1.2542 and gained 0.33 percent against the pound, but lost 0.05 percent against the yen. The dollar lost some ground, down 0.30 percent against the yen, 0.02 percent against the pound and 0.58 percent against the Australian dollar.
Earnings
No notable earnings released on Friday.
Stocks moving in the #PreMarket included:
CareFusion Corporation (NYSE: CFN) was up 25.45 percent in premarket trade after gaining 1.83 percent on Friday.
Hewlett-Packard Company gained 6.05 percent in premarket trade as reports that the company plans to announce its' division later in the day circulated.
The Walt Disney Company was up 0.79 percent in premarket trade after rising 1.91 percent on Friday.
Micron Technology, Inc. (NASDAQ: MU) was down 0.71 percent in pre-market trade after choppy trading took the stock up 0.33 percent over the past week.
Notable earnings releases expected on Monday include:
IDT Corporation (NYSE: IDT) is expected to report EPS of $0.40 on revenue of $408.40 million, compared to last year's EPS of $0.13 on revenue of $411.13 million.
Team, Inc. (NYSE: TISI) is expected to report first quarter EPS of $0.34 on revenue of $194.55 million, compared to last year's EPS of $0.123 on revenue of $174.31 million.
Economics
Monday's economic calendar will be relatively thin with releases including German factory orders and eurozone investor confidence.
For a recap of Friday's market action, click here.
Tune into Benzinga's #PreMarket Prep show with Ryan Detrick, Brendan Moynihan & Malte Kaub here.
View Comments and Join the Discussion!
Posted-In: Hewlett-Packard Co. Walt Disney Co.Earnings News Commodities Forex Pre-Market Outlook Markets Best of Benzinga