#PreMarket Primer: Tuesday, September 30: Hong Kong Protests Continue Despite Efforts To Disperse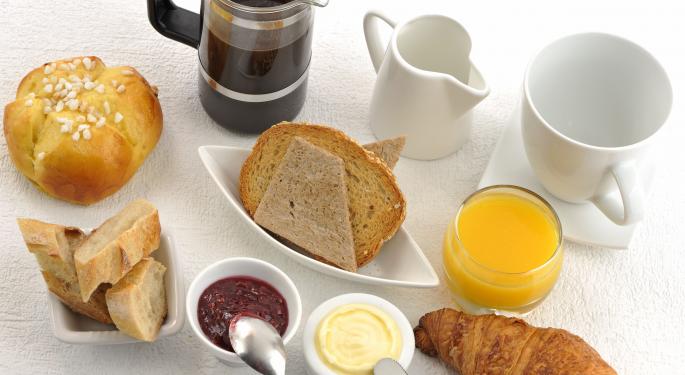 Protesters in Hong Kong extended the blockade on Tuesday and prepared for the return of riot police as Chinese National Day approached.
Over the weekend, police attempted to clear the protesters using pepper spray and tear gas before withdrawing on Monday.
The government asked protesters to disperse peacefully, but instead the tens of thousands of people began to stockpile supplies and create more barricades, indicating that their fight for full democracy was far from over.
In news around the markets:
Data Show Increased U.S. Spending
Consumer spending data out on Monday suggested that the U.S. economy is set to grow steadily in the third quarter. The report showed that U.S. household spending increased by 0.5 percent from July to August, and that spending was up 4.1 percent from last year's figures. The figures fall in line with most economists expectations for solid U.S. GDP growth in the third quarter.
Ukrainian Ceasefire Under Pressure
The ceasefire in Ukraine faced more challenges after the Ukrainian military announced that separatist rebels' fire in Donetsk killed seven soldiers. The fighting took place near the Donetsk airport, the only part of the city still held by nationalist forces, and served as a reminder that the Ukrainian conflict is not yet over.
Albertsons Supermarkets Suffer From Data Breach
AB Acquisition LLC announced that customer data from some of its Albertsons supermarkets may have been compromised due to a hacking incident. Now, investigators are looking into the issues for more detail about the depth of the attack, but the incident is believed to have taken place between late August and early September.
Airstrikes In Syria Take Out Targets, Civilians
The U.S.-led coalition continued its airstrikes in Syria on Monday, taking out several key targets, but also injuring and killing civilians. The strikes have caused ISIS groups to disperse in order to make themselves more difficult targets, but they have continued their push towards the Turkish border. On Sunday and Monday, shelling near the border prompted Turkey to send more tanks and armored vehicles to protect its border.
Asian Markets
Asian markets were mostly lower, the NIKKEI was down 0.84 percent, the KOSPI fell 0.32 percent and the Hang Seng index was down 1.28 percent. China's Shanghai composite and Shenzhen composite were exceptions, gaining 0.26 percent an 0.54 percent, respectively.
European Markets
Europe's markets were mostly higher with the exception of the FTSE, which fell 0.05 percent. The STOXX 600 was up 0.21 percent, the DAX rose 0.07 percent, the CAC 40 was up 0.45 percent and the MIB gained 0.50 percent.
Energy futures made modest gains; Brent futures rose 0.23 percent and WTI futures were up 0.08 percent. Gold and silver were up 0.16 percent and 0.38 percent, respectively, while industrial metals were mixed. Copper fell 0.07 percent and tin was down 0.61 percent, but aluminum rose 0.77 percent and zinc gained 1.06 percent.
The euro remained under pressure on Tuesday and traded at $1.268. The common currency also lost 0.12 percent against the yen and 0.18 percent against the pound. The dollar also lost to the pound, down 0.14 percent, and fell 0.37 percent against the Australian dollar but gained 0.05 percent against the yen.
Earnings
Notable earnings released on Monday included:
SYNNEX Corporation (NYSE: SNX) reported third quarter EPS of $1.59 on revenue of $3.54 billion, compared to last year's EPS of $1.24 on revenue of $2.73 billion.
Cintas Corporation (NASDAQ: CTAS) reported first quarter EPS of $0.78 on revenue of $1.10 billion, compared to last year's EPS of $0.63 on revenue of $1.12 billion.
Stocks moving in the #PreMarket included:
Chevron Corporation (NYSE: CVX) gained 1.20 percent in premarket trade after falling 2.38 percent over the past five days.
Apple Inc. (NASDAQ: AAPL) was up 0.24 percent in premarket trade after losing 0.64 percent on Monday.
McDonald's Corporation (NYSE: MCD) was down 0.16 percent in premarket trade after rising 1.61 percent on Monday.
Notable earnings expected on Tuesday include:
Walgreen Company (NYSE: WAG) is expected to report fourth quarter EPS of $0.74 on revenue of $19.02 billion, compared to last year's EPS of $0.73 on revenue of $27.94 billion.
CarMax, Inc (NYSE: KMX) is expected to report second quarter EPS of $0.67 on revenue of $3.57 billion, compared to last year's EPS of $0.62 on revenue of $3.25 billion.
Economics
European data will steal the spotlight again on Tuesday's economic calendar with releases including Italian CPI, British GDP, German unemployment data, French PPI and French consumer spending. Other notable releases will include Canadian GDP, U.S. consumer confidence and the U.S. Redbook.
For a recap of Monday's market action, click here.
Tune into Benzinga's #PreMarket Prep show with Sarah Potter, Nic Chahine & Dan Neiman here.
View Comments and Join the Discussion!
Posted-In: Earnings News Commodities Forex Economics Pre-Market Outlook Markets Movers