#PreMarket Primer: Thursday, September 25: US Airstrikes Do Little To Stem ISIS Advances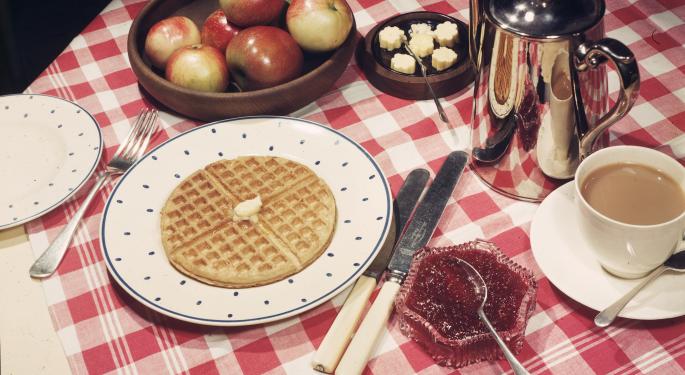 Despite a second day of airstrikes against Islamic militant groups in Syria on Wednesday, reports from Kurdish villages suggested that the groups were continuing to advance.
Overnight, ISIS-held oil refineries in eastern Syria were the targets for bombings as the U.S. and its allies attempted to cut off the extremist group's source of revenue.
However, reports of beheadings and execution-style killings in surrounding towns has highlighted the growing need for better support on the ground as the group's ability to move between Syria and Iraq has been a massive advantage.
In news around the markets:
Half Of Americans Support Sponsors Leaving NFL
A Reuters poll showed that more than 50 percent of Americans support big brands like Anheuser Busch Inbev SA (NYSE: BUD) and PepsiCo, Inc. (NYSE: PEP) dropping their sponsorship of the NFL in the wake of recent domestic abuse scandals. However, the poll also showed that 80 percent would continue to watch and attend the leagues games. So far, The Procter & Gamble Company (NYSE: PG) has been the only sponsor to cancel one of its promotions.
Apple Has Issues With New Hardware, Software Releases
Apple Inc. (NASDAQ: AAPL) is struggling with a public relations nightmare in the wake of the release of its highly anticipated iPhone 6. Complaints that the phone's aluminum body bends out of shape easily have flooded social media, and now the company is recalling its iOS 8 update for smartphones and tablets. The operating system update has caused several customers to experience connectivity problems, something Apple has promised to remedy over the next few days.
People's Bank Of China Chief Could Be Replaced
Amid an argument about whether or not the People's Bank of China should ease further, Chinese policy makers are considering replacing the central bank's chief. The Wall Street Journal reported that PBOC head Zhou Xiaochuan could be replaced in the coming days, something that would likely created a lot of uncertainty about the direction of China's economic policy and could further weigh on the nation's sputtering economy.
Housing Market Shows Promising Data
Data out on Wednesday showed that U.S. new-home sales had risen to their highest level since 2008 in August, a sign that the housing market may be on the mend. The figures showed an 18 percent rise in sales, the largest one-month increase in more than 20 years.
Asian Markets
Asian markets were mostly higher with the exception of the KOSPI and the Hang Seng index, which fell 0.08 percent and 0.51 percent, respectively. The NIKKEI gained 1.28 percent, the Shanghai composite was up 0.07 percent and the Shenzhen composite rose 0.06 percent.
European Markets
European markets began the day on a high note; the FTSE rose 0.15 percent, the STOXX 600 was up 0.32 percent, the DAX gained 0.35 percent, the CAC 40 was up 0.16 percent and the IBEX gained 0.40 percent.
Energy futures were lower; Brent futures were down 0.35 percent and WTI futures lost 0.23 percent. Gold and silver lost 0.81 percent and 1.59 percent, respectively, but industrial metals were mostly higher with the exception of copper, which fell 1.60 percent. Aluminum was up 0.41 percent, zinc gained 1.15 percent and tin rose 0.47 percent.
The dollar gained momentum on Thursday, up 0.24 percent against the yen, 0.17 percent against the pound and 0.88 percent against the Australian dollar. The euro moved in the opposite direction, falling 0.37 percent against the dollar, 0.19 percent against the pound and 0.14 percent against the yen.
Earnings
Notable earnings released on Wednesday included:
Stocks moving in the #PreMarket included:
Notable earnings expected on Thursday include:
Economics
U.S. data will dominate Thursday's economic calendar with releases including services PMI, consumer confidence, initial and continuing jobless claims and durable goods orders. Other notable economic releases around the globe will include Spanish PPI, Italian retail sales and Japanese CPI.
For a recap of Wednesday's market action, click here.
Tune in to Benzinga's #PreMarket Prep show with Kevin McPartland, Serge Berger & Harlan Pyan here.
Posted-In: Earnings News Commodities Forex Economics Pre-Market Outlook Markets Movers
View Comments and Join the Discussion!