#PreMarket Primer: Tuesday, September 16: World's Largest Brewers Could Join Forces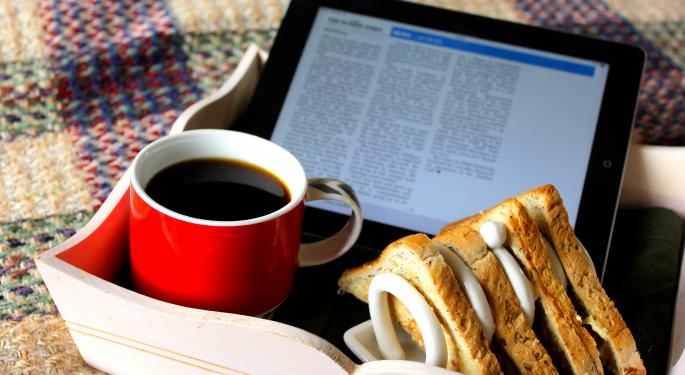 Anheuser Busch Inbev SA (NYSE: BUD) is looking to finance a near $122 billion takeover bid for rival SABMiller plc (LON: SAB), something that would bring the world's two largest brewers together.
Reuters reported that although Anheuser Busch hasn't formally begun negotiations with SABMiller, the company is working together with banks in order to line up financing for the bid.
The rumors that the two are considering a merger were reignited this week after SABMiller made an offer to buy Heineken over the weekend, which was later rejected.
In other news around the markets:
Although Microsoft (NASDAQ: MSFT) spent $2.5 billion to acquire Mojang AB, the company behind the popular "Minecraft" video game, the game won't come with the game's creator, Markus Persson. Persson and Mojang's two other founders have elected to leave the company in order to work on different projects, saying that the game had become "too big" to be responsible for. Now, Microsoft is left with the difficult task of continuing the game's success without alienating fans who believe its sale to a big corporation will negatively impact the user experience.
The fragile ceasefire agreement in Ukraine was violated on Monday, leaving six civilians dead and 15 wounded. Monday's violence marked one of the conflict's bloodiest days and served as a reminder that the problems in Ukraine are far from over.
On Monday, U.S. officials warned Syrian President Bashar al-Assad that his military would face consequences if the planned airstrikes in Syria are interrupted. President Barack Obama has authorized airstrikes in both Iraq and Syria in an effort to combat the growing threat from extremist Islamic militants. If Assad's military makes any move to threaten U.S. operations or interfere with airstrikes, it will face retaliation.
Boeing (NYSE: BA) looks likely to win a multibillion dollar contract with NASA that will allow the company to create a replacement for NASA's space shuttle fleet. Boeing has been competing against SpaceX, a newer company that had, until now, been considered the favorite for the contract. So far, Boeing's proposal for a capsule-like space taxi is the least risky, and can be created and implemented within the next three years.
Asian Markets
Asian markets were lower with the exception of the KOSPI, which rose 0.35 percent. The NIKKEI was down 0.23 percent, the Shanghai composite lost 1.80 percent, the Shenzhen composite fell 3.07 percent and the Hang Seng index was down 0.91 percent.
European Markets
Europe's markets were down across the board: The FTSE was down 0.64 percent, the DAX lost 0.38 percent, the STOXX 600 was down 0.63 percent and the CAC 40 fell 0.47 percent.
Energy futures were quiet on Tuesday morning; Brent futures rose 0.06 percent, and WTI futures lost 0.04 percent. Gold and silver were up 0.33 percent and 0.75 percent, respectively, while industrial metals were mostly lower with the exception of copper, which rose 0.49 percent. Aluminum fell 1.87 percent, zinc lost 1.19 percent and tin was down 0.82 percent.
The euro was steady at $1.2961 and gained 0.25 percent against the pound, but lost 0.04 percent against the yen and 0.13 percent against the franc. The dollar gained ahead of the Federal Reserve meeting, up 0.26 percent against the pound and 0.06 percent against the Australian dollar, but down 0.10 percent against the yen.
Earnings
Notable earnings released on Monday included:
Analogic Corporation (NASDAQ: ALOG) reported fourth quarter EPS of $1.36 on revenue of $142 million, compared to last year's EPS of $1.53 on revenue of $166.18 million.
Student Transportation Inc. (NASDAQ: STB) reported fourth quarter EPS of $0.06 on revenue of $142.57 million, compared to last year's EPS of $0.08 on revenue of $122.28 million.
Stocks moving in the Premarket included:
Notable earnings expected on Tuesday include:
Adobe Systems Incorporated (NASDAQ: ADBE) is expected to report third quarter EPS of $0.26 on revenue of $1.01 billion, compared to last year's EPS of $0.32 on revenue of $995.12 million.
FactSet Research Systems, Inc. (NYSE: FDS) is expected to report fourth quarter EPS of $1.30 on revenue of $236.99 million, compared to last year's EPS of $1.20 on revenue of $219.33 million.
Economics
Notable economic releases expected on Tuesday include British PPI, British CPI, Germany's ZEW survey of economic sentiment, U.S. PPI and the U.S. redbook.
For a recap of Monday's market action, click here.
Tune into Benzinga's pre-market info show with Nic Chahine, JC Parets and Fr. Emmanuel Lemelson here.
View Comments and Join the Discussion!
Posted-In: Anheuser-Busch InBev BoeingEarnings News Futures Commodities Pre-Market Outlook Markets Best of Benzinga