#PreMarket Primer: Thursday, August 7: Russia Set To Release A List Of Banned Goods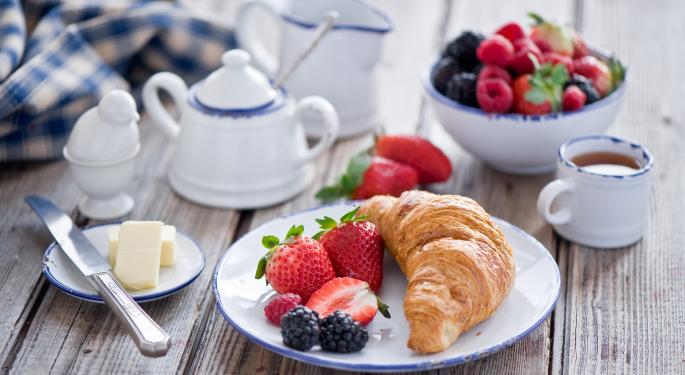 In response to tougher sanctions from the EU and the U.S., Russia has announced a ban on food products from both regions.
The list of items that will be shut out is expected to be released later on Thursday and is rumored to include fruit, vegetables and some meat products. Analysts believe the ban will affect nearly ten percent of Russia's food imports and be valued at around $4 billion.
In other news around the markets:
The Wall Street Journal reported that sources say the Justice Department is nearing a deal with Bank of America over allegations that the bank sold faulty mortgages and misled its customers. The deal is expected to cost Bank of America between $16 and $17 billion, a record amount for a settlement between the government and a company.
Sprint shares fell 19 percent on Wednesday after the company announced that it was giving up on trying to acquire T-Mobile, and instead will work on its own to catch up to rivals AT&T and Verizon. The company also announced the departure of CEO Dan Hesse, who will be replaced by Marcelo Claure, a Bolivian billionaire who is hoping to turn the company around.
Fighting in Northern Iraq intensified on Thursday as Islamic State militants extended their grip on the north by taking over three more towns. The militants have taken over Makhmur, Tilkaif and Al Kwair.
With less than 24 hours until the ceasefire between Hamas and Israel expires, mediators worked diligently with representatives from both sides to broker a longer lasting peace treaty. At the moment, Egyptian officials are pushing for an extension while the two sides continue to negotiate terms of a more sturdy peace contract.
Asian markets struggled, the Shanghai composite lost 1.34 percent, the Shenzhen composite was down 1.09 percent, the Hang Seng index fell 0.80 percent and the KOSPI was down 0.30 percent. Only the NIKKEI produced some gains, up 0.48 percent.
European Markets
European markets were mostly lower with the exception of the MIB, which gained 0.09 percent. The FTSE was down 0.34 percent, the STOXX 600 fell 0.21 percent, the CAC 40 lost 0.40 percent and the IBEX fell 0.67 percent.
Energy futures were lower as investors saw the market as over supplied. Brent futures were down 0.18 percent and WTI futures lost 0.19 percent. Gold lost 0.21 percent, but silver gained 0.05 percent, and industrial metals were also mixed. Copper and aluminum gained 0.17 percent and 0.55 percent respectively, while zinc lost 1.05 percent and tin was down 0.98 percent.
The euro was lower at $1.3373 with the European Central Bank meeting coming up later in the day. However the common currency gained 0.11 percent against the yen and 0.04 percent against the pound. The dollar was on the rise, gaining 0.18 percent against the yen, 0.08 percent against the pound and 0.92 percent against the Australian dollar.
Earnings
Notable earnings released on Wednesday included:
Stocks moving in the Premarket included:
Notable earnings releases expected on Thursday include:
Economics
The European Central Bank's policy meeting will be the star of Thursday's economic calendar with investors anxious for any clues about the bank's future outlook. Other notable economic releases will include U.S. consumer credit, U.S. consumer confidence, U.S. initial and continuing jobless claims, and the Bank of England's policy statement.
For a recap of Wednesday's market action, click here.
Tune into Benzinga's #PreMarket Prep today to hear Fari Hamzei, Angie Maguire & Justin Pulitzer by clicking here!
Posted-In: Earnings News Eurozone Futures Commodities Previews Forex Events
View Comments and Join the Discussion!