Earnings Expectations For The Week Of August 4: Media Giants, Retailers And More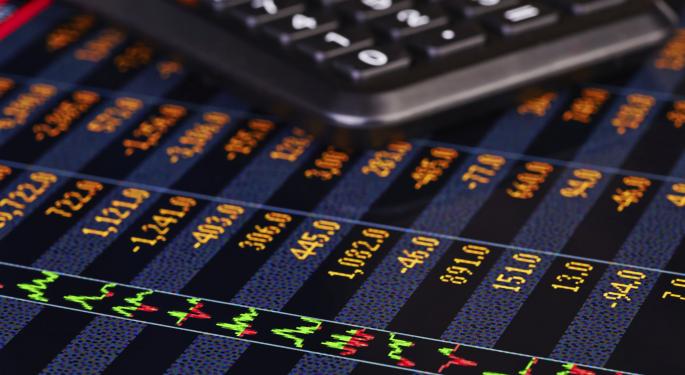 Much of the S&P 500 have already shared their second-quarter results, but earnings season rolls on this week.
Big media players will take their turns stepping into the spotlight this week. Tuesday morning look for results from Walt Disney (NYSE: DIS). Earnings per share are expected be by about 11 percent higher than a year ago to $1.16, while revenue is up about five percent to $12.16 billion.
Twenty-First Century Fox (NASDAQ: FOXA), Time Warner (NYSE: TWX) and Viacom (NASDAQ: VIAB) are scheduled to report Wednesday. Analysts are looking for earnings growth from all three to $0.39, $0.84 and $1.44 per share, respectively. However, shares are expected to have slipped more than 6 percent at Time Warner to $6.87 billion and less than 4 percent to $3.56 billion at Viacom.
See also: Spin-Offs: Why Do Companies Do It, And What They Might Mean To Your Portfolio
CBS (NYSE: CBS) chimes in after the markets close on Thursday, and the consensus forecast calls for per-share earnings of $0.73, which would be down from $0.76 EPS a year ago. Revenues missed estimates in the previous quarter, and it is expected to be lower for the full year a well.
Earnings growth is also expected when Cablevision and Dish Network report this week, but AOL, Liberty Media and News Corp. will offer up earnings declines, if analysts are correct.
Though the big-box retailers and department stores begin to report their earnings next week, retailers CVS Caremark (NYSE: CVS), Michael Kors (NYSE: KORS) and Office Depot (NYSE: ODP) will get a jump on them this week.
The forecast for drug store operator CVS calls for EPS of $1.10 and sales of $33.47 billion, or up almost 12 percent and about 7 percent, respectively, from a year ago. Fashion producer and retailer Michael Kors is expected to say that EPS were up more than 24 percent to $0.81 on revenue that rose almost a third to $851.66 million.
A net loss of $0.02 per share is predicted from Office Depot. However, that is a narrower loss than in the year-ago period, and revenue is expected to have surged more than 57 percent to $3.81 billion. Office Depot and CVS report early Tuesday, Michael Kors first thing Monday morning.
In addition, Groupon is expected to report an earnings decline but revenue growth when it shares its results on Tuesday.
Several independent oil and gas players are scheduled to share their results this week. The consensus forecasts call for:
Chesapeake Energy (NYSE: CHK): EPS down more than 13 percent to $0.44 and revenue up about 5 percent to $4.91 billion
Devon Energy (NYSE: DVN): EPS up more than 13 percent to $1.40 and revenue up around 20 percent to $3.71 billion
EOG Resources (NYSE: EOG): EPS up more than 23 percent to $1.37 and revenue up about 10 percent to $4.23 billion
Marathon Oil (NYSE: MRO): EPS up less than 11 percent to $0.75 and revenue down almost 13 percent to $3.40 billion
Pioneer Natural Resources (NYSE: PXD): EPS up about 14 percent to $1.28 and revenue down more than 18 percent to $964.05 million
Analysts also anticipate earnings growth from Duke Energy and Transocean, an earnings decline from First Solar, and net losses from miners Alpha Natural Resources and Molycorp.
See also: All Eyes On The S&P 500 ETF
Expectations are low for video game publishers Activision Blizzard (NASDAQ: ATVI) and Take-Two Interactive Software (NASDAQ: TTWO), which will be sharing results after Tuesday's closing bell, and for Zynga (NASDAQ: ZNGA), which reports late Thursday. Look for EPS of just $0.02 from Activision (down 75 percent) and a net loss of $0.26 per share from Take-Two (narrower than a year ago), if analysts are correct.
Zynga is expected to break even, compared to penny-per-share losses in the previous quarter and a year ago. It is the only one of the three expected to show revenue growth, up marginally to $191.21 million. Sales at Activision are expected to be about the same as last year's $608 million, while sales at Take-Two are expected to have dropped more than 6 percent to $135.34 million.
Other consumer goods makers predicted to show earnings gains this week include Keurig Green Mountain and Mondelez International, but analysts are looking for EPS to have slipped at Coach.
The week's other anticipated earnings gainers include Actavis, Archer Daniels Midland, Avis Budget, Cardinal Health, MGM Resorts, Mylan, NVIDIA, Orbitz Worldwide, Prudential Financial and Wendy's.
Keep up with all the latest breaking news and trading ideas by following us on Twitter.
View Comments and Join the Discussion!
Posted-In: Activision Blizzard CBS chesapeake energy cvs caremark devon energyEarnings Previews Trading Ideas Best of Benzinga