#PreMarket Primer: Friday, July 18: Tension Between Russia And The West At An All Time High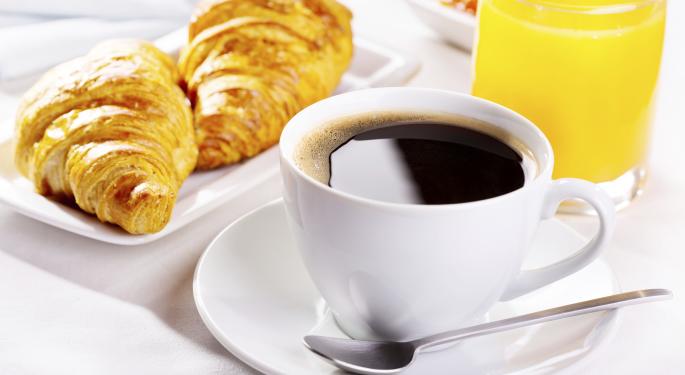 The pressure for international aid in resolving the ongoing crisis in Ukraine ramped up on Thursday when a Malaysian Airlines passenger jet was shot down near the border of Russia.
All 298 passengers and crew were killed in the worst tragedy the conflict has seen since it began. Though it is unclear who is responsible for the incident, most expect that an international investigation will show that pro-Russian separatists backed and trained by Moscow will be to blame.
Now, leaders in the EU and the U.S. will be working to determine an appropriate response as they will be under pressure to do more to end the ongoing power struggle in Ukraine.
In other news around the markets:
On Thursday, Google surprised markets by announcing business chief Nikesh Arora's decision to leave the company to become Vice Chairman of SoftBank Corp. Arora is not the first Google big wig to leave or take on a new role; the company's senior personnel have been changing quite a bit in recent months, something analysts say reflects Google's desire to grow and expand.
Reuters reported that Twitter is expected to unveil new metrics that will measure not only its user base, but the extent of its reach to an audience outside the company's platform. When the company announces its earnings on July 29, Twitter executives are hoping to change investors' perception of Twitter to something similar to YouTube, where information from the site is typically embedded and viewed on other websites.
On Thursday, FedEx Corp was charged with conspiring to distribute drugs which had been purchased illegally. The shipping company has been accused of facilitating the distribution of controlled substances and could face a minimum fine of $1.6 billion if found guilty.
In an effort to restructure the company following its Nokia acquisition, Microsoft CEO Satya Nadella is planning to cut about 14 percent of the company's workers. The cuts will be the largest to date and are expected to be concentrated in the tablet and handset divisions, which have grown significantly since Microsoft's purchase of Nokia's handset business earlier in the year.
Asian markets were mixed, the NIKKEI was down 1.01 percent, the KOSPI lost 0.07 percent and the Hang Seng index was down 0.28 percent. However the Shanghai composite gained 0.17 percent and the Shenzhen composite was up 0.40 percent.
European Markets
European markets were lower; the FTSE lost 0.63 percent, the STOXX 600 was down 0.51 percent, the DAX fell 0.70 percent and the IBEX was down 0.80 percent.
Energy futures were higher with the conflict in Ukraine worsening. Brent futures gained 0.32 percent and WTI futures were up 0.36 percent. Gold and silver lost 0.56 percent and 0.68 percent respectively, while industrial metals were mixed. Copper lost 0.70 percent and zinc was down 0.04 percent, but aluminum gained 0.96 percent and tin was up 0.11 percent.
The euro was steady at $1.3528 and gained 0.22 percent against the yen, but lost 0.06 percent against the pound. The dollar fell 0.06 percent against the pound, but gained 0.21 percent against the yen and 0.02 percent against the franc.
Earnings
Notable earnings released on Thursday included:
UnitedHealth Group (NYSE: UNH) reported second quarter EPS of $1.42 on revenue of $32.60 billion, compared to last year's EPS of $1.40 on revenue of $30.41 billion.
Novartis AG (NYSE: NVS) reported second quarter EPS of $1.34 on revenue of $14.60 billion, compared to last year's EPS of $1.28 on revenue of $14.49 billion.
Schlumberger (NYSE: SLB) reported second quarter EPS of $1.37 on revenue of $12.05 billion, compared to last year's EPS of $1.15 on revenue of $11.18 billion.
Morgan Stanley (NYSE: MS) reported second quarter EPS of $0.60 on revenue of $8.52 billion, compared to last year's EPS of $0.45 on revenue of $8.33 billion.
Google (NASDAQ: GOOG) reported second quarter EPS of $6.08 on revenue of $12.67 billion, compared to estimated EPS of $6.24 on revenue of $12.32 billion.
Stocks moving in the Premarket included:
Notable earnings releases expected on Friday include:
Economics
Friday's economic calendar will be relatively quiet with notable releases including U.S. consumer sentiment, U.S. CB leading index and Canadian CPI.
For a recap of Thursday's market action, click here.
Tune into Benzinga's #PreMarket Prep today to hear Peter Schiff, Nick Fenton & Larry Tabb by clicking here!
Posted-In: Earnings News Eurozone Commodities Previews Forex Events Global
View Comments and Join the Discussion!