#PreMarket Primer: Wednesday, July 9: Chinese CPI Cools In June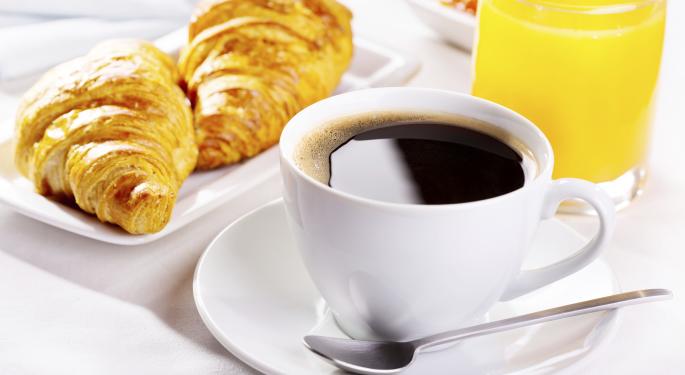 Consumer price index data from China came in slightly below expectations at 2.3 percent.
The figure gave the People's Bank of China more room to ease further if necessary and confirmed that the region's domestic demand has been muted.
The nation's economic data has been slowly improving over the past months as Beijing's mini-stimulus efforts take effect. Many believe the bank will consider further easing in the future if the region's data continues to show lackluster improvement.
In other news around the markets:
On Tuesday, Reuters reported that Citigroup (NYSE: C) may pay nearly $7 billion to settle a case with the US Department of Justice over whether or not the bank defrauded investors who purchased mortgage-securities during the period before the financial crisis. The settlement, expected to be paid mostly in cash, could be agreed to as early as next week.
AbbVie (NYSE: ABBV) increased its offer to acquire Shire PLC to over $51 billion on Tuesday, marking AbbVie's fourth attempt to make a deal with Shire. AbbVie is one of many US companies currently making a play for their European counterparts in order to reincorporate and benefit from a lower corporate tax rate. Shire has said its board will consider the offer and make an announcement when a decision is made.
The dispute between Amazon.com (NASDAQ: AMZN) and Hachette Book Group continued this week after Amazon offered to let authors keep all of the revenue from their e-book sales, an offer that Hachette quickly rebuffed. Amazon and Hachette have been involved in a public battle over e-book prices leaving Hachette authors caught in the middle.
On Wednesday, Libya's Sharara oilfield reopened after months of being shut down due to protests. Libya's National Oil Co. confirmed that the 340,000 barrels per day complex had resumed production, but that exports may not ramp up for another week as the nation's Zawiya refinery will receive the first oil flows.
Asian markets were down across the board; the NIKKEI was down 0.08 percent, the Shanghai composite lost 1.23 percent, the KOSPI was down 0.31 percent, the Shenzhen composite fell 1.64 percent and the Hang Seng index lost 1.55 percent.
European Markets
European markets were mostly lower with the exception of the MIB and the IBEX, which gained 0.24 percent and 0.22 percent respectively. The FTSE rose 0.63 percent, the STOXX 600 was up 0.37 percent, the DAX gained 0.14 percent and the CAC 40 was up 0.24 percent.
Energy futures were lower; Brent futures lost 0.28 percent and WTI futures were down 0.04 percent. Gold and silver were up 0.52 percent and 0.60 percent respectively and industrial metals were higher with the exception of tin, which lost 0.77 percent. Copper was up 0.29 percent, aluminum gained 0.83 percent and zinc rose 0.84 percent.
The euro was steady above $1.36 and gained 0.20 percent against the pound. The dollar gained 0.05 percent against the yen, but lost 0.14 percent against the pound and 0.06 percent against the Australian dollar.
Earnings
Notable earnings released on Tuesday included:
Alcoa (NYSE: AA) reported second quarter EPS of $0.18 on revenue of $5.85 billion, compared to last year's EPS of $0.07 on revenue of $5.85 billion.
Bob Evans Farms (NASDAQ: BOBE) reported fourth quarter EPS of $0.48, compared to last year's EPS of $0.71 on revenue of $333.91 million.
Stocks moving in the Premarket included:
Reynolds American (NSE: RAI) was up 1.94 percent in premarket trade after rising 1.91 percent over the past five days.
Alcoa (NYSE: AA) gained 1.68 percent in premarket trade after rising 0.75 percent on Tuesday
International Paper Co (NYSE: IP) fell 1.10 percent in premarket trade after losing 1.44 percent over the past five days.
Carnival Corp (NYSE: CCL) lost 0.86 percent in premarket trade after falling 1.43 percent on Tuesday.
Notable earnings releases expected on Wednesday include:
MSC Industrial Direct Company (NYSE: MSM) is expected to report third quarter EPS of $1.06 on revenue of $727.35 million, compared to last year's EPS of $1.05 on revenue of $636.92 million.
WD-40 Company (NASDAQ: WDFC) is expected to report third quarter EPS of $0.72 on revenue of $99.16 million, compared to last year's EPS of $0.66 on revenue of $93.10 million.
Economics
Notable economic releases expected on Wednesday include Chinese trade data, US oil inventory data, Australia's unemployment rate and the UK's house price balance.
For a recap of Tuesday's market action, click here.
Tune into Benzinga's #PreMarket Prep today to hear Rachel Shasha, Paul Bratby & Kevin Roose by clicking here!
View Comments and Join the Discussion!
Posted-In: Earnings News Eurozone Futures Commodities Previews Forex Events Best of Benzinga