#PreMarket Primer: Tuesday, July 8: Putin Silent Despite Separatist Pleas For Help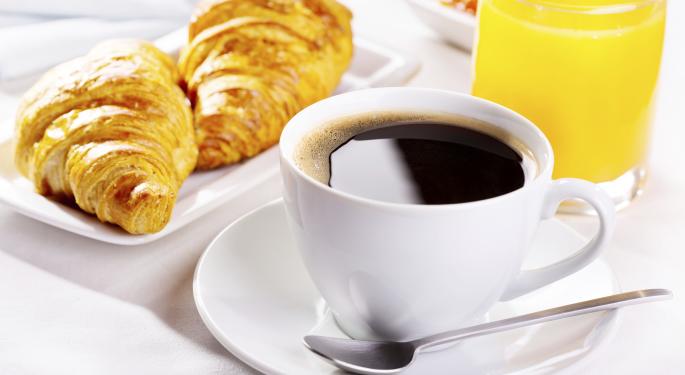 With around seven thousand troops at the ready on Ukraine's border, many are wondering why Russian President Vladimir Putin has been ignoring pro-Moscow separatists' pleas for help.
Ukrainian forces launched a renewed offensive over the weekend following a week long ceasefire and pushed the separatists out of Slovyansk on Saturday. Putin could be trying to avoid further sanctions from the West, which threaten to do lasting damage to Russia's economy.
Many believe that Moscow was solely interested in Crimea, which was annexed in March, leaving no reason to pursue the conflict any longer.
In other news around the markets:
On Monday, Standard General confirmed that it was working together with American Apparel (NYSE: APP) to help the company pay off a $10 million loan from Lion Capital and mend the division in its leadership. After American Apparel's founder Dov Charney was asked to leave the company last month, he made a deal with Standard General, effectively giving the hedge fund control of 43 percent of the company's shares.
Tension between the U.S. and Germany rose on Monday after news broke that the U.S. participated in a spying operation against Germany. According to The Wall Street Journal, U.S. officials confirmed that the CIA was receiving classified information from an official working for Germany's Federal Intelligence Service.
On Tuesday, Japan's current account data showed that the nation's trade deficit declined in May due to falling imports. Imports were down 0.4 percent while exports rose just two percent. The lack of domestic demand is something the government will have to keep an eye on in the coming months as export growth has been declining, leaving very little for the country to depend on.
Many are beginning to doubt Samsung Electronics (OTC: SSNLF) as a leader in the smartphone industry after the company posted worse than expected earnings and guidance on Tuesday. The company is plagued by rival Chinese companies that are offering cheaper phones and could suffer in the coming months as Apple is set to release the latest version of its iPhone.
Asian markets were mixed; the NIKKEI lost 0.42 percent and the Hang Seng index was down 0.10 percent, but the Shanghai composite was up 0.20 percent, the KOSPI gained 0.08 percent and the Shenzhen composite was up 0.70 percent.
European Markets
European markets were moderately lower; the FTSE was down 0.16 percent, the STOXX 600 fell 0.12 percent, the DAX lost 0.18 percent, the MIB was down 0.24 percent and the IBEX lost 0.15 percent.
Energy futures were lower; Brent futures lost 0.36 percent and WTI futures were down 0.14 percent. Gold and silver were up 0.20 percent and 0.34 percent respectively and industrial metals were higher with the exception of tin, which lost 0.44 percent. Copper was up 0.43 percent, aluminum gained 0.05 percent and zinc rose 1.16 percent.
Currency markets were quiet on Tuesday; the euro was trading at $1.3591 and lost 0.14 percent against the pound. The dollar fell 0.03 percent against the yen, 0.05 percent against the pound and 0.18 percent against the Australian dollar.
Earnings
No notable earnings were released on Monday
Stocks moving in the Premarket included:
Transocean Ltd (NYSE: RIG) was up 0.09 percent in premarket trade after falling 0.90 percent on Monday.
Verizon Communications (NYSE: VZ) was down 0.37 percent in premarket trade after rising 0.59 percent over the past week.
Notable earnings releases expected on Tuesday include:
Alcoa (NYSE: AA) is expected to report second quarter EPS of $0.12 on revenue of $5.66 billion, compared to last year's EPS of $0.07 on revenue of $5.85 billion.
Bob Evans Farms (NASDAQ: BOBE) is expected to report fourth quarter EPS of $0.42 on revenue of $333.31 million, compared to last year's EPS of $0.71 on revenue of $333.91 million.
Economics
Notable economic releases expected on Tuesday include US oil inventory data, the US Redbook, British industrial production, British manufacturing production, and the German trade balance.
For a recap of Monday's market action, click here.
Tune into Benzinga's #PreMarket Prep today to hear Ann Logue, Dan Zanger & David Grau by clicking here!
View Comments and Join the Discussion!
Posted-In: Earnings News Eurozone Futures Commodities Previews Forex Events Best of Benzinga