#PreMarket Primer: Monday, June 9: Tyson Foods Wins Bidding War For Hillshire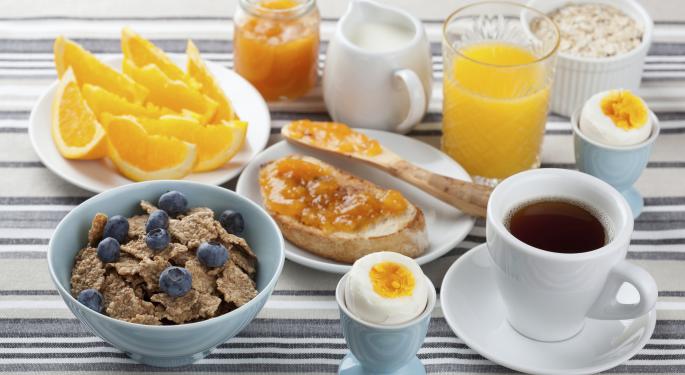 The bidding war between Tyson Foods and Pilgrim's Pride to acquire Hillshire Brands came to a head on Sunday after Tyson offered a final bid of $63 in cash per share.
The offer values Hillshire at about $7.7 billion and trumps Pilgrim's bid by almost $1 billion.
The deal will be the meat packing industry's largest ever and will help Tyson build its branded meat portfolio. The Wall Street Journal reported that the deal hadn't been finalized as of Sunday night, and that Hillshire likely won't be able to sign until it terminates its agreement to buy Pinnacle Foods.
In other news around the markets:
On Monday, China's Foreign Ministry spokeswoman Hua Chunying called a gathering of soldiers from Vietnam and the Philippines on Southwest Cay a "clumsy farce" and demanded that both nations stop causing trouble. The gathering highlighted the ongoing territorial dispute between several Asian nations and China over parts of the South China Sea.
On Monday, Abdel Fattah Al Sisi was sworn in as Egypt's new president less than a year after the military, which was under Sisi's command, ousted President Mohammed Morsi. Sisi has promised to bring democracy to the divided nation which has suffered through two revolutions over the past three years. However his inauguration ceremony didn't include any Islamists or liberals, a telling sign that the nation has a long road ahead.
Japanese first quarter GDP was revised up to 6.7 percent from initial estimates of 5.9 percent. The new figure was adjusted to reflect much higher capital spending than was originally estimated and marks the nation's sixth consecutive quarterly expansion.
Improving global demand helped Chinese exports gain momentum in May, but imports struggled, signaling weak domestic demand. Exports increased by seven percent annually, a marked improvement from April's 0.9 percent rise and far above expectations for a 6.6 percent increase. However, imports were down 1.6 percent. Most analysts don't expect that the nation's trade data will affect Beijing's policy stance although the falling imports will likely put pressure on the government to continue to support the nation's growth.
Asian markets were mostly higher with the exception of the KOSPI and the Shenzhen composite, which lost 0.27 percent and 1.18 percent respectively. The NIKKEI was up 0.21 percent, the Shanghai composite gained 0.03 percent and the Hang Seng index was up 0.73 percent.
European Markets
European markets improved; the FTSE rose 0.26 percent, the STOXX 600 gained 0.19 percent, the MIB was up 0.13 percent and the DAX gained 0.10 percent.
Energy futures began the week on a high; both Brent and WTI futures were up 0.50 percent. Gold and silver were also higher, up 0.21 percent and 0.60 percent respectively, but industrial metals were mixed. Copper lost 0.92 percent and tin was down 0.22 percent, but aluminum gained 1.57 percent and Zinc rose 0.77 percent.
Currency markets were quiet on Monday morning; the euro was steady at $1.3634 and lost 0.12 percent against the pound and 0.10 percent against the yen. The dollar was also moderately lower against the yen, down 0.03 percent. The greenback also fell 0.05 percent against the pound and 0.30 percent against the Australian dollar.
Earnings
Notable earnings released on Friday included:
Jos. A. Bank Clothiers (NASDAQ: JOSB) reported first quarter EPS of $0.32, compared to last year's EPS of $0.40 on revenue of $196.06 million.
Stocks moving in the Premarket included:
Carnival Corp (NYSE: CCL) gained 1.12 percent in premarket trade after rising 0.55 percent last week.
Apple (NASDAQ: AAPL) gained 0.44 percent in premarket trade after falling 0.27 percent on Friday.
Nike (NYSE: NKE) was up 0.28 percent in premarket trade after losing 0.88 percent over the past five days.
Notable earnings expected on Monday include:
Hertz Global Holdings (NYSE: HTZ) is expected to report first quarter EPS of $0.09 on revenue of $2.56 billion, compared to last year's EPS of $0.21 on revenue of $2.44 billion.
Ferrellgas Partners (NYSE: FGP) is expected to report third quarter EPS of $0.62 on revenue of $740.22 million, compared to last year's EPS of $0.56 on revenue of $603.02 million.
Economics
Economic releases on Monday will be relatively thin with most of the releases out during Asia's session. Notable releases include Chinese PPI, Chinese CPI, Australian business confidence and Japan's current index.
For a recap of Friday's market action, click here.
Tune into Benzinga's #PreMarket Prep to hear Stephen Burns, Kevin McPartland and Anne-Marie Baiynd today by clicking here!
View Comments and Join the Discussion!
Posted-In: Earnings News Eurozone Futures Commodities Previews Forex Events Best of Benzinga