#PreMarket Primer: Monday, May 5: Tension In Ukraine Threatens To Spill Over To Latvia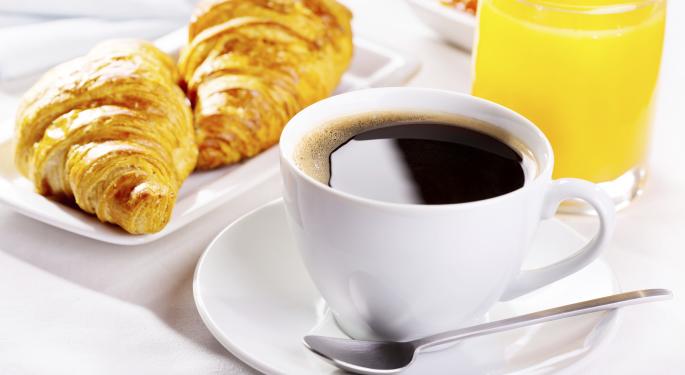 Last week, Latvian Defense Minister Raimonds Vejonis warned that the nation had begun to fear that the unrest in Ukraine was just the beginning and that Russia could soon turn its sights to Latvia.
With a population that is a quarter ethnic Russian and almost 40 percent of citizens speaking Russian, there is a real fear that separatist violence could spread.
Following the annexation of Crimea in Ukraine, violence in the nation has escalated.
Over the weekend, a massive fire killed dozens of pro-Russian separatists as they clashed with Kiev supporters. Rebel groups also stormed a Ukrainian police station and freed nearly 70 pro-Russian activists. Violence is no longer isolated in the eastern part of the nation, with protests popping up in Western cities as well.
In the midst of the chaos, Russia has warned that it will shut off Ukraine's natural gas supply in June if it does not receive payment in May. The threat is worrying for the EU, which receives much of its natural gas supplies from Russia via Ukraine.
In other news around the markets:
US jobs data confirmed that the nation began the second quarter back on track after severe winter weather contributed to weakness in the first quarter. US unemployment was down to 6.3 percent from 6.7 percent and US employers added 288,000 jobs in April. The figures beat expectations and marked the highest job-creation rate in more than a year.
Chinese PMI data disappointed as the nation's reading remained well below the 50 point mark which separates expansion and contraction. HSBC's final April PMI reading was 48.1, little changed from March's figure and below the nation's preliminary reading of 48.3.
On Sunday, Portuguese Prime Minister Pedro Passos Coelho announced that the nation was planning to exit its 78 billion euro bailout program this month. Portugal has been slowly returning to growth after three years of compliance with the EU's bailout terms. Coelho also announced that the nation is not planning to take a precautionary credit line.
On Sunday, the UK's Labor party called for an inquiry into Pfizer's bid for AstraZeneca, saying that the UK's government has been supporting the deal without first ensuring it is in the region's best interest. On Friday, AstraZeneca rejected Pfizer's initial $106 billion bid, but the US drug maker is expected to continue courting the British pharmaceutical company.
Asian markets were mixed; the Japanese NIKKEI lost 0.19 percent, the Hang Seng index was down 1.28 percent and the South Korean KOSPI lost 1.28 percent. However, the Shanghai composite gained 0.05 percent and the Shenzhen composite was up 0.60 percent.
European Markets
European markets were down across the board with the exception of the UK's FTSE, which gained 0.20 percent. The eurozone's STOXX 600 was down 0.86 percent, the German DAX lost 1.38 percent, France's CAC 40 was down 1.19 percent and Italy's MIB lost 1.27 percent.
Energy futures were higher, Brent futures gained 0.19 percent and WTI futures rose 0.59 percent. Gold and silver gained 0.78 percent and 0.58 percent respectively, and industrial metals also improved. Tin was up 1.05 percent, zinc gained 0.94 percent and aluminum rose 0.06 percent.
The yen struggled on Monday, losing 0.27 percent against the dollar and 0.25 percent against the euro. The euro was steady at $1.3875 and the dollar lost 0.03 percent against the pound and 0.09 percent against the franc.
Earnings
Notable earnings released on Friday included:
Stocks moving in the Premarket included:
Notable earnings releases expected on Monday include:
Economics
Notable economic releases on Monday will include eurozone investor confidence, eurozone PPI, and US services PMI.
For a recap of Friday's market action, click here.
Tune into Benzinga's pre-market info show with Dennis Dick and Joel Elconin here.
View Comments and Join the Discussion!
Posted-In: Earnings News Guidance Dividends Eurozone Futures Commodities Previews Best of Benzinga