#PreMarket Primer: Wednesday, April 30: No BOJ Stimulus On The Horizon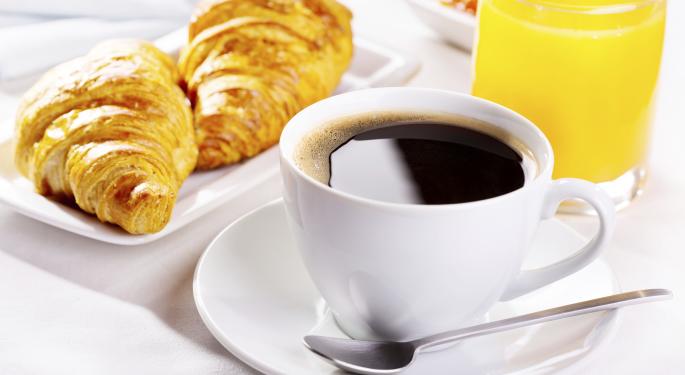 The Bank of Japan presented an optimistic outlook for the Japanese economy following its policy meeting on Wednesday.
The report, which is released biannually, showed that consumer inflation is expected to increase in 2014 and hit the bank's two percent goal by mid 2015.
The bank also said that in spite of the recent tax hike, the nation's economy is expected to continue improving over the course of the year.
The bank elected to maintain its current monetary policy and showed no sign of considering additional stimulus in the near-term.
In other news around the markets:
The People's Bank of China announced that last year's stress tests showed that the nation's banking system would be able to withstand a sharp economic downturn as well as large increases in bad debt. China has been under the microscope this year as the nation's sizable increase in corporate debt raised concern on the global stage. However, the PBOC released a statement on Tuesday saying that "the asset quality and capital adequacy of China's commercial banks is relatively high."
Tension in Ukraine escalated on Tuesday after pro-Russian separatists fired at police as they seized more government buildings in one of Ukraine's provincial capitals. Despite new sanctions from the US and EU, Russian President Vladimir Putin responded with a threat against Western companies' energy deals in Russia.
BNP Paribas could be facing criminal charges for engaging in business activities with sanctioned countries like Iran, Sudan and Cuba. Regulators are considering banning the bank from doing dollar clearing in New York or penalizing individual employees as part of the bank's punishment.
On Wednesday, Alstom SA said its board was reviewing General Electric's $17.12 billion bid for the company's power division. GE was expected to close the deal with Alstom over the weekend, but a declaration of interest from rival company Siemens has upset the process and created a new option for Alstom.
Led by a positive outlook from the BOJ, Asian markets were mostly higher with the exception of the Hang Seng index, which lost 1.42 percent, and the South Korean KOSPI, which fell 0.15 percent. The NIKKEI was up 0.11 percent, the Shanghai composite gained 0.30 percent and the Shenzhen composite was up 0.44 percent.
European Markets
European markets were mostly lower with the exception of the UK's, which saw a modest rise of 0.02 percent. The eurozone's STOXX 600 was down 0.15 percent, France's CAC 40 lost 0.37 percent and Italy's MIB fell 0.66 percent.
Energy futures were lower on expectations of a huge build in US stocks. Brent futures were down 0.54 percent and WTI futures lost 0.95 percent. Gold and silver lost 0.65 percent and 0.89 percent respectively, and industrial metals were also down across the board. Copper was down 0.55 percent, aluminum lost 0.87 percent and tin fell 1.72 percent.
Currency markets were quiet ahead of several large economic releases. The euro was steady at $1.3825 and gained 0.13 percent against the pound. The pound also declined 0.04 percent against the dollar, but the dollar lost 0.10 percent against the yen and 0.14 percent against the franc.
Earnings
Notable earnings released on Tuesday included:
Stocks moving in the Premarket included:
Notable earnings releases expected on Wednesday include:
GlaxoSmithKline PLC (NYSE: GSK) is expected to report first quarter EPS of $0.72, compared to last year's EPS of $0.82.
Time Warner Inc. (NYSE: TWX) is expected to report first quarter EPS of $0.88, compared to last year's EPS of $0.82.
Thomson Reuters Corp (NYSE: TRI) is expected to report first quarter EPS of $0.39, compared to last year's EPS of $0.38.
WellPoint Inc. (NYSE: WLP) is expected to report first quarter EPS of $2.12, compared to last year's EPS of $2.94.
Economics
For a recap of Tuesday's market action, click here.
Tune into Benzinga's pre-market info show with Dennis Dick and Joel Elconin here.
Posted-In: Earnings News Eurozone Futures Commodities Previews Forex Global Best of Benzinga
View Comments and Join the Discussion!