#PreMarket Primer: Monday, April 28: Hostage Situation In Ukraine Heats Up Tension Between Moscow And The West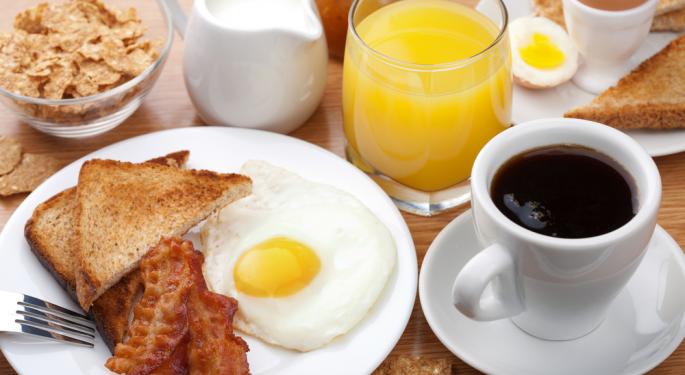 The tension in Ukraine heated up over the weekend as pro-Russian separatists paraded their hostages, a group of European military observers, for the world to see.
The incident has sparked even more conflict between Ukraine and Russia as both sides blame the other for the hostage situation.
Russia has agreed to take steps in order to help alleviate the situation, but most are expecting the United States and Europe to hit Moscow with more sanctions in the near future.
In other news around the markets:
Investor activism could be making its way across the pond as several US based advisory firms are setting up shop in London. At the moment, investors typically work privately with management rather than the public battles seen in the US. However, with many European companies hoarding cash, some expect to see a push for dividends and buy-backs.
On Monday, Pfizer Inc. confirmed that it had approached AstraZeneca PLC with a near $100 billion acquisition proposal. If the deal is followed through, it would create one of the largest pharmaceutical companies in the world, with drugs treating almost every major illness. However, AstraZeneca has declined to engage in discussions so far.
Siemens AG has upended General Electric's plans to close on a deal with Alstom SA over the weekend after French Economic Minister Arnaud Montebourg wouldn't allow Alstom CEO Patrick Kron to make the deal without his input. With the deal on pause, Siemens put in a counteroffer for Alstom's energy assets which allows the French company's headquarters to remain in France.
On Sunday, Toyota announced that it was planning to restructure its marketing organization, effective on May first. The company cited the need for a more efficient team as the reason for the reshuffle and said the company will employ a voluntary exit program or allow employees' whose positions were eliminated to apply for a new role elsewhere in the company.
Asian markets declined with the exception of Australia's ASX 200, which gained 0.09 percent. The NIKKEI lost 0.98 percent, the Shanghai composite was down 1.62 percent, the Shenzhen composite lost 2.56 percent, the Hang Seng index was down 0.41 percent and the KOSPI was down 0.12 percent.
European Markets
European markets were up across the board; the UK's FTSE gained 0.43 percent and the eurozone's STOXX 600 was up 0.46 percent. The German DAX rose 0.58 percent, France's CAC 40 was up 0.50 percent, Italy's MIB gained 0.80 percent and the Spanish IBEX rose 0.46 percent.
Tension in Ukraine helped boost energy futures; Brent futures gained 0.32 percent and WTI futures were up 0.74 percent. Gold rose 0.23 percent, but silver lost 0.17 percent. Industrial metals were mostly lower with the exception of Copper which gained 0.03 percent. Aluminum lost 1.25 percent, zinc was down 0.77 percent and tin fell 0.53 percent.
The euro slipped over the weekend but gained 0.25 percent to $1.3866 and gained 0.29 percent against the yen on Monday. The dollar was also higher against the yen, up 0.08 percent, but lost 0.25 percent against the pound and 0.37 percent against the franc.
Earnings
Notable earnings released on Friday included:
Ford Motor Company (NYSE: F) reported first quarter EPS of $0.25 on revenue of $35.90 billion, compared to last year's EPS of $0.41 on revenue of $33.86 billion.
AbbVie (NYSE: ABBV) reported first quarter EPS of $0.71 on revenue of $4.56 billion, compared to last year's EPS of $0.68 on revenue of $4.33 billion.
Colgate-Palmolive Company (NYSE: CL) reported first quarter EPS of $0.68 on revenue of $4.33 billion, compared to last year's EPS of $0.66 on revenue of $4.32 billion.
Stocks moving in the Premarket included:
Exxon Mobil Corp (NYSE: XOM) gained 0.29 percent in premarket trade after rising 0.40 percent on Friday.
Berkshire Hathaway Inc. (NYSE: BRKB) was down 0.80 percent in premarket trade after gaining 0.24 percent on Friday.
Notable earnings releases expected on Monday include:
Economics
An action packed economic calendar will get off to a slow start on Monday will few notable releases expected. Investors will be watching for New Zealand's trade balance data, US pending home sales, Italian consumer confidence and South Korea's current account data.
For a recap of Friday's market action, click here.
Tune into Benzinga's pre-market info show with Dennis Dick and Joel Elconin here.
View Comments and Join the Discussion!
Posted-In: Earnings News Eurozone Futures Commodities Previews Forex Events Best of Benzinga