#PreMarket Primer: Thursday, April 24: FDA & FCC Rolling Out Key Decisions, Apple Making Moves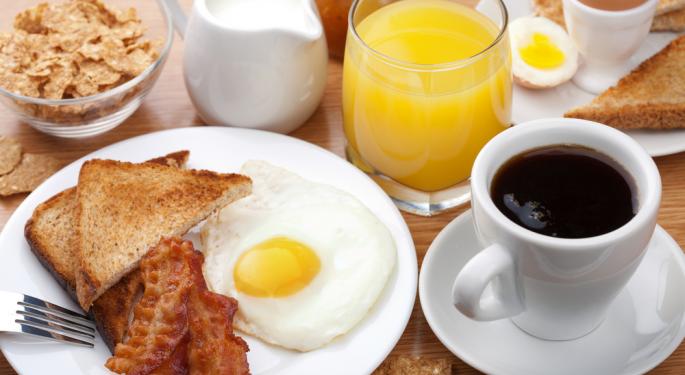 Tension in Ukraine stepped up on Wednesday after Moscow warned that it was prepared to step in if there were any attacks on its interests in Ukraine.
The strong statement from Russia came just days after the US, the EU, Ukraine and Russia agreed to deescalate the situation and avoid military action.
The US has expressed disappointment in Russia's comments, saying they are far from what was agreed upon in the Geneva accord. If the problems do escalate, most expect that the US will call for more sanctions on Moscow, which could disrupt Russian gas supplies to Europe.
In other news around the markets:
During a week long tour of Asia, US President Barack Obama reassured Japan that he was committed to protecting Japanese interests, including small isles which are the center of a territorial dispute with China. Obama urged Japan to engage in peaceful dialogue with China over the islands, but Beijing responded by saying that the islets were a part of China.
The FCC is planning to put out a proposal on Thursday that could regulate internet traffic and allow broadband providers to charge websites for access to their fast speed connections. The FCC has been struggling to maintain a balance between keeping the internet open and accessible to consumers and allowing providers to create new business models. The proposal is expected to outline a middle ground in which companies like Comcast and Verizon can charge a fee for premium speed connections, but cannot slow down or block other websites.
On Thursday, the FDA is set to release new rules for electronic cigarettes which are expected to further regulate the industry, but fall short of the strict regulations governing regular cigarettes. The new regulations will not prohibit advertisements or internet sales, but they will ban sales to people under 18 and require FDA approval before going to the market.
In a move which activist investor Carl Icahn has praised, Apple announced another $30 billion in share buybacks through the end of 2015. The company also approved a seven-for-one stock split, a rare action which means that current shareholders will receive six additional shares for every Apple share they own now. The split is set to go into effect on June second this year.
Asian markets were mostly lower with the exception of the Hang Seng index, which rose 0.24 percent. The Japanese NIKKEI was down 0.97 percent, the Shanghai composite was down 0.50 percent, the Shenzhen composite lost 0.72 percent and the KOSPI was down 0.10 percent.
European Markets
Europe's markets made a comeback on Thursday; the UK's FTSE was up 0.63 percent, the eurozone's STOXX 600 gained 0.67 percent, the German DAX rose 0.69 percent, France's CAC 40 was up 0.85 percent and the Italian MIB rose 1.09 percent.
Energy futures were marginally higher; Brent futures were up 0.05 percent and WTI futures gained 0.10 percent. Gold was up 0.19 percent but silver lost 0.24 percent, and industrial metals were also mixed. Copper gained 0.89 percent and tin was up 0.42 percent, but aluminum and zinc lost 0.87 percent and 1.06 percent respectively.
Currency markets were quiet on Thursday; the euro maintained its position at $1.3823 and lost 0.15 percent against the yen. The dollar also lost against the yen, down 0.18 percent, but gained 0.11 percent against the Australian dollar.
Earnings
Notable earnings released on Wednesday included:
Stocks moving in the Premarket included:
Apple Inc. (NASDAQ: AAPL) gained 7.52 percent in premarket trade after announcing better than expected earnings and a seven-to-one stock split plan on Wednesday.
Emerson Electric Co (NYSE: EMR) was up 0.79 percent in premarket trade after gaining 2.65 percent over the past five days.
Pfizer Inc. (NYSE: PFE) was up 0.58 percent in premarket trade after losing 0.26 percent on Wednesday.
Notable earnings releases expected on Thursday include:
Economics
Thursday's notable economic releases will include Japanese CPI, US durable goods, US initial and continuing jobless claims, British retail sales, and the German Ifo business climate index.
For a recap of Wednesday's market action, click here.
Tune into Benzinga's #PreMarket Prep show with Dennis Dick and Joel Elconin here.
Posted-In: Earnings News Guidance Eurozone Futures Commodities Previews Forex Best of Benzinga
View Comments and Join the Discussion!