#PreMarket Primer: Thursday, April 10: Job Creation Will Be China's Main Focus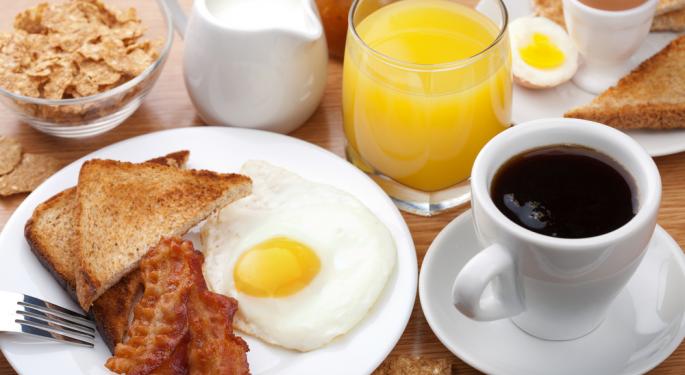 China's Premier Li Keqiang gave what investors have felt were the clearest indications about the government's stimulus intentions at an investment forum on Thursday.
Li said that job creation was the nation's number one priority and that they were not interested in using short term stimulus measures. He also remarked that they were willing to accept growth a bit below this year's 7.5 percent target.
His comments came shortly after trade data showed that the nation's exports had fallen for the second month in a row, while imports fell sharply. Chinese exports declined 6.6 percent from a year ago, and imports fell 11.3 percent from last year.
In other news around the markets:
Internet users are facing a massive security risk that they can do little or nothing about as a new bug, dubbed "Heartbleed," makes their personal information available to hackers. The bug is the product of a widely used web encryption program, which is employed by almost two thirds of the internet's sites. Until the sites upgrade their software and fix the bug, users are left exposed to the possibility of having their data hacked.
Protests in Eastern Ukraine continued on Thursday as pro-Russian groups maintained control of several government buildings. The groups are calling for independence from Ukraine and hoping that Moscow will send in troops for a situation similar to that in Crimea. However, Ukrainian officials along with Western leaders believe that the Kremlin orchestrated the protests in order to provide a reason to intervene.
The Federal Reserve's March meeting minutes showed that the bank is becoming concerned about the US' low inflation rate and considered the possibility of keeping short term interest rates low until the figure increased. The bank is aiming for an inflation rate of around two percent, and sees the nation's current 1.1 percent figure as a possible weakness in the economy.
AT&T and Google are working to introduce ultrafast internet services in several locations across the US despite pushback from cable operators. AT&T Chief Executive Randall Stephenson has said the company is planning to be a bit more aggressive in rolling out this type of technology across the country as a merger between Comcast and Time Warner Cable becomes a real possibility.
Asian markets were higher, unfazed by China's weak trade data. The Shanghai composite gained 1.38 percent, the Shenzhen composite was up 0.43 percent, the Hang Seng index rose 1.44 percent and the South Korean KOSPI rose 0.48 percent.
European Markets
European markets were also on the rise; the UK's FTSE gained 0.73 percent and the eurozone's STOXX 600 rose 0.48 percent. The German DAX gained 0.70 percent, France's CAC 40 rose 0.40 percent  and Italy's MIB was up 0.50 percent.
Energy futures were lower; Brent futures lost 0.20 percent and WTI futures were down 0.11 percent. Precious metals were higher with gold and silver up 0.93 percent and 0.59 percent respectively, but industrial metals were mixed with aluminum up 2.12 percent and zinc down 0.25 percent.
The dollar lost out following the Fed minutes on Thursday, down 0.04 percent against the euro, 0.28 percent against the yen, 0.13 percent against the franc and 0.68 percent against the Australian dollar. The euro gained 0.15 percent against the pound, but lost 0.24 percent against the yen.
Earnings
Notable earnings released on Wednesday included:
Progressive Corporation (NYSE: PGR) reported first quarter EPS of $0.54, compared to last year's EPS of $0.42 on revenue of $4.45 billion.
Bed Bath & Beyond Inc.  (NASDAQ: BBBY) reported fourth quarter EPS of $1.60 on revenue of $3.20 billion, compared to last year's EPS of $1.68 on revenue of $3.40 billion.
Constellation Brands Inc. (NYSE: STZ) reported fourth quarter EPS of $0.79 on revenue of $1.29 billion, compared to last year's EPS of $0.47 on revenue of $696.00 million.
Stocks moving in the Premarket included:
Notable earnings releases expected on Thursday include:
Rite Aid Corporation (NYSE: RAD) is expected to report fourth quarter EPS of $0.04 on revenue of $6.54 billion, compared to last year's EPS of $0.13 on revenue of $6.46 billion.
Family Dollar Stores, Inc. (NYSE: FDO) is expected to report second quarter EPS of $0.91 on revenue of $2.78 billion, compared to last year's EPS of $1.21 on revenue of $2.89 billion.
Shaw Communications Inc. (NYSE: SJR) is expected to report second quarter EPS of $0.41 on revenue of $1.30 billion, compared to last year's EPS of $0.38 on revenue of $1.25 billion.
Economics
Notable economic releases on Thursday will include, Chinese CPI, Chinese PPI, the US Federal budget balance, the Bank of England's interest rate decision, Italian industrial production, French industrial production and French CPI.
For a recap of Wednesday's market action, click here.
Tune into Benzinga's #PreMarket Prep show with Dennis Dick and Joel Elconin here.
Posted-In: Earnings News Eurozone Futures Commodities Previews Forex Events Best of Benzinga
View Comments and Join the Discussion!