#PreMarket Primer: Wednesday, April 9: John Kerry Accuses Russia Of Stirring Trouble In Ukraine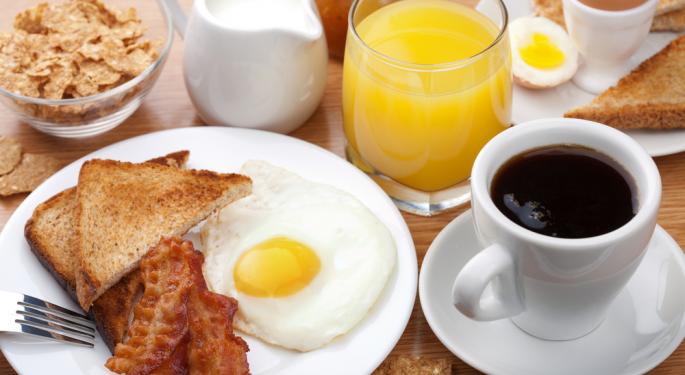 Tension between the West and Russia is at an all time high as accusations fly about recent demonstrations in eastern Ukraine.
The Kremlin has been named as the driving force behind the protests, which are supposedly part of a larger plan to eventually send in more troops and further divide Ukraine. 
On Tuesday, US Secretary of State John Kerry accused Russian special forces of creating the disturbances and warned Russia against military intervention.
In other news around the markets:
Farmers are struggling this spring after an unusually severe winter damaged their crops. Everything from fruit to wheat has been affected and could be passed on to consumers in the form of higher prices and lower supply. Wine producers are expected to take the brunt of the problems, with damage to their vines expected create long term problems.
On Tuesday, the underlying tension between the US and China was exposed after Defense Secretary Chuck Hagel was sharply questioned about the US' position in the ongoing territorial disputes between China, Japan and the Philippines. Chinese officers at the National Defense University have accused the US of creating problems due to fears that China will grow too large, but Hagel said the US was committed to standing by its allies and had no interest in restricting China's growth.
Researchers have discovered that a web encryption tool used by several large companies is flawed and could expose user data to outside parties. Heartbleed, the bug in question, may have affected two thirds of the internet's active websites.
The search for Malaysia Airlines missing jet found renewed hope on Wednesday after Australian officials said they detected a "ping" signal from the plane's black box recorder. After searching for more than a month, the officials are still unsure about the exact location of the plane and are scouring a remote area of the Indian Ocean in the hopes of turning up some sort of wreckage.
Asian markets were mostly higher with the exception of the NIKKEI, which lost 2.10 percent. The Shanghai composite was up 0.33 percent, the Shenzhen composite gained 0.62 percent, the Hang Seng index rose 1.09 percent and the South Korean KOSPI was up 0.30 percent.
European Markets
European markets were up across the board on Wednesday; the UK's FTSE was up 0.76 percent and the eurozone's STOXX 600 rose 0.63 percent. The German DAX was up 0.48 percent, France's CAC 40 rose 0.53 percent and the Spanish IBEX increased 0.81 percent.
Energy futures fell on Wednesday, Brent futures were down 0.34 percent and WTI futures lost 0.42 percent. Gold gained 0.89 percent, silver lost 0.81 percent and industrial metals were mixed with copper down 0.56 percent and zinc up 1.25 percent.
In currency markets the dollar picked up, gaining 0.30 percent against the yen, 0.12 percent against the franc and 0.10 percent against the pound. They yen was on the decline with a 0.26 percent loss against the euro and a 0.49 percent loss against the Australian dollar.
Earnings
Notable earnings released on Tuesday included:
Alcoa Inc. (NYSE: AA) reported first quarter EPS of $0.09 on revenue of $5.45 billion, compared to last year's EPS of $0.11 on revenue of $5.83 billion.
WD-40 Company (NASDAQ: WDFC) is expected to report second quarter EPS of $0.67 on revenue of $94.20 million, compared to last year's loss of $0.66 on revenue of $86.71 million.
Stocks moving in the Premarket included:
Notable earnings releases expected on Wednesday include:
Progressive Corporation (NYSE: PGR) is expected to report first quarter EPS of $0.40 on revenue of $4.62 billion, compared to last year's EPS of $0.42 on revenue of $4.45 billion.
Bed Bath & Beyond Inc. (NASDAQ: BBBY) is expected to report fourth quarter EPS of $1.61 on revenue of $3.22 billion, compared to last year's EPS of $1.68 on revenue of $3.40 billion.
Constellation Brands Inc. (NYSE: STZ) is expected to report fourth quarter EPS of $0.76 on revenue of $1.28 billion, compared to last year's EPS of $0.47 on revenue of $696.00 million.
Economics
Trade balance data will make up the majority of Wednesday's economic calendar with import and export data being released by China, South Korea, Germany and the UK. Other notable economic releases will include US oil inventory data and the Australian unemployment rate.
For a recap of Tuesday's market action, click here.
Tune into Benzinga's #PreMarket Prep show with Dennis Dick and Joel Elconin here.
View Comments and Join the Discussion!
Posted-In: Earnings News Eurozone Futures Commodities Previews Forex Global Best of Benzinga