#PreMarket Primer: Tuesday, April 8: Protests In Ukraine Worryingly Similar To What Happened In Crimea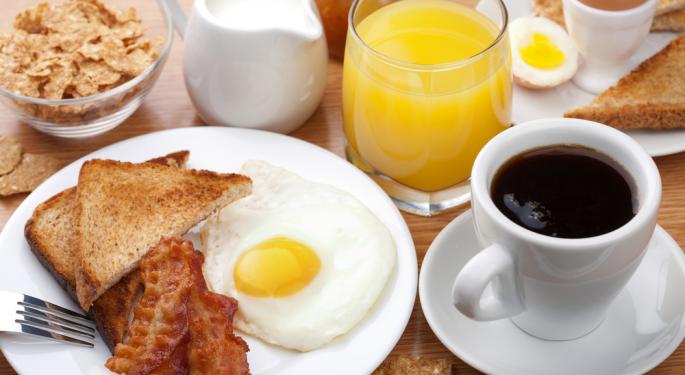 As protesters in several eastern cities across Ukraine seized government buildings and called for a referendum on independence, Ukrainian leaders blamed Russia and said the protests were all part of Moscow's larger plan to send in troops and dismember the nation.
The growing tension warranted a fresh warning from the US against any Russian military intervention.
President Obama's press secretary Jay Carney claimed that evidence showing protesters had been paid indicated that the demonstrations were not started locally and rather sparked by outside forces.
US Secretary of State John Kerry is set to meet with Russian, Ukrainian and European officials within the next ten days in an attempt to diffuse the situation.
In other news around the markets:
On Monday, the US Federal Reserve agreed to give banks an extra two years to tighten up their debt holdings in order to comply with the Volcker rule, which keeps banks from holding bonds as investments. The extra time may not be enough for some banks who claim that the rule will force them to divest certain complex securities, which may result in potential losses.
General Motors' image deteriorated further on Monday after an auto safety watchdog group called for a probe into the company's Chevrolet Impalas for a possible airbag defect. Many are concerned that the company may have tried to cover the defect up in light of the current faulty ignition switch issue, which has been linked to at least 13 deaths. However, GM has said it will cooperate with any further investigation into the matter.
Citigroup is preparing for the possibility that the company may miss its 2015 goal for return on tangible common equity due to its failure to pass the Federal Reserve's stress tests in March. The figure is important to the company's shareholders as it is a key part of how investors compare the profitability of one bank to another.
After picking up signals which were believed to have come from the black box recorder of the missing Malaysia Airlines plane over the weekend, the search has hit a roadblock as no further signals have been received. The US navy has been using advanced technology in order to locate the black box, but officials say the search is at a critical stage as they are running out of time. Most believe that the aircraft's black box has run out of batteries as it is only expected to have a 30 day lifespan.
Asian markets were mostly higher on Tuesday, with the exception of the Japanese NIKKE, which lost 1.10 percent. The Shanghai composite was up 2.07 percent, the Shenzhen composite gained 0.93 percent and the Hang Seng index rose 0.99 percent.
European Markets
European markets were mixed; the UK's FTSE lost 0.22 percent, the eurozone's STOXX 600 was down 0.06 percent and the Spanish IBEX lost 0.26 percent. However the German DAX gained 0.03 percent and France's CAC40 was up 0.02 percent
Energy futures were mixed; Brent futures gained 0.31 percent and WTI futures were down 0.09 percent. Gold lost 0.19 percent and silver was up 0.09 percent. Industrial metals were also mixed with copper up 0.23 percent but aluminum down 0.27 percent.
Currency markets were quiet again on Tuesday; the euro gained 0.02 percent against the dollar and lost 0.01 percent against the pound. The dollar lost 0.14 percent against the yen, 0.04 percent against the pound and 0.18 percent against the Australian dollar.
Earnings
Notable earnings released on Monday included:
A Schulman, Inc (NASDAQ: SHLM) reported second quarter EPS of $0.39 on revenue of $588.50 million, compared to last year's EPS of $0.27 on revenue of $522.37 million.
Team, Inc. (NYSE: TISI) reported third quarter EPS of $0.01 on revenue, compared to last year's loss of $0.01 on revenue of $150.98 million.
Stocks moving in the Premarket included:
Carnival Corp (NYSE: CCL) gained 1.09 percent in premarket trade after falling 0.58 percent on Monday
Nike Inc. (NYSE: NKE) was up 0.62 percent in premarket trade after falling 4.10 percent over the past five days.
Verizon Communications (NYSE: VZ) was down 1.23 percent in premarket trade after gaining 1.11 percent on Monday.
Notable earnings releases expected on Tuesday include:
Alcoa Inc. (NYSE: AA) is expected to report first quarter EPS of $0.05 on revenue of $5.56 billion, compared to last year's EPS of $0.11 on revenue of $5.83 billion.
WD-40 Company (NASDAQ: WDFC) is expected to report second quarter EPS of $0.68 on revenue of $92.30 million, compared to last year's loss of $0.66 on revenue of $86.71 million.
Economics
Tuesday's economic calendar will be another quiet one with releases including the US redbook, British industrial production, British manufacturing production, the French trade balance, and the Swiss unemployment rate.
For a recap of Monday's market action, click here.
Tune into Benzinga's pre-market info show with Dennis Dick and Joel Elconin here.
Posted-In: Earnings News Eurozone Futures Commodities Previews Forex Events Best of Benzinga
View Comments and Join the Discussion!