#PreMarket Primer: Monday, April 7: World Bank Lowers China's 2014 Growth Forecast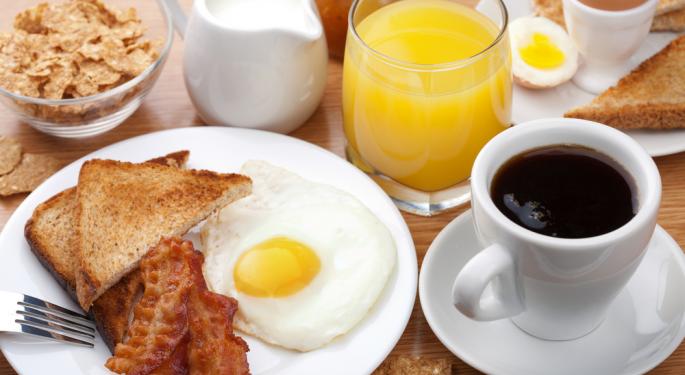 On Monday, the World Bank revised its growth expectations for the developing East Asia and Pacific region down to 7.1 percent for 2014 and 2015 from its previous forecast of 7.2 percent growth.
The bank also trimmed its growth expectations in 2014 for China from 7.7 percent to 7.6 percent, citing the nation's "bumpy start to the year."  
Chinese industrial production and exports have been lack luster so far this year, and the bank took that into account when coming up with the forecast.
Despite the decreased growth expectations, the World Bank did say it expected to see China's economy improve midyear as demand from other, recovering nations increases.
In other news around the markets:
Shortly after being hired, General Motors advisor Kenneth Feinberg is being tasked with how to handle victim compensation after the company's defective cars were linked to at least 13 deaths. Senior GM officials met on Friday with Feinberg to discuss their options, all of which are likely to create controversy for the company. Since GM was allowed to shed legal claims from a large number of car crash victims as a part of its bankruptcy proceedings in 2009, the company will have to look back into each case as some are likely linked to the recalled vehicles.
Yahoo is rumored to be moving forward with its recent push to gain market share in the online video space. The Wall Street Journal reported that the company is about to order four new Web series, each of which are half hour comedies with massive per-episode budgets.
Over the weekend, pro-Russian activists seized public buildings in three eastern Ukrainian cities in what Ukrainian Prime Minister Arseniy Yatsenyuk says is a ploy to destabilize the country and call in Russian troops. Yatseniuk has said he will not allow Russian troops, said to be just 30 kilometers from the Ukrainian border, to cross and seize more Ukrainian territory.
An upcoming acquisition deal in which Indian Sun Pharmaceutical Industries Ltd will buy Ranbaxy Laboratories Ltd could create the world's fifth largest generic drug maker. Sun Pharmaceutical would pay $3.2 billion to acquire Ranbaxy, making it the largest pharmaceutical deal in the Asia-Pacific region this year.
Asian markets were mixed; the Japanese NIKKEI was down 1.69 percent and the Hang Seng index fell 0.59 percent. However the Shanghai composite was up 0.74 percent and the Shenzhen composite rose 1.08 percent.
European Markets
European markets were down across the board; the UK's FTSE was down 0.32 percent, the eurozone STOXX 600 lost 0.63 percent and the German DAX was down 0.92 percent. France's CAC 40 lost 0.46 percent, Italy's MIB was down 0.32 percent and the Spanish IBEX fell 0.20 percent.
Energy futures were lower; Brent futures for May delivery lost 0.98 percent and WTI futures for May delivery were down 0.51 percent. Precious metals were also lower, with gold and silver down 0.34 percent and 0.68 percent respectively. Industrial metals were down with the exception of zinc, which gained 1.01 percent.
Currency markets were quiet, the euro gained 0.10 percent against the dollar and 0.12 percent against the pound. The dollar lost 0.20 percent against the franc and 0.04 percent against the yen.
Earnings
Notable earnings released on Friday included:
CarMax Inc (NYSE: KMX) reported fourth quarter EPS of $0.44 on revenue of $3.08 billion, compared to last year's EPS of $0.46 on revenue of $2.83 billion.
Stocks moving in the Premarket included:
Perrigo Company PLC (NYSE: PRGO) was up 0.93 percent in premarket trade after losing 1.14 percent on Friday.
Verizon Communications (NYSE: V) was down 0.71 percent in premarket trade after rising 1.31 percent over the past five days.
Bank of America Corp (NYSE: BAC) lost 0.42 percent in premarket trade after falling 2.51 percent on Friday.
Notable earnings releases expected on Monday include:
A. Schulman, Inc (NASDAQ: SHLM) is expected to report second quarter EPS of $0.33 on revenue of $575.00 million, compared to last year's EPS of $0.27 on revenue of $522.37 million.
Team, Inc. (NYSE: TISI) is expected to report third quarter EPS of $0.07 on revenue of $159.38 million, compared to last year's loss of $0.01 on revenue of $150.98 million.
Economics
Monday's economic calendar will be thin with releases including US consumer credit, eurozone investor confidence, German and Spanish industrial production and Swiss CPI.
For a recap of Friday's market action, click here.
Tune into Benzinga's #PreMarket Prep show with Dennis Dick and Joel Elconin here
Posted-In: Earnings News Eurozone Futures Commodities Previews Forex Events Best of Benzinga
View Comments and Join the Discussion!