#PreMarket Primer: Monday, March 24: NATO Commander Warns Russia Could Be Eyeing Another Takeover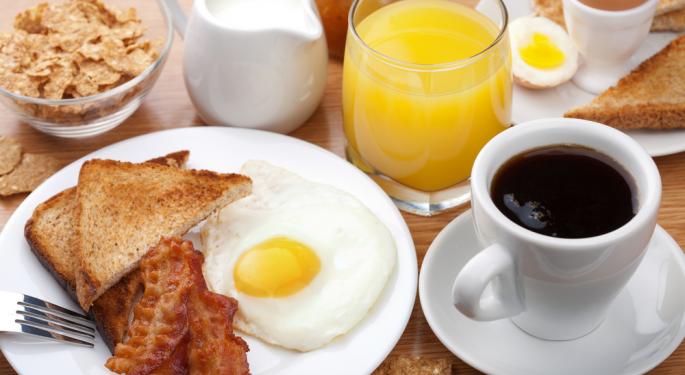 Tension between the West and Russia flared up over the weekend after NATO's top commander warned that Moscow could be planning for another takeover.
Despite Russian President Vladimir Putin's reassurance that the Kremlin was not planning any further moves following the annexation of Crimea, NATO's Supreme Allied Commander of Europe, General Philip Breedlove, said that a sizable number of Russian troops had been built up on the Ukrainian border and that Putin may be looking to move into Moldova next.
In other news around the markets:
Worries about a slowdown in China were exacerbated on Monday after the nation's preliminary PMI results showed that manufacturing activity had contracted. China's Markit/HSBC Purchasing Mangers' Index fell to 48.1 in March, an eight month low.
The Wall Street Journal reported that Apple is working together with Comcast in order to create a TV streaming service that will help customers bypass congestion on the internet. The agreement is in the early stages, though, and both companies have declined to comment on their plans.
The US Navy's Black Box detector is joining the search for Malaysia Airlines' missing jet. The search area has been narrowed down to a small space in the southern Indian Ocean where officials believe the plane continued flying for more than five hours after it disappeared from the radar.
An anti-austerity protest in Madrid ended with several injuries after protestors and police clashed in the Spanish capital city. Violence broke out at the end of a march against recent budget cuts which resulted in the injury of 55 police officers and 33 demonstrators.
Asian markets began the week mostly higher; the Japanese NIKKEI gained 1.83 percent, the Shanghai composite was up 0.68 percent and the Shenzhen composite was up 0.70 percent. The South Korean KOSPI rose 0.46 percent and the Hang Seng index was up 1.52 percent.
European Markets
European markets were down across the board, the UK's FTSE lost 0.40 percent and the eurozone's STOXX 600 was down 0.70 percent. The German DAX was down 0.74 percent and France's CAC 40 lost 0.84 percent.
Energy futures sunk; Brent futures for May delivery lost 0.22 percent and WTI futures for May delivery were down 0.31 percent. Gold and silver lost 0.55 percent and 0.44 percent consecutively, but industrial metals were mixed. Copper was down 0.58 percent, tin lost 0.76 percent, but aluminum was up 0.64 percent.
Currency markets were quiet on Monday, the euro gained 0.09 percent against the dollar and the pound was up 0.02 percent against the greenback. The dollar gained 0.16 percent against the yen but lost 0.11 percent against the Australian dollar.
Earnings
Notable earnings released on Friday included:
Darden Restaurants, Inc. (NYSE: DRI) reported third quarter EPS of $0.82 on revenue of $2.23 billion, compared to last year's EPS of $1.02 on revenue of $2.26 billion.
Tiffany & Co. (NYSE: TIF) reported fourth quarter EPS of $1.47 on revenue of $1.30 billion, compared to last year's EPS of $1.40 on revenue of $1.31 billion.
Stocks moving in the Premarket included:
Walt Disney (NYSE: DIS) gained 0.81 percent in premarket trade after losing 0.57 percent on Friday
Citigroup Inc. (NYSE: C) was up 0.90 percent in premarket trade after gaining 6.83 percent over the past five days.
Perrigo Company PLC (NYSE: PRGO) was up 0.74 percent in premarket trade after losing 3.04 percent on Friday
Notable earnings releases expected on Monday include:
Renesola Ltd. (NYSE: SOL) is expected to report a fourth quarter loss of $0.14 per share on revenue of $381.40 million, compared to last year's loss of $0.53 per share on revenue of $306.45 million.
Sonic Corp. (NASDAQ: SONC) is expected to report second quarter EPS of $0.06 on revenue of $111.03 million, compared to last year's EPS of $0.05 on revenue of $111.14 million.
Exa Corporation (NASDAQ: EXA) is expected to report fourth quarter EPS of $0.03 on revenue of $14.70 million, compared to last year's loss of $0.01 per share on revenue of $13.13 million.
Economics
PMI data will make up the bulk of Monday's economic calendar with disappointing Chinese results leaded the way. Europe's PMI figures will be closely watched as investors look to the nation's economic indicators for clues about the ECB's next policy moves.
For a recap of Friday's market action, click here.
Tune into Benzinga's pre-market info show with Dennis Dick and Joel Elconin here.
Posted-In: Earnings News Eurozone Futures Commodities Previews Forex Events Best of Benzinga
View Comments and Join the Discussion!