#PreMarket Primer: Friday, March 21: US Expands Russian Sanctions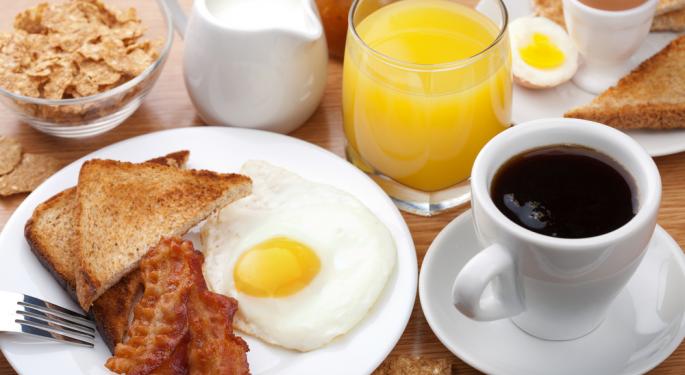 The US expanded the list of wealthy Russians being targeted by economic sanctions in order to put more pressure on Moscow to heed international calls for diplomacy in Ukraine.
Russian President Vladimir Putin has been unresponsive and went ahead with the procedure to annex Crimea this week.
Now, US leaders must decide whether or not to fulfill Ukrainian requests for military support as the standoff continues. For the moment, the Obama administration has said it will focus on sending non-lethal support in an effort to keep the situation from worsening.
Ukraine has asked for military support in the form of small arms, medical supplies and food rations among other things. The US has been willing to support Ukraine with financial help as well as non-lethal military items, but has been hesitant to support military escalation.
In other news around the markets:
Google is pushing forward with its Google Shopping Express service, which offers same day delivery to customers in certain areas. The company is looking to gain market share in the online shopping space as well as gain access to more data about online shoppers in order to improve its search advertising. The service is currently only available in California, but Google is planning to expand in the near future.
On Friday, Fitch Ratings affirmed the US's AAA rating and gave the nation a stable outlook. In October, Fitch warned that a downgrade may be possible by the beginning of 2014, but since then the nation's outlook has improved. Fitch cited February's suspension of the debt limit as a key reason for its optimism.
Big banks may begin to reward their investors with increased dividends and buy backs as the 29 out of 30 of the nation's largest banks passed the Federal Reserve's annual stress test on Thursday. The evaluation showed that most of the institutions tested are strong enough to weather an economic downturn and have enough capital to lend through 2015 in the event of an economic crisis.
With new evidence from satellite imagery to help direct them, investigators continued to look for debris from the missing Malaysia Airlines jet off the coast of Australia. Two items which are believed to be pieces of the missing plane were seen by satellites in a remote area of the Southern Indian Ocean. Officials are hoping to locate parts of the plane to help move forward an investigation into how the plane veered off course and disappeared on March 8.
Asian markets were mostly higher to end the week, the Shanghai composite was up 2.72 percent, the Shenzhen composite gained 2.24 percent, the Hang Seng Index was up 1.25 percent and the South Korean KOSPI was up 0.80 percent. However, the Japanese NIKKEI lost 1.65 percent and New Zealand's NZ50 was down 0.69 percent.
European Markets
European markets were mixed on Friday, the UK's FTSE lost 0.47 percent and the eurozone's STOXX 600 gained 0.41 percent. The German DAX gained 0.21 percent, the Spanish IBEX was down 0.13 percent and Italy's MIB gained 0.56 percent.
Energy futures were mixed, Brent futures gained 0.03 percent and WTI futures were down 0.14 percent. Gold lost 0.69 percent and Silver was down 0.47 percent. Industrial metals were also down across the board with aluminum down 1.55 percent and tin down 1.41 percent.
The euro continued to trade below $1.38 at $1.377 and the pound lost 0.10 percent against the greenback. The dollar lost 0.26 percent against the yen and 0.24 percent against the Australian dollar.
Earnings
Notable earnings released on Thursday included:
Nike, Inc. (NYSE: NKE) reported third quarter EPS of $0.76 on revenue of $7.00 billion, compared to last year's EPS of $0.73 on revenue of $6.19 billion.
ConAgra Foods, Inc. (NYSE: CAG) reported third quarter EPS of $0.62 on revenue of $4.39 billion, compared to last year's EPS of $0.55 on revenue of $3.85 billion.
IHS Inc. (NYSE: IHS) reported first quarter EPS of $1.28 on revenue of $524.50 million, compared to last year's EPS of $1.08 on revenue of $382.52 million.
Stocks moving in the Premarket included:
Notable earnings releases expected on Friday include:
Darden Restaurants, Inc. (NYSE: DRI) is expected to report third quarter EPS of $0.82 on revenue of $2.26 billion, compared to last year's EPS of $1.02 on revenue of $2.26 billion.
Tiffany & Co. (NYSE: TIF) is expected to report fourth quarter EPS of $1.52 on revenue of $1.31 billion, compared to last year's EPS of $1.40 on revenue of $1.31 billion.
Economics
Several FOMC members are set to speak on Friday which investors are hoping will shed more light on the Fed's direction in the future. Other notable economic releases include eurozone consumer confidence, eurozone current account, and Italian industrial sales.
For a recap of Thursday's market action, click here.
Tune into Benzinga's pre-market info show with Dennis Dick and Joel Elconin here.
Posted-In: Earnings News Eurozone Futures Commodities Previews Forex Events Best of Benzinga
View Comments and Join the Discussion!