#PreMarket Primer: Wednesday, March 12: China's Slowdown In Focus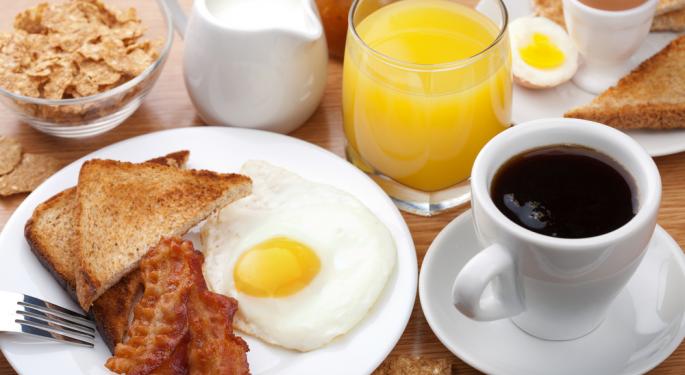 Investors remained focused on the state of the Chinese economy on Wednesday morning after the nation released much weaker than expected export data at the beginning of the week.
Asian shares tumbled as investors worried that the world's second largest economy was stuck in a rut.
On top of disappointing economic data, Chinese companies have been reporting dismal figures as well. Power equipment manufacturer Baoding Tianwei Baobian Electric Co. reported a net loss for the second year in a row, causing the company's shares to fall 5.1 percent on Wednesday and its corporate bond to be suspended for the second consecutive day.
In other news around the markets:
After more than a decade of working to integrate Russia into Western financial systems, US and European officials are preparing to enact sanctions that will reverse their previous efforts. For the moment, officials are focusing on targeted, individual sanctions in an effort to protect Western businesses from Russian retaliation.
General Motors shares are on the decline as the company is being investigated for taking almost ten years to recall faulty cars which have been linked to 12 deaths. On Tuesday, GM's stock lost five percent to trade at $1.91 per share as the company faced probes from several institutions.
The media industry has begun to voice concern about Comcast's proposed takeover of Time Warner Cable. Regulators will be tasked with determining whether combined company would have too much control over the broadband market as well as TV-viewing data before the $45 billion deal goes ahead.
On Wednesday, rescue teams expanded their search for a missing Malaysia Airlines jetliner, which was destined for Beijing, to include everything from China to the Andaman Sea. With no leads and no sign of the jet or the 239 people on board, authorities have been unable to explain the plane's disappearance.
Asian markets continued to tumble on worries about China's slowing economy. The Japanese NIKKEI lost 2.59 percent, the Shanghai composite was down 0.17 percent, the South Korean KOSPI lost 1.60 percent and the Hang Seng index was down 1.64 percent.
European Markets
European markets were mixed; the UK's FTSE was down 0.06 percent, the eurozone's STOXX 600 lost 0.06 percent and France's CAC 40 was down 0.48 percent. However, the German DAX gained 0.46 percent and Italy's MIB was up 0.39 percent.
Energy futures were lower as investors worried about waning global demand. Brent futures lost 0.51 percent and WTI futures were down 1.80 percent. Gold and silver gained 0.85 percent and 1.44 percent consecutively, but industrial metals were down across the board with copper posting the largest loss, down 2.46 percent.
Currency markets were relatively quiet; the euro lost 0.11 percent against the dollar and the pound was up 0.08 percent against the greenback. The dollar lost 0.14 percent to the yen, but gained 0.16 percent against the Australian dollar.
Earnings
Notable earnings released on Tuesday included:
Caesars Entertainment Corporation (NASDAQ: CZR) reported a fourth quarter loss of $1.49 on revenue of $2.08 billion, compared to last year's loss of $3.75 on revenue of $2.02 billion.
American Eagle Outfitters, Inc (NYSE: AEO) reported fourth quarter EPS of $0.27 on revenue of $1.04 billion, compared to last year's EPS of $0.55 on revenue of $1.12 billion.
The Bon-Ton Stores, Inc. (NASDAQ: BONT) reported fourth quarter EPS of $3.04 on revenue of $914.90 million, compared to last year's EPS of $3.73 on revenue of $1.03 billion.
Stocks moving in the Premarket included:
Notable earnings releases expected on Wednesday include:
Economics
Wednesday will be another quiet day for economic releases. Investors will be watching for eurozone industrial production, British trade balance, Spanish CPI, Indian CPI, and the Australian unemployment rate.
For a recap of Tuesday's market action, click here.
Tune into Benzinga's pre-market info show with Dennis Dick and Joel Elconin here.
View Comments and Join the Discussion!
Posted-In: Earnings News Emerging Markets Eurozone Futures Commodities Previews Forex Best of Benzinga