#PreMarket Primer: Thursday, March 6: Ukrainian Crisis Pressures Obama To Ease Trade Restrictions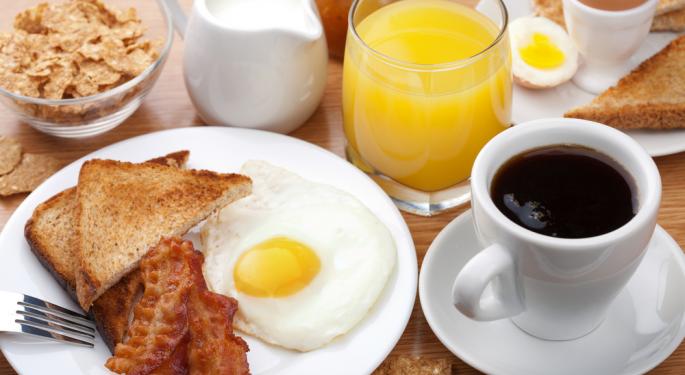 The Obama administration has come under pressure to ease regulations on US natural gas exports in light of the current situation in Ukraine.
Currently, US law keeps natural gas companies from exporting to countries which aren't free-trade partners. However, as a tool to increase leverage on Russia, which currently supplies nearly 70 percent of Ukraine's natural gas, lawmakers are pushing for the administration to loosen the rules.
In other news around the markets:
As part of a federal probe into General Motors handling of a potentially deadly defect in their cars, safety regulators have asked the company to answer 107 questions to clarify why the auto maker didn't issue a recall for almost 10 years. GM is required to reply by April 3rd, or it will face a $7,000 per day late penalty.
The European Central Bank is set to hold its monthly policy meeting later on Thursday amid speculation that the bank will ease further in order to combat the bloc's falling inflation. Most expect that the bank will refrain from cutting its key interest rate and instead inject funds into the region's banking system through asset purchases or its Long-Term Refinancing Operations.
The US Beige Book, released on Wednesday, was the latest in a string of economic data negatively affected by the nation's severely cold winter. In the report, the Fed described the US economy's growth as "modest to moderate"; but most still expect the bank to continue tapering its monetary stimulus in March.
Western diplomats gathered in Paris in an attempt to get Russia and Ukraine to begin direct negotiations, however their efforts failed. Officials tried to get Russian Foreign Minister Sergei Lavrov and Ukrainian Foreign Minister Andrii Deshchytsia to speak in person, but the two refused.
Asian markets continued to improve on Thursday, the Japanese NIKKEI was up 1.59 percent, the Shanghai composite gained 0.32 percent and the Shenzhen composite was up 0.21 percent. The Hang Seng index was up 0.55 percent and the South Korean KOSPI was up 0.22 percent.
European Markets
European markets were up across the board on the prospect of further easing from the ECB. The UK's FTSE gained 0.39 percent, the eurozone's STOXX 600 was up 0.49 percent, the German DAX gained 0.37 percent and France's CAC 40 was up 0.71 percent.
Energy futures were mixed, Brent futures gained 0.14 percent but WTI futures were down 0.25 percent. Gold lost 0.51 percent and silver was down 0.55 percent. Industrial metals were mostly lower with copper posting the largest loss, down 0.39 percent.
The euro was steady at $1.373 ahead of the ECB meeting and the pound lost 0.04 percent to the dollar. The greenback gained 0.38 percent against the yen and lost 0.56 percent against the Australian dollar.
Earnings
Notable earnings released on Wednesday included:
PetSmart, Inc. (NASDAQ: PETM) reported second quarter EPS of $1.28 on revenue of $1.80 billion, compared to last year's EPS of $1.21 on revenue of $1.88 billion.
Brown Forman Corporation (NYSE: BF-B) reported third quarter EPS of $0.82 on revenue of $1.08 billion, compared to last year's EPS of $0.73 on revenue of $1.03 billion.
MYR Group, Inc. (NASDAQ: MYRG) reported fourth quarter EPS of $0.46 on revenue of $254.60 million, compared to last year's EPS of $0.46 on revenue of $247.76 million.
Stocks moving in the Premarket included:
Amazon.com Inc (NASDAQ: AMZN) gained 0.48 percent in premarket trade after rising 3.49 percent over the past week.
Carnival Corp (NYSE: CCL) fell 0.89 percent in premarket trade after losing 0.86 percent on Wednesday.
Notable earnings releases expected on Thursday include:
Economics
The European Central Bank's policy meeting will take top bill on Thursday's economic calendar; but investors will also be watching for US factory orders, US initial and continuing jobless claims, and the Bank of England's interest rate decision.
For a recap of Wednesday's market action, click here.
Tune into Benzinga's pre-market info show with Dennis Dick and Joel Elconin here.
Posted-In: Earnings News Eurozone Rumors Futures Commodities Previews Forex Best of Benzinga
View Comments and Join the Discussion!