#PreMarket Primer: Friday, December 20: Housing And Jobs Data Create A Small Wrinkle In US Outlook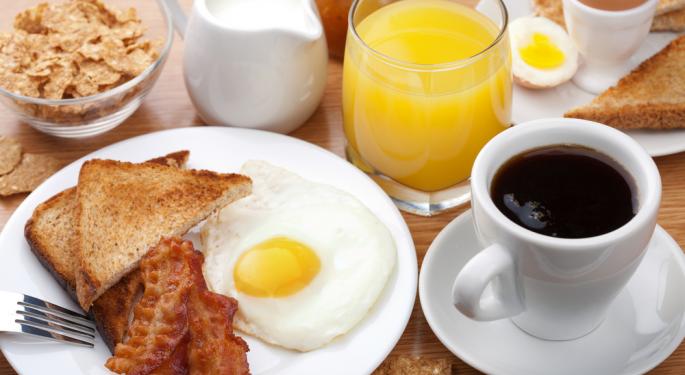 US existing home sales data fell in November while new filings for unemployment unexpectedly rose.
On Thursday, the National Association of Realtors announced that home resales dropped 4.3 percent in November, near a one year low. In another report on the same day, the US Labor Department released data that showed that initial jobless claims rose by 10,000 last week.
Since the Federal Reserve decided to begin tapering its stimulus spending on the grounds of a strengthening labor market and a solid US economy, the weaker data caused some to worry. However, most economists insist it was simply a blip on the radar. Other labor market indicators have shown improvements in job growth, and most attributed the rise in unemployment claims to seasonal layoffs.
In other news around the markets:
Target announced that information from nearly 40 million credit and debit cards was stolen by hackers in the first three weeks of the holiday shopping season. The security breach comes at a crucial time for retailers, with some of the busiest holiday shopping days coming up. Target could see a drop in holiday sales as shoppers avoid the store for fear of identity theft.
On Thursday, the Obama administration warned that the US government could reach its debt ceiling as early as February. The US Treasury Secretary Jack Lew urged lawmakers to focus their attention on raising the nation's debt limit as soon as possible as the forecast is subject to variability. If the nation's borrowing limit is not raised, many economists expect financial panic to ensue.
The Bank of Japan voted to maintain its current monetary policy at its Friday meeting and said its massive stimulus has been trickling down to all sectors of the economy. The bank has been increasing cash and deposits at an annual rate of 60 to 70 trillion yen since April.
A new bipartisan Senate bill which would enact new sanctions on Iran if the nation violates the terms of last month's temporary deal to curb its nuclear program is making waves in Washington. On Thursday, President Obama threatened to veto the bill if it is passed by the Senate, saying it would undermine his diplomatic efforts with Iran. The threat could become another standoff between the President and Senate members, some of which come from his own party.
Asian markets were mostly lower on Friday, the Shanghai composite lost 1.54 percent and the Shenzhen composite was down 1.67 percent. The Hang Seng index fell 0.55 percent and Indonesia's JSX composite was down 1.11 percent.      
European Markets
Europe's markets were up across the board; the UK's FTSE gained 1.43 percent and the eurozone's STOXX 600 was up 1.88 percent. The Spanish IBEX gained 2.34 percent and France's CAC 40 was up 1.64 percent.
Energy futures were lower, Brent futures fell 0.35 percent and WTI futures were down 0.26 percent. Gold gained 0.06 percent and silver was up 0.15 percent. Industrial metals were mostly lower with aluminum posting the largest losses, down 1.39 percent.
The euro lost ground against the dollar and fell to $1.36 and the pound fell 0.07 percent against the greenback. The dollar gained 0.17 percent against the yen and lost 0.10 percent against the Australian dollar.
Earnings
Notable earnings released on Thursday included:
Nike, Inc. (NYSE: NKE) reported second quarter EPS of $0.59 on revenue of $6.40 billion, compared to last year's EPS of $0.57 on revenue of $5.96 billion.
Rite Aid Corporation (NYSE: RAD) reported third quarter EPS of $0.04 on revenue of $6.40 billion, compared to last year's EPS of $0.07 on revenue of $6.24 billion.
Accenture plc. (NYSE: ACN) reported first quarter EPS of $1.15 on revenue of $7.40 billion, compared to last year's EPS of $1.06 on revenue of $7.22 billion.
Darden Restaurants, Inc. (NYSE: DRI) reported second quarter EPS of $0.20 on revenue of $2.05 billion, compared to last year's EPS of $0.26 on revenue of $1.96 billion.
Stocks moving in the Premarket included:
Notable earnings reports expected on Friday include:
BlackBerry 

(NASDAQ:

BBRY

) is expected to report a third quarter loss of $0.43 per share on revenue of $1.58 billion, compared to last year's loss of $0.22 on revenue of $5.96 billion.

Walgreen Co. (NYSE: WAG) is expected to report first quarter EPS of $0.73 on revenue of $18.33 billion, compared to last year's EPS of $0.58 on revenue of $17.32 billion.
Navistar International Corporation (NYSE: NAV) is expected to report a fourth quarter loss of $1.67 per share on revenue of $2.92 billion, compared to last year's loss of $7.89 on revenue of $3.28 billion.
Economics
Notable economic releases due out on Friday include US GDP, Canadian Retail Sales, eurozone consumer confidence, and Italian retail sales.
For a recap of Thursday's market action click here
Tune into Benzinga's pre-market info show with Dennis Dick and Joel Elconin here.
View Comments and Join the Discussion!
Posted-In: Earnings News Eurozone Futures Forex Global Economics Federal Reserve Best of Benzinga