#PreMarket Primer: Wednesday, December 18: Markets Hold Breath Ahead Of Fed Outcome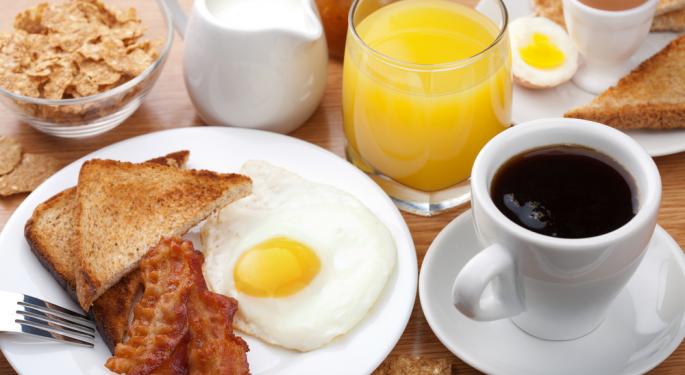 Markets closed slightly lower on Monday after the Federal Reserve's two day policy meeting got underway. Although most expected the bank to begin tapering its asset buying plan in March, recent strong data coupled with a new budget deal has removed much of the Fed's reasoning for continuing with the bond buying plan.
On Tuesday, the US' bipartisan budget deal passed a Senate procedural vote which means the new budget is likely to clear the senate as early as Wednesday. The new budget would keep the US from facing the political gridlock over the nation's fiscal future for the next two years. Uncertainty about next year's budget was part of the reason the Fed has been holding off on its taper.
The FOMC will release issue a statement following the meeting, which is expected to finish on Wednesday afternoon.
In other news around the markets:
The United Nations reported that tension in South Sudan is escalating and fighting in the African nation has left between 400 and 500 people dead and nearly 800 wounded. The staggering figures are the result of an ongoing power battle between ethnic groups.
Protestors in Ukraine are planning mass rallies over the holiday season in response to Ukrainian President Viktor Yanukovich's bailout deal with Russia. Yanukovich turned away from a deal with the EU and later accepted a $15 billion loan from Russia in order to keep the nation's economy from crumbling. Ukrainians were enraged, saying Yanukovich sold his country out to Russia.
Eurozone finance ministers are scrambling to make a year end deal on the region's new system for winding down failing banks, but have found it difficult to come to an agreement. Germany's Finance Minister Wolfgang Schaeuble said they were making progress, but still had conflicting ideas about some key points. The ministers will need to reach an agreement in the next few weeks to ensure the new system can be ratified by EU lawmakers before elections begin in May.
A report from the EU's statistics agency showed that the eurozone's rate of inflation rose from 0.7 percent to 0.9 percent. The figure, albeit modestly higher, is still far below the EU's target and is a cause for concern for the nation's central bank. The agency also reported falling consumer prices and declining energy costs, which could be an indication of decreasing inflationary pressure.
Asian markets were mixed on Wednesday, the Japanese NIKKEI was up 2.02 percent and the Hang Seng index rose 0.41 percent. However, China's Shanghai composite lost 0.13 percent and New Zealand's NZ50 was down 1.10 percent.
European Markets
Europe's markets were down across the board, the UK' FTSE lost 0.55 percent and the eurozone's STOXX 600 fell 1.24 percent. Italy's MIB was down 1.63 percent and France's CAC 40 fell 1.24 percent.
Energy futures were mixed, Brent futures lost 0.07 percent and WTI futures were up 0.22 percent. Gold gained 0.19 percent and silver was up 0.30 percent. Industrial metals were mixed with copper down 0.17 percent and aluminum down 0.25 percent.
The euro gained 0.04 percent against the dollar and the pound was up 0.15 percent against the American currency. The dollar gained 0.32 percent against the yen but lost 0.18 percent against the Australian dollar.
Earnings
Notable earnings released on Tuesday included:
Jabil Circuit, Inc. (NYSE: JBL) reported first quarter EPS of $0.51 on revenue of $4.61 billion, compared to last year's EPS of $0.61 on revenue of $4.64 billion.
Verifone Systems, Inc. (NYSE: PAY) reported fourth quarter EPS of $0.27 on revenue of $432.00 million, compared to last year's EPS of $0.76 on revenue of $488.56 million
Stocks moving in the Premarket included:
Jabil Circuit Inc. (NYSE: JBL) lost 13.79 percent in premarket trade after gaining 0.20 percent on Tuesday
Notable earnings reports expected on Wednesday include:
Economics
The US FOMC interest rate decision and statement will be the star of Wednesday's economic calendar as investors wait on pins and needles to find out if the bank will taper sooner than expected. Other notable economic releases include the British unemployment rate, and Germany's LFO business climate index.
For a recap of Wednesday's market action click here
Tune into Benzinga's pre-market info show with Dennis Dick and Joel Elconin here.
Posted-In: Earnings News Eurozone Futures Forex Global Economics Federal Reserve Best of Benzinga
View Comments and Join the Discussion!