#PreMarket Primer: Monday, November 11: Strong US Labor Data Causes December Taper Speculation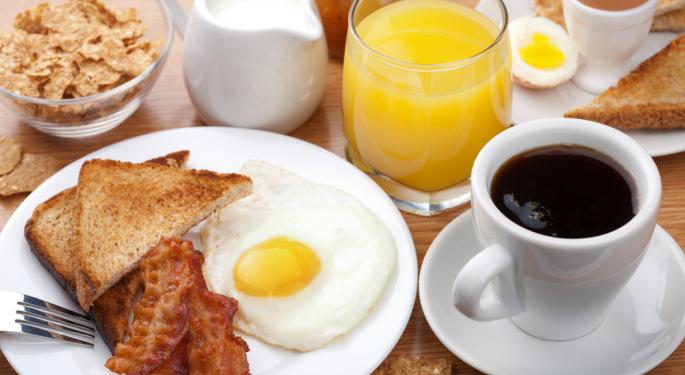 A stronger than expected US labor market report has brought Federal Reserve taper talk back into the market as investors try to predict when the US central bank will cut back on its $85 billion per month spending plan.
In October, US employers hired 204,000 new employees, nearly twice the figure analysts were expecting. Since the Fed has said the taper will be closely linked to US unemployment, many saw the report as reason to believe the bank could start to pull back as soon as December.
In other news around the markets:
US retailers are gearing up for what some analysts are expecting to be the weakest holiday season since 2008. Since Thanksgiving falls later than usual this year, Americans will have six fewer days to shop which could cut into companies' coveted holiday sales. Sales from this time of year typically make up about 30 percent of annual sales.
A typhoon in the Philippines has killed an estimated 10,000 people and displaced a further 600,000. The storm brought down between 70 and 80 percent of the structures in the Leyte province, making rescue efforts much more difficult.
After high level talks between Western leaders and Iranian officials failed to result in a conclusive agreement over Iran's disputed nuclear program, US lawmakers revealed on Sunday that they wanted to tighten sanctions on Iran in order to avoid giving up too much if a deal is reached at the next round of talks. The two sides are expected to meet again in 10 days at lower level talks, but officials claim there is a good chance of an agreement.
Starting on Monday, the EU and US are expected to hold a second round of talks to discuss a free trade agreement between the two regions. The two sides will focus on coming up with a set of common regulations which would make products made and tested in the EU ready for sale in the US.
Asian markets were mixed to start off the week, the Japanese NIKKEI rose 1.30 percent and the Hang Seng index gained 0.99 percent. However New Zealand's NZ 50 slipped 0.59 percent and Australia's ASX 200 fell 0.25 percent.
European Markets
European markets were quiet on Monday, the UK's FTSE was up 0.12 percent and the eurozone's STOXX 600 gained 0.10 percent. France's CAC 40 was up 0.11 percent and the Spanish IBEX lost 0.21 percent.
Energy futures gained with Brent futures up 0.32 percent and WTI futures up 0.24 percent. Precious metals also climbed with gold up 0.13 percent and silver up 0.34 percent. Industrial metals were mostly higher with copper up 0.25 percent and tin up 0.68 percent.
Currency markets were quiet on Monday morning, the Euro continued to trade at $1.33 and the pound slipped 0.07 percent against the dollar. The yen gained 0.11 percent against the dollar  and the Australian dollar gained 0.02 percent against the greenback.
Earnings
Notable earnings released on Friday included:
Eldorado Gold Corporation (NYSE: EGO) reported third quarter EPS of $0.05, compared to last year's EPS of $0.11 on revenue of $281.84 million.
Cablevision Systems Corporation (NYSE: CVC) reported third quarter EPS of $0.22 on revenue of $1.57 billion, compared to last year's loss of $0.01 on revenue of $1.69 billion.
Stocks moving in the Premarket included:
Facebook, Inc. (NASDAQ: FB) gained 0.37 percent in premarket trade even after weak user data made investors nervous about the company's future
Groupon, Inc. (NASDAQ: GRPN) rose 2.63 percent in premarket trade after slipping last week following weaker than expected earnings.
Earnings reports expected on Monday include:
Sotheby's (NYSE: BID) is expected to report a third quarter loss of $0.47 on revenue of $70.26 million, compared to last year's loss of $0.48 on revenue of $68.46 million.
Economics
Monday will be a quiet day for economic data, with only a few closely watched reports out including Italian industrial production, Norwegian CPI, PPI and core inflation data and British house price balance.
For a recap of Friday's market action click here.
Tune into Benzinga's pre-market info show with Dennis Dick and Joel Elconin here.
View Comments and Join the Discussion!
Posted-In: Earnings News Eurozone Futures Commodities Forex Events Global Best of Benzinga