Market Primer: Thursday, October 17: US Debt Deal Kicks The Can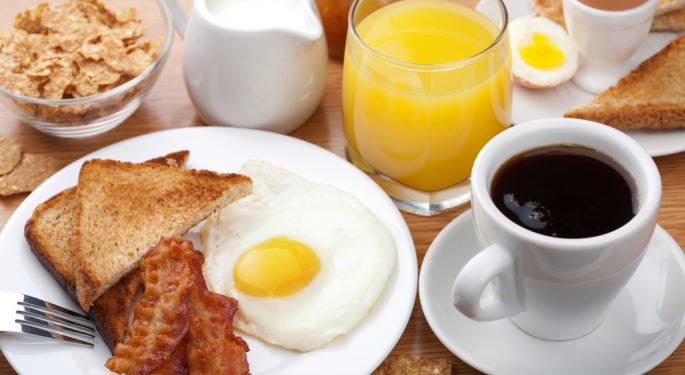 Congress made a last minute deal with just hours to go before the budget deadline and avoided a sovereign default.
The US government agreed to a bill which will reopen the Federal government until January 15 and extend the nation's borrowing authority until February 7, meaning markets may be dealing with another budget battle in just a few months.
Asian markets cheered the deal, but US stock index futures slipped after investors seemingly bought on the rumor and sold on the fact.
Most of the attention has shifted away from the deal itself and onto the backlog of US data which will flood the markets now that the shutdown has been lifted. Several important economic indicators, including September payrolls, will be eagerly anticipated for a clearer picture of the US' economic health.
In other news around the markets:
Slipping sales in Southeast Asia prompted the Chinese trade ministry to warn that waning demand in emerging markets will likely have a negative impact on Chinese exports. A Spokesman for the country's Commerce Ministry said the Chinese government will support exporters to ensure trade growth reaches its 8 percent target this year.
In a settlement with the US Commodity Futures Trading Commission, JPMorgan Chase & Co will pay $100 million and admit wrongdoing in the 'London Whale' case. The fine is one of many the firm will face over the incident; not to mention the $23 billion the firm has set aside for legal fees as it is being investigated by US authorities and regulators in connection to the case.
Federal Reserve Bank of Dallas President Richard Fisher commented that big banks are to blame for crises and that they have been shielded from failure. He said banks should be forced to rely on equity and raise money in the stock market rather than borrowing.
Canadian Prime Minister Stephen Harper announced that the country is expecting to balance its budget by 2015 and that the government will introduce a new law which will require balanced budgets in "normal times". Harper said new fiscal rules and set timelines for returning to balance will help mitigate damage during times of economic crisis.
Asian markets were higher on the US budget deal, the Japanese NIKKEI was up 0.83 percent and Indonesia's JSX composited gained 0.50 percent. The NZ50 was up 0.36 percent and the ASX 200 gained 0.38 percent.
European Markets
Europe's markets got off to a rough start on Thursday, the UK's FTSE was down 0.56 percent and the eurozone's STOXX 600 lost 0.49 percent. The German DAX lost 0.76 percent and Italy's MIB was down 0.86 percent.
Brent futures were up 0.82 percent and WTI futures were down 0.45 percent. Gold and silver were little changed and industrial metals were mixed with copper down 0.67 percent and aluminum up 0.11 percent.
The dollar slipped on Thursday, the euro gained 0.69 percent against the American currency and the pound was up 0.73 percent against the dollar. The yen also gained against the greenback, up 0.80 percent.
Earnings
Notable earnings released on Wednesday included:
Stocks moving in the pre-market included:
Newmont Mining Corp (NYSE: NEM) gained 3.75 percent in pre-market trade after losing 2.34 percent over the past five days.
International Business Machines Corp. (NYSE: IBM) lost 6.09 percent in pre-market trade after gaining 2.98 percent over the past week
Abbott Laboratories (NYSE: ABT) lost 0.33 percent in pre-market trade after gaining 6.50 percent on Wednesday
Earnings reports expected on Thursday include:
Economics
Economic releases expected on Thursday include US housing starts, British retail sales and the eurozone's current account.
Good luck with your Thursday trades!
For a recap of Wednesday's market action, click here.
Tune into Benzinga's pre-market info show with Dennis Dick and Joel Elconin here.
Posted-In: Earnings News Eurozone Futures Commodities Previews Forex Events Best of Benzinga
View Comments and Join the Discussion!