Market Primer: Tuesday, October 8: US Treasury Yields Climb As Markets Succumb To Default Fears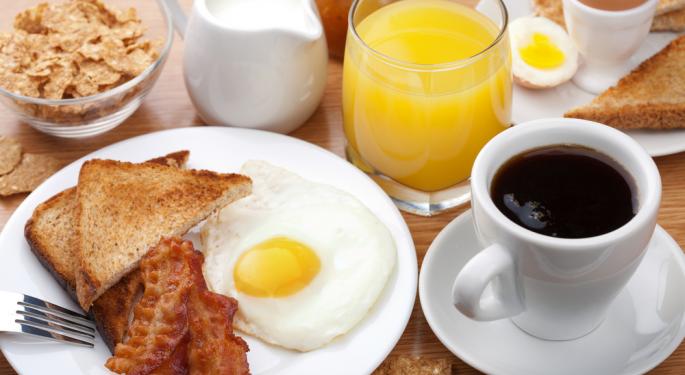 Yields for one month US Treasury bills spiked as investors backed away in fear of a default. On Tuesday, the T-bills traded near 0.16 percent, up 14 basis points from last week.
With the US government in its second week of a shutdown, markets are becoming increasingly worried about the possibility that Congress will not come to an agreement by the October 17 deadline. Failure to reach a deal and raise the government's borrowing limit would lead the US to default on its debt, something that would have far reaching consequences.
In other news around the markets:
The Wall Street Journal reported that confidential documents from the IMF showed that Greece's 2010 bailout package was approved despite objections from nearly a third of the fund's board members. The report comes just a week before finance ministers from around the world are set to attend the IMF annual meeting in Washington, where a revision of Greece's bailout plan is expected to be high on the agenda. Critics of Greece's current aid package insist that the nation's European creditors must take on some of the burden through debt forgiveness.
Tension between the US and North Korea ratcheted up on Tuesday after a North Korean military spokesman warned that the US and South Korea would face "disastrous consequences" due to the movement of ships into a South Korean port.
A private survey out on Tuesday showed that China stumbled in September as growth in the nation's services sector declined. Chinese Markit/HSBC services PMI fell to 52.4 in September from 52.8 in August. The drop indicated that the nation is finding it difficult to maintain forward momentum; however the reading was well above the 50 point line that indicates expansion.
Alcatel-Lucent is expected to announce that it will trim 15,000 jobs as it attempts to reshape its business. The company is trying to cut down on older technologies in order to focus on a small number of core businesses.
Asian markets were up across the board with the exception of Australia's ASX 200 and New Zealand's NZ 50 which were down 0.23 percent and 0.37 percent respectively. The Japanese NIKKEI gained 0.30 percent and the Indonesian JSX composite was up 1.32 percent.
European Markets
Europe's markets were down across the board on Tuesday. The UK's FTSE lost 0.72 percent and the eurozone's STOXX 600 was down 0.47 percent. Italy's MIB was down 0.45 percent and the German DAX fell 0.23 percent.
Energy futures picked up with Brent futures up 0.15 percent and WTI futures up 0.39 percent. Gold lost 0.35 percent and silver fell 0.45 percent. Industrial metals fared better with copper up 0.46 percent and Aluminum up 0.61 percent.
The euro continued to trade above $1.35 but the pound lost 0.22 percent to the dollar. The yen was down 0.40 percent against the dollar.
Earnings
No notable earnings were released on Monday
Stocks moving in the pre-market included:
Earnings reports expected on Tuesday include:
Yum! Brands, Inc (NYSE: YUM) is expected to report EPS of $0.93 per share, compared to last year's EPS of $0.99
Alcoa Inc. (NYSE: AA) is expected to report EPS of $0.06, compared to last year's EPS of $0.03.
Economics
Tuesday's economic calendar will be packed with a host of Canadian data including trade balance, exports, imports and housing starts. Other notable releases from around the world include, French trade balance, Spanish industrial production, German trade balance and Swiss retail sales and unemployment rate.
Happy trading and good luck!
For a recap of Monday's market action, click here
Tune into Benzinga's pre-market info show with Dennis Dick and Joel Elconin here.
Posted-In: Earnings News Futures Commodities Forex Global Economics Federal Reserve Best of Benzinga
View Comments and Join the Discussion!