Market Primer: Thursday, September 19: Markets Surge On Fed Decision To Continue With Stimulus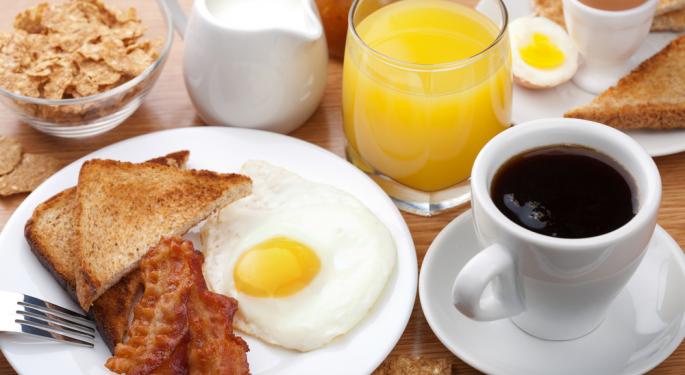 The US Federal Reserve meeting ended with the bank pledging to continue with its $85 billion per month stimulus plan until economic data paints a more stable picture of the US economy.
The news sent markets soaring; treasury bonds had their largest price rally in a single day since November 2011, with 10-year yields closing at 2.706 percent. The Dow Jones closed at an all time high, up 0.9 percent, and the S&P 500 index was up 20.76 points, a new record.
In other news around the markets:
With one year left for the European banking rescue program, eurozone banks are beginning to push for a new plan that will continue to ease the pain of the region's financial crisis. The European Central Bank has lent about one trillion euros into the region's banks, but as the maturity for those loans approaches many worry that banks in struggling countries like Italy and Spain will fail if left to stand on their own. Now, banks are lobbying for another round of ECB loans in 2014, before the original loans mature in 2015.
The SEC has proposed a new rule that would require companies to disclose the gap between employee salaries and chief executives' pay. Republican lawmakers and some regulators have criticized the rule, saying that those details don't provide information about a company's financial health and simply shame chief executives.
Bank of Japan member Takahide Kiuchi made a statement on Thursday saying the country was not in need of further stimulus at the moment. He said that the planned sales tax hike is not expected to have a huge impact on the Japanese economy in the long term, and that the bank will consider further easing only if the economy is affected by a severe shock.
Sharp Corp announced on Wednesday that it was planning to raise up to $1.67 billion through a share issuance and investments from its business partners. Over the past year, Sharp has dealt with shaky finances, and the new funds are expected to help ease some of the pressure on its balance sheet. The additional cash has been earmarked for investment in new facilities in Asia, liquid-crystal displays for smartphones and research and development for growth segments like robotics and health care.
Asian markets were up on Thursday; the NIKKEI gained 1.80 percent and the Hang Seng index was up 1.67 percent. The Indonesia's JSX composite had the largest gains, up 4.93 percent and New Zealand's NZ50 and Australia's ASX 200 grew by 1.05 percent and 1.10 percent respectively.
European Markets
European markets benefited from the Fed's decision to maintain its stimulus. The UK's FTSE was up 1.38 percent and the STOXX 600 was up 1.11 percent. France's CAC 40 was up 1.21 percent, the German DAX grew 1.27 percent and the Spanish IBEX gained 1.19 percent.
Commodity markets were on a high with news of the continued Fed stimulus. Brent futures were up 0.07 percent and WTI futures gained 0.51 percent. Gold jumped 4.91 percent to $1,317.80 per ounce and silver gained 7.17 percent to $23.11 per ounce. Industrial metals were also up across the board, copper gained 1.83 percent and aluminum was up 0.42 percent.
The dollar sunk against the euro losing 0.30 percent, but gained 0.97 percent against the yen and 0.37 percent against the pound. The dollar also lost 2.54 percent to the rupee.
Earnings
Notable companies that reported earnings on Wednesday included:
Oracle Corporation (NASDAQ: ORCL) reported EPS of $0.59 on revenue of $3.38 billion, compared to last year's EPS of $0.53 on revenue of $8.21 billion.
FedEx Corporation (NYSE: FDX) reported EPS of $1.53 on revenue of $11.00 billion, compared to last year's EPS of $1.45 on revenue of $10.79 billion.
General Mills, Inc. (NYSE: GIS) reported EPS of $0.70 on revenue of $4.37 billion, compared to last year's EPS of $0.66 on revenue of $4.05 billion.
Stocks moving in the pre-market included:
Notable companies expected to report earnings on Thursday include:
Economics
Economic releases on Thursday include initial and continuing jobless claims, existing home sales, and current account data from the US, British retail sales and the Swiss National Bank's interest rate decision.
Good luck with your mid week trades!
For a recap of Wednesday's market action, click here
Tune into Benzinga's pre-market info show with Dennis Dick and Joel Elconin here.
Posted-In: Earnings News Eurozone Futures Commodities Econ #s Economics Federal Reserve Best of Benzinga
View Comments and Join the Discussion!