Benzinga Market Primer: Wednesday, September 4: Manufacturing Data Supports Hope For A Global Economic Recovery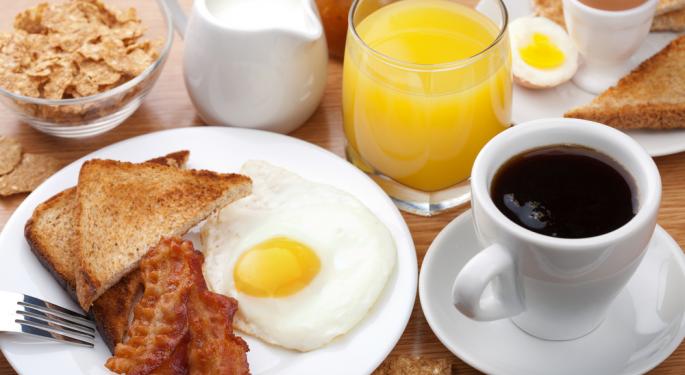 PMI data released this week showed that most manufacturers have been expanding. The eurozone had the biggest success story as manufacturing PMI for the region rose to its highest level in over two years.
Peripheral countries like the Czech Republic and even Turkey saw a boost as a result. The US, China and Japan followed suit as well with improving PMI figures that suggested the global economic recovery was gaining momentum.
In other news around the markets:
US President Barack Obama's plan to launch a military attack in Syria received support from key members of Congress on Tuesday, making military action in Syria more likely. Obama's proposal includes limited military strikes that would be designed to punish Syrian President Bashar al-Assad for his use of chemical weapons.
Russian President Vladimir Putin has cautioned the West about taking military action in Syria without UN approval. In an interview on Tuesday, Putin told the Associated Press that he would support military intervention if evidence proves the Syrian government used chemical weapons against its civilian; but not without UN approval.
Chinese President Xi Jinping gave an interview on Tuesday in which he said that China's lackluster economic growth was the government's choice. Xi said that his leadership team brought down the country's growth rate so that fundamental problems could be solved.
On Tuesday, LinkedIn filed with the Securities Exchange Commission for a stock offering worth $1 billion. The Wall Street Journal reported that the company will offer $1 billion worth of class A shares, with underwriters having the option to sell $150 million worth of additional stock.
Asian markets struggled with jitters from the situation in Syria. The Hang Seng index was down 0.31 percent and the Shenzhen composite lost 0.07 percent. The Australian ASX 200 fell 0.67 percent, but the Japanese NIKKEI index and the Shanghai composite gained 0.54 percent and 0.21 percent respectively.
European Markets
European markets were also dragged down by worries about military intervention in Syria. Italy's MIB had the largest losses and shed 1.38 percent. The eurozone's STOXX 600 was down 0.28 percent and the UK's FTSE lost 0.33 percent. The German DAX was down 0.17 percent and the Spanish IBEX shed 0.38 percent.
n commodity markets, Brent futures were mostly flat with just 0.06 percent gains while WTI futures fell 0.40 percent. Gold slipped 0.25 percent and silver lost 1.90 percent. Copper was down 1.13 percent and Aluminum lost 0.38 percent.
The euro to dollar ratio was little changed, and the pound gained 0.19 percent on the dollar. The yen continued to slide against the dollar, trading at 99.62 and slowly approaching to 100 yen to a dollar mark.
Earnings Reported Yesterday
Notable companies that reported earnings on Tuesday included:
H&R Block, Inc. (NYSE: HRB) reported a first quarter loss of $0.40 per share on revenue of $127.00 million, compared to last year's loss of $0.37 per share on revenue of $96.49 million.
Pike Electric Corp. (NYSE: PIKE) reported fourth quarter EPS of $0.02 on revenue of $200.19 million, compared to last year's EPS of $0.14 on revenue of $178.58 million.
Stocks moving in the pre-market included:
Notable companies expected to report earnings on Wednesday include:
CIENA Corporation (NASDAQ: CIEN) is expected to report third quarter EPS of $0.16 on revenue of $532.28, compared to last year's loss of $0.04 per share on revenue of $474.09 million.
Dollar General Corporation (NYSE: DG) is expected to report second quarter EPS of $0.74 on revenue of $4.36 billion, compared to last year's EPS of $0.69 on revenue of $3.9 billion.
Economics
Wednesday's economic calendar is packed full of important releases. In Europe, investors will be watching for British, eurozone, German, Spanish, French, and Italian services PMI. The US is set to release its beige book, the BOJ will announce its rate decision and South Korea will release GDP data.
Good luck with your mid-week trades!
For a recap of Tuesday's market action, click here.
Tune into Benzinga's pre-market info show with Dennis Dick and Joel Elconin here.
Posted-In: Earnings News Eurozone Futures Commodities Forex Global Econ #s Best of Benzinga
View Comments and Join the Discussion!