What LeBron's Move To The West Coast Means For His Business Empire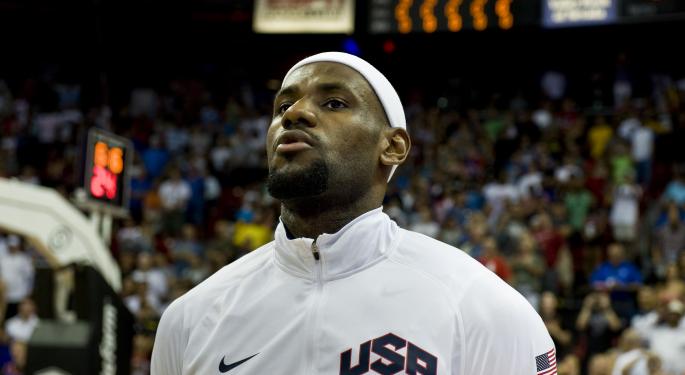 With the NBA season officially underway, all eyes will be on LeBron James and the new-look Los Angeles Lakers.
Many have called James' decision move to the West Coast as much of a business decision as it was a basketball decision, as the superstar looks to expand his media empire and compete with Michael Jordan off the court.
Bigger Than Basketball?
"It's incredibly advantageous for him," sports attorney Darren Heitner told Benzinga. "Whenever he has some time off, he can easily handle in-person meetings with key decision makers in the entertainment industry. Just being close in proximity allows James to be more involved in his off-court passions."
The perception of being in Los Angles also helps.
"[B]eing in close proximity adds a lot of value in days off, in any given day, if can meet in person, he can appear in front of a camera for various acting roles," said Heitner, who recently launched The Sports Biz. "We would be shortsighted to believe it is only based on business, however. There has to be a myriad of reasons why he choose this particular, it seems to be that everything LeBron does is very calculated. He thought of every single positive and negative."
LeBron And Magic: A Business Powerhouse
Basketball writer Oliver Maroney said that in teaming up with Laker's high-profile executives, they will have James' back in business decisions.
"Pairing LeBron with Magic Johnson [and] a guy like Lakers GM Rob Pelinka — that is a win. They will have his back in business decisions, cross promotion and marketing," Maroney told Benzinga earlier this summer.
James is already set to star in "Space Jam 2" and also produces HBO's "The Shop," featuring celebrity guest stars in a open dialogue format.
LeBron's Effect On Retail
"LeBron is marketing gold on and off the court. His move to Los Angeles certainly gives him a bigger platform, if that is even possible," said Andy Gray, GM and chief merchandising officer of Foot Locker, Inc. (NYSE: FL) North America. "We've seen great consumer demand for the LeBron 16 and his licensed product. He continues to engage basketball fans and sneaker enthusiasts in L.A. and far beyond."
While Jame's presence in LA will certainly boost his celebrity status, one industry expert doesn't believe it will boost his Nike Inc (NYSE: NKE) shoe sales.
"LA is not an important basketball shoe market," NPD Group's Matt Powell said back in July. "LeBron will sell a lot of jerseys there. When Kobe played, he was the No. 1-selling jersey, but he never sold a lot of shoes so I don't see much of a positive for Nike."
Related Links:
Adidas CEO Talks Tariffs, Yeezy Release And The Rise Of 3D-Printed Shoes
Puma Takes Over NBA Draft Conversation With Basketball Footwear Push
Photo credit: U.S. Air Force, Airman 1st Class Daniel Hughes
View Comments and Join the Discussion!
Posted-In: Andy Gray Darren Heitner HBO LeBron JamesEntrepreneurship Sports Exclusives General Best of Benzinga