Adidas CEO Talks Tariffs, Yeezy Release And The Rise Of 3D-Printed Shoes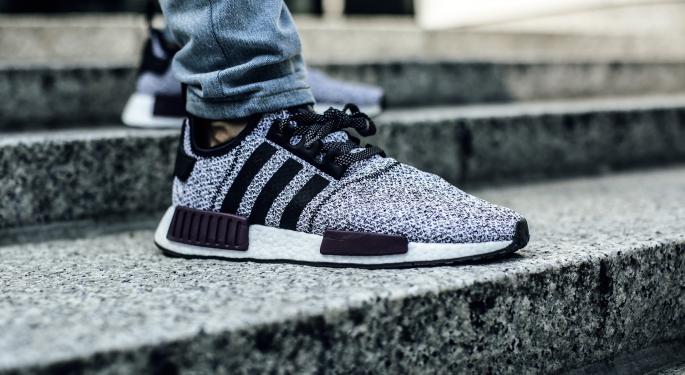 Even with Nike Inc (NASDAQ: NKE) roaring back in North America, adidas AG (ADR) (OTC: ADDYY)'s CEO said the brand is maintaining its foothold in the market.
Adidas CEO Kasper Rorsted appeared on CNBC Tuesday and said the company is gaining market share in North America for the third year in a row — and also acknowledged that Nike is making a return.
"We have still outgrown Nike, on a global basis but also in the U.S., but there is no doubt that Nike is coming back. So we're seeing it in U.S. predominantely," Rorsted said.
Adidas Unfazed By Tariffs
Tariffs levied on Chinese goods are a big concern for the athletic apparel industry, with speculation rampant that it may cause prices to increase, but Rorsted said the Sino-American trade dispute is unlikely to affect Adidas.
"For us, most of the manufacturing we have in China is for China. So even if tariffs were to come, impacting the sporting goods industry, it wouldn't impact adidas," he said.
If President Donald Trump does in fact go through with his next threatened round of tariffs, sneaker prices could rise in the short term, but not in the medium term, Rorsted said. He defines "medium term" as one year.
Adidas does have factories in Vietnam and Indonesia, and Rorsted said: "If it's impacting all of Asia, it will [increase prices]. But only China, it will have hardly an impact."
Shoe Trends: Yeezys, 3-D Printing, Sustainability
The CEO eased some concerns that the company's recent aggressive release of its latest Kanye West sneaker, the V2 350, means the brand has finally hit its peak, but confirmed future wide releases of Yeezys are unlikely.
"We'll still be very scarce on certain models. But on some of the older models, we will bring more volume into it. But if you're looking for the innovation we are bringing in, we're not going to bring that out in volume. So it's still going to be hard to get a very new Yeezy shoe from adidas," he said.
Adidas is seeing double-digit growth in various parts of the world, the CEO said, adding that 3-D printed and sustainable shoes, like those made in the company's partnership with Parley, are trending.
Every major shoe company has made a push toward 3-D-printed footwear and sustainable products, and Rorsted said the trend will continue.
While we are in the early stages of development in 3-D-printed shoes, they are undoubtedly the future of the industry.
To learn more, check out the author's latest release, "The 3D Shoe Project," available on Amazon.
Related Links:
What The Kaepernick Campaign Means For Nike
View Comments and Join the Discussion!
Posted-In: CNBC Kanye West Kasper Rorsted President Trump The 3D Shoes ProjectNews Media Best of Benzinga