The Story Of Jack Wu: From 'Transformers' Fan To Robot Creator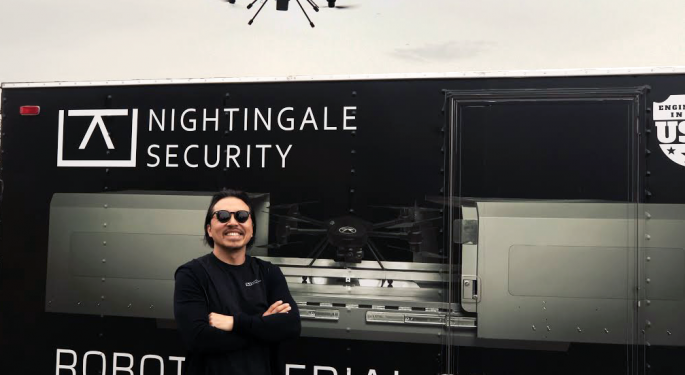 Jack Wu is the co-founder and CEO of a robotic aerial security company: Nightingale Security. He grew up in a military family and, while other kids were watching cartoons, his dad had him watch military documentaries with him – because they only had one TV.
"My passion for military strategy and equipment led me to discover the importance of surveillance technologies. That understanding, combined with my deep interest in robotics, was the genesis of Nightingale Security," Wu told Benzinga in a recent interview.
Meet Nightingale
"Nightingale is the leader in Robotic Aerial Security - using intelligent software and continuous learning to autonomously protect large, remote and valuable assets for Fortune 500 corporations," Wu explained. He likes to define Nightingale's business model as a RaaS model: Robot-as-a-Service. It's similar to Oracle Corporation (NYSE: ORCL)'s SaaS business, which combines its hardware platform with software, to provide a subscription-based enterprise solution.
"We are building a market leading RaaS business with room for future expansion into other enterprise drone applications," Wu said.
"My foray into robotics has been an emotional one," Wu added, when prompted about how he got into robotics. "I grew up watching 'Transformers' in the 80s, and 'Robotech' in the 90s. My room was filled with military and robotic models I built myself."
As Wu grew older, his interest in robotics deepened.
"When I began my career in tech back in the late 90s, I saw the internet's impact on the PC and how the information revolution transformed the PC as a computing platform. I began to see a future where robotic technologies will have the same impact on machinery. So when I had the opportunity to start a robotics company with my co-founder, who I have been friends with since I was 11, and who has 15 years of robotics experience as well as SpaceX credentials, I decided to jump head first and pursue this venture with the passion of someone who's realizing a childhood dream."
The Challenges Of A Startup
Many people might think starting a tech company is San Francisco is easy, but this couldn't be further from reality.
"Doing a tech startup in the valley is a team sport," Wu said. "The biggest challenge is to find individuals who have the mental toughness and talent to persevere in the face of great odds and adaptability to wear many hats."
So, what advice can Wu share for others looking to start a tech company?
"First ask yourself the question: Is the technology solution you are offering, cheaper, better and faster than existing solutions? If it doesn't qualify all three criteria, you might not have the right solution, no matter how big the potential market might be," he said.
Wu's favorite inspirational quote comes from Benjamin Franklin: "One today, is worth two tomorrows."
"The quote inspires me to maximize immediate opportunities everyday. As an entrepreneur, I am keenly aware that though I can raise more capital, I can't raise more time," Wu said.
The Benzinga Fintech Summit is the premier gathering of West Coast fintech innovators. The second installment of the event, which takes place Nov. 14 in Sn Francisco, brings with it a special focus on a maturing fintech sector—the revolutionized lending industry. Click here to learn more!
Related Links:
What Do Alphabet's 'Wing' And 'Loon' Businesses Do?
Michigan Startups Shift Into Third Gear: State Venture Capital Association Sees 'Entrepreneurial Hub' Taking Shape
Posted-In: Jack WuEntrepreneurship Top Stories Startups Exclusives Tech Interview General Best of Benzinga
View Comments and Join the Discussion!