What Do Alphabet's 'Wing' And 'Loon' Businesses Do?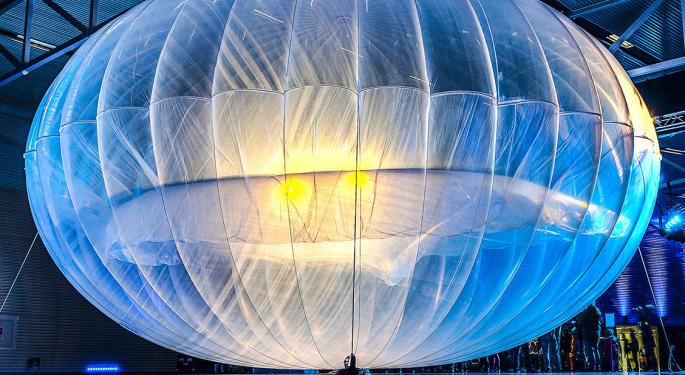 Like Chronicle, Dandelion, Waymo and Verily before them, Wing and Loon have taken flight.
Alphabet Inc (NASDAQ: GOOGL) (NASDAQ: GOOG) spun off the subsidiaries — the brainchildren of its X research division — into independent companies, according to a Wednesday CNBC report.
Cool, right? But, uh, what exactly are they?
Project Wing
Since 2014, Wing has been developing delivery drones and a supporting unmanned airspace traffic management platform to improve the logistics space.
"Together we're building a new commerce system that opens up universal access to the sky," according to the company's website.
Its drones fly 400 feet in the air and use sensors and software to fly packages along preplanned routes without striking one another. So far, the aircraft have completed "tens of thousands" of flights and, together with the traffic management platform, have been tested at an FAA-approved site.
James Ryan Burgess has been named CEO of Wing.
Project Loon
Loon manufactures and supplies balloons that transmit internet signals to rural and remote regions worldwide.
Its network of balloons float in the stratosphere and pass along high-speed internet signals from Alphabet's nearest telecom partners to on-the-ground users at speeds up to 10 megabits per second.
Since the project unofficially began in 2011, the firm has flown more than 30 million kilometers of test flights, achieved data transmission between balloons farther than 100 kilometers apart, and seen its longest-lasting balloon survive 198 days.
Alastair Westgarth is the company's newly appointed CEO.
What's Left At X?
With Loon and Wing now operating on their own, Alphabet's X is concentrating on three remaining projects.
Glass Enterprise Edition develops smart glasses; Makani creates energy kites that generate electricity from wind resources; and FSOC transmits high-speed data using light.
X said it will soon release information about its robotics project and "early stage moonshots."
Related Links:
19 Companies Google Could Buy With Its $102 Billion In Cash
Gene Munster Breaks Down Alphabet's Overlooked Businesses
Alphabet's Large Investment Spend Is Justified, KeyBanc Says
A Loon balloon. Photo by Flickr user iLighter via Wikimedia.
Posted-In: CNBC LoonNews Education Top Stories Startups Tech General Best of Benzinga
View Comments and Join the Discussion!