Michigan Startups Shift Into Third Gear: State Venture Capital Association Sees 'Entrepreneurial Hub' Taking Shape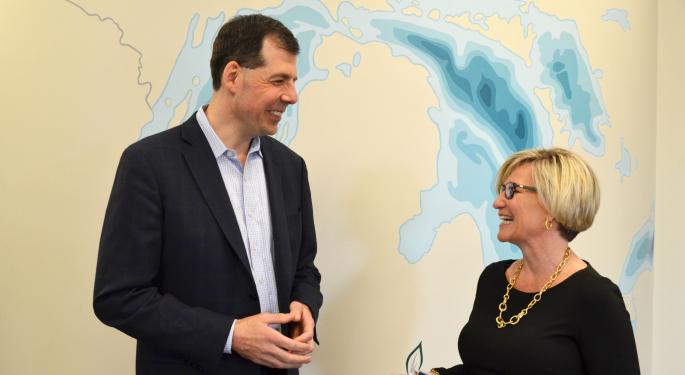 In an office in Ann Arbor, Michigan, Maureen Miller Brosnan is working on a $224-million problem.
The figure represents the difference between the estimated $627 million in funding that venture capitalists need to raise to support the growth of Michigan's new and existing startups in the next two years and the roughly $403 million that's available to them, said Miller Brosnan, the executive director of the Michigan Venture Capital Association.
The MVCA counts all 29 of the state's venture capitalists as members — "we're really proud of that," Miller Brosnan says of the nonprofit's 100-percent participation rate — and the firms provide data that allows the MVCA to calculate the funding needs of Michigan's startups and the economic impact of venture capital in the state.
Video: Watch Benzinga's interview with the Michigan Venture Capital Association here.
Michigan's venture capitalists collectively have $3.9 billion under management, according to the MVCA.
The 68 Michigan startups that received $179 million venture capital funding in 2017 includes names familiar to Benzinga readers: May Mobility, which is testing autonomous shuttles in downtown Detroit; Ash & Erie, which went on to receive a $150,000 investment on "Shark Tank"; and Waymark, a Google Demo Day award winner.
"You can throw a dart at a map and hit a startup company almost anywhere in the state, including the Upper Peninsula," Miller Brosnan told Benzinga. "We really think Michigan can be an entrepreneurial hub as an entire state."
Venture Capital: More Than Just Funding
For every $1 a Michigan venture capital firm invests in a startup in the state, $3.83 in investment is attracted from outside the state, according to the MVCA.
Venture capital is a crucial funding — and operational — mechanism for startups, said Tom Shehab, M.D., who was appointed chairman of the MVCA's executive committee in April and is managing director of the health care-focused venture capital firm Arboretum Ventures.
"When you have just an idea and a concept and perhaps a patent, you can't just go to the bank and get money. That's where venture capital comes in."
Venture capital funding is a question of momentum and traction, Shehab said: more available capital means more investment; more outside capital; further diversification of Michigan's economy; and the retention of entrepreneurs who might otherwise move to cities such as Chicago.
The importance of venture capital to startups isn't just financial in nature, Shehab said.
"Venture capitalists, unlike a bank loan where they just give you money — our contribution is to bring the money in, but also to surround the team with talent, experience, expertise and a network that really helps grow these companies."
Mobility Startups A Growing Trend In Michigan
Life science and health care are the leading venture capital investment areas in Michigan, representing 40 percent of funding, followed by a 31-percent allocation to information technology, according to the MVCA.
Since the 2017 report, the MVCA has listed the mobility sector as a separate category. The organization's 2018 research report shows mobility startups account for 6 percent of venture capital investment in Michigan, a 1-percent increase over the prior year.
"That's largely because the state of Michigan itself has said we wish to be the world leader in that sector," Miller Brosnan said.
MVCA Chairman Shehab said economic development efforts made with mobility startups at the time of the Great Recession are paying off, but that doesn't mean capital needs are lessening. "We need to continue to keep the foot on the gas," he said.
Stay Gutsy
Michigan's history is forever linked with automakers. Before the Big Three had multibillion-dollar market caps, they were companies founded by individuals with an entrepreneurial vision — a reminder of the importance of startup funding, Shehab said.
"Our legacy of being automotive is because there were entrepreneurs who were gutsy enough to start the companies that all of our families grew up working in," he said. "We'd be remiss not to plan the future based on entrepreneurs."
Related Links:
'We Gotta Keep Moving': Detroit Entrepreneurs Awarded $1.2M In Funding At Quicken Loans Demo Day
StockX, AutoBooks CEOs Talk Tech In The Motor City At Detroit Fintech Association Gathering
Tom Shehab, M.D., chairman of the Michigan Venture Capital Association's executive committee, and Maureen Miller Brosnan, the nonprofit's executive director, chat in the organization's Ann Arbor offices. Photo by Dustin Blitchok.
Posted-In: Ash & ErieFinancing Movers & Shakers Top Stories Startups Exclusives Interview General Best of Benzinga
View Comments and Join the Discussion!