Who Is Dr. Atul Gawande, Newly Appointed CEO Of The Buffett-Bezos-Dimon Health Care Coalition?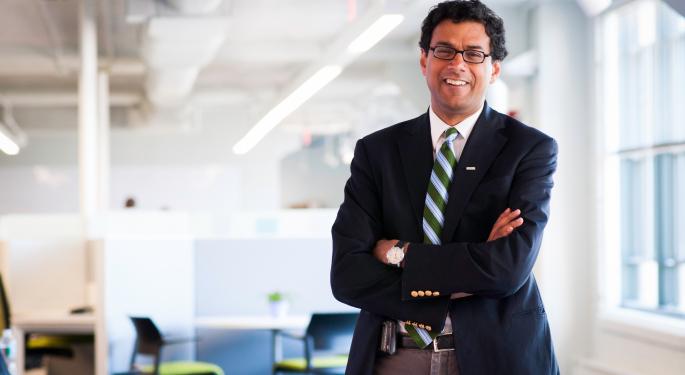 Amazon.com, Inc. (NASDAQ: AMZN), Berkshire Hathaway Inc. Class A (NYSE: BRK-A) (NYSE: BRK-B) and JPMorgan Chase & Co. (NYSE: JPM) are making strides in their joint plan to transform U.S. health care.
The trio announced Wednesday the appointment of Dr. Atul Gawande as CEO of their new company. Beginning July 9, Gawande will take the reins at the entity's Boston headquarters.
Who Is Gawande?
Gawande is a professor at Harvard Medical School and the Harvard T.H. Chan School of Public Health; a general and endocrine surgeon at Brigham and Women's Hospital; and the founding executive director of Ariadne Labs for health systems innovation.
STAT News called the health professional a "celebrity" in the medical world.
Gawande, who is also a staff writer for The New Yorker, said he will not relinquish his existing positions at Harvard, the hospital or the magazine. He will, however, transition to chairman of Ariadne.
"I have devoted my public health career to building scalable solutions for better health care delivery that are saving lives, reducing suffering and eliminating wasteful spending both in the U.S. and across the world," he said in a statement.
"Now I have the backing of these remarkable organizations to pursue this mission with even greater impact for more than a million people, and in doing so incubate better models of care for all."
What Could He Achieve?
Berkshire Hathaway CEO Warren Buffett said Gawande is well-suited to help deliver better care in the U.S. and check rising costs. His partners agreed.
"We said at the outset that the degree of difficulty is high and success is going to require an expert's knowledge, a beginner's mind and a long-term orientation," Amazon CEO Jeff Bezos said in a press release. "Atul embodies all three, and we're starting strong as we move forward in this challenging and worthwhile endeavor."
Related Links:
Mark Cuban Thinks Amazon, Berkshire, JPMorgan Collab Could Pressure Congress To Act
JPMorgan-Amazon-Berkshire Hathaway Health Care Effort Is 'Brilliant,' Says Techonomy CEO
Photo by Amar Karodkar/Wikimedia.
View Comments and Join the Discussion!
Posted-In: Atul Gawande Jeff Bezos Warren BuffettNews Health Care Management Top Stories General Best of Benzinga