Mark Cuban Thinks Amazon, Berkshire, JPMorgan Collab Could Pressure Congress To Act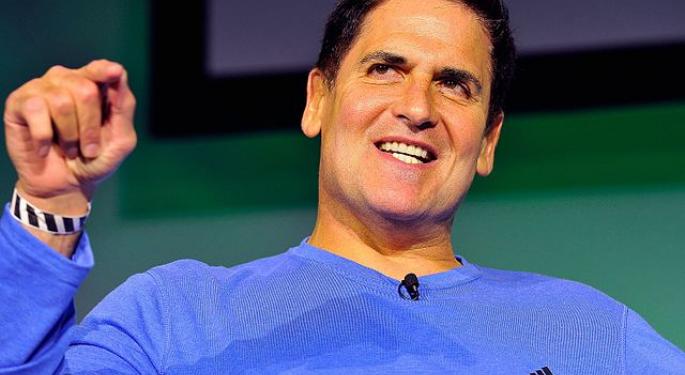 U.S. health care seems to have met its match — and so has the U.S. government.
A power team of Amazon.com, Inc. (NASDAQ: AMZN), JPMorgan Chase & Co. (NYSE: JPM) and Berkshire Hathaway Inc. (NYSE: BRK-A) announced Tuesday a collaboration to address the health care needs of their domestic employees, and Mark Cuban thinks the disturbance could soon rattle the halls of Congress.
"Change will come from people outside the government creating compelling solutions that force bipartisanship," Cuban told Benzinga.
'Smart People Solving Problems'
By his assessment, the private partnership of CEOs Jamie Dimon, Jeff Bezos and Warren Buffett could prod Congress to accelerate reform.
"This is not about private versus public sector," Cuban said. "Business versus government is not a binary decision. This is about smart people focusing on solving problems."
Be the first to get this news with Benzinga Pro. Sign up for your free two-week trial here.
The Amazon-JPMorgan-Berkshire collaborative seems aware of its influence. The group made clear its aims to simplify, improve the quality of and reduce the cost of employee health care by leveraging its combined power.
"The three of our companies have extraordinary resources, and our goal is to create solutions that benefit our U.S. employees, their families and, potentially, all Americans," Dimon said in a press release.
No New Ground Broken
Details are yet uncertain, and while corporate efforts may pressure action, Cowen believes the trio's targets align with those already being discussed in Washington and aren't necessarily disruptive.
In other words, they may inspire a change in pace, but not necessarily direction.
"In our view the commentary from these companies about the goals/desires for its new health care entity doesn't seem to break any new ground in the debate over rising health care costs," analysts Charles Rhyee, Christine Arnold and John Blackledge wrote in a note. "Certainly, it signals the entry of a very, very well capitalized participant, but the language in setting out the vision for the new entity doesn't look to make wholesale changes to the health care market."
The parties will announce a management team, headquarters and operational details in the future.
Several pharmacy-benefit managers and health insurance stocks sold off big following the release. UnitedHealth (NYSE: CVS), Cigna (NYSE: CI), and CVS Health (NYSE: CVS), among others, were down as much as 5 percent Tuesday morning.
Related Links:
Amazon's Pharma Aspirations: Cowen Finds No New License Applications
Morgan Stanley: Health Care M&A Means Headwinds For Hospitals
Image credit: TechCrunch - 509306865DH00026_TechCrunch, CC BY 2.0, via Wikimedia Commons
Posted-In: Jamie DimonAnalyst Color News Health Care Politics Top Stories Exclusives General Best of Benzinga
View Comments and Join the Discussion!