8 Of The Hottest 'Star Wars: The Last Jedi' Fan Theories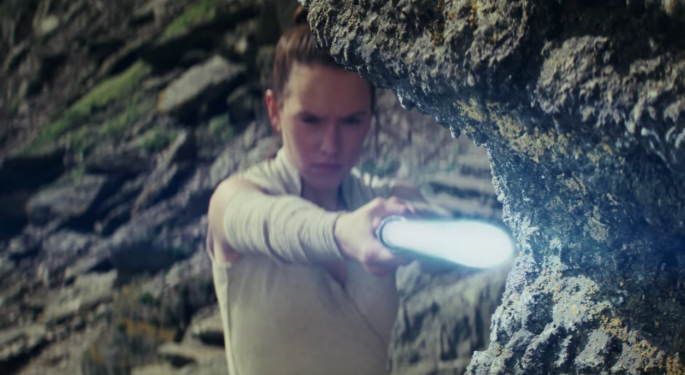 The highly-anticipated premier of Walt Disney Co (NYSE: DIS)'s "Star Wars Episode VIII: The Last Jedi" is only a few weeks away, and "Star Wars" fans are already speculating about potential plot twists and story arcs.
Until the Dec. 15 release date rolls around, here are eight controversial fan theories about what moviegoers can expect.
1. The Knights of Ren were trained by Luke Skywalker.
This popular theory suggests that the knights may have been Jedi apprentices of Luke who survived the attack on the academy. This storyline could help explain why Luke was driven into exile if he witnessed his former students turn to the dark side of the Force.
2. Kylo Ren and Rey are siblings.
There is some kind of connection between Rey and Ren, and some fans believe that the two may actually be Skywalker siblings. Rey's flashback of Ren killing someone in front of her may have actually been him saving her during the attack on the academy.
3. Rey is Obi-Wan Kenobi's granddaughter.
The idea behind this theory is that Rey could have been conceived during the time Obi-Wan was guarding over Luke on Tatooine. It could also explain why Rey has such a powerful command of the Force with relatively little training.
4. Rey is a clone of Luke.
Early versions of "The Force Awakens" reportedly opened with a shot of Luke's severed hand, leading some fans to speculate that the hand may have been used by someone to clone Luke and create Rey (or some other character). This plot twist could also help explain all of Rey's connections to Luke and her unexplained Force-related abilities.
5. Snoke was the first to use the Force's dark side.
Fans love the Snoke character, which is shrouded in mystery. One online theory suggests that Snoke may be an ancient entity which was the first to discover and use the powers of the dark side of the Force.
6. Snoke is Anakin's father.
Another popular theory regarding Snoke is that he is actually responsible for Anakin's creation. Anakin was supposedly an immaculate conception, born with more midichlorians than any other Jedi. If Snoke played a role in Anakin's creation, it would give viewers some insight into the breadth of his powers.
7. Rey will become a double agent.
The last scene in the most recent trailer ends with Rey accepting Ren's hand, but things are not always as they seem. One of the more popular theories is that Rey may trick Ren into believing she has turned to the dark side but instead she will be working to undermine the First Order from within the belly of the beast.
8. Kylo Ren is already a double agent.
A similar theory puts Kylo Ren as the double agent secretly working against the First Order from the inside. Some supporters of this theory point to Ren's seeming conflict when killing Han, while others say Han and Ren worked together to fake his death.
Related Links:
A New 'Star Wars' Trilogy Is Coming
Storms, Streaming And 'Star Wars': An Updated Disney Outlook
View Comments and Join the Discussion!
Posted-In: Star Wars Star Wars: The Force AwakensNews Rumors Crowdsourcing Events Media General Best of Benzinga