The Pros And Cons Of MoviePass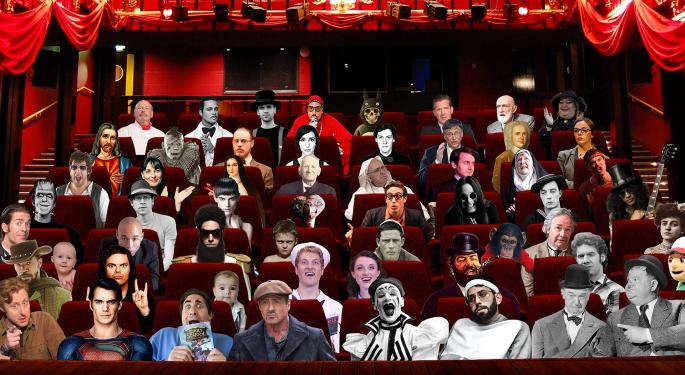 Since the beginning of September, Helios and Matheson Analytics Inc (NASDAQ: HMNY) stock has been on a wild ride from under $3 per share to above $32 per share then back below $15. Much of the speculation on Wall Street has been tied to the company's stake in MoviePass.
But while some on Wall Street are very excited about the long-term potential for MoviePass, many movie enthusiasts are unfamiliar with what the services does (and doesn't) offer. Here's a closer look at MoviePass.
What Is MoviePass?
The idea behind MoviePass is incredibly simple. Instead of buying a movie ticket each time they go to the movies, moviegoers can instead choose a monthly subscription model. MoviePass is currently charging $9.95 per month and recently ran a limited-time promotion (one-year subscription for $89.95, or $6.95 per month). That subscription allows each customer the option of seeing a maximum of one movie in theaters per day at no additional charge.
The Pros Of MoviePass
It's easy to see the biggest pro of MoviePass—it's cheap. If you go to the movies twice a week, each of your trips will cost you an average of 87 cents. For most theaters, $6.95 is roughly the standard ticket price of a single movie. In other words, as long as MoviePass subscribers go to the movies at least once a month, they should be breaking even on their subscription price.
MoviePass also has no blackout dates, meaning their passes are good on weekends, holidays, premier dates and other high-traffic dates. You also likely won't have to go out of your way to use your pass. MoviePass is already accepted at more than 90 percent of U.S. theaters, including AMC, Regal and Cinemark theaters.
The Cons Of MoviePass
As great as the service sounds, there are drawbacks. Imax and 3D movies aren't eligible for MoviePass, meaning you're stuck with the standard 2D silver screen. In addition, you can't plan your trip in advance because the MoviePass app only works within 100 yards of an eligible theater. For most movies, this feature wouldn't be a problem, but tickets to popular movies can sell out online well in advance of showtime.
MoviePass can also be problematic for large groups because each subscriber is only able to purchase a single ticket. Coordinating seats for a large number of people, especially if a theater has numbered seats, can be difficult.
Finally, MoviePass subscribers shouldn't expect that $6.95-per-month price to last for long. MoviePass charged $29.99 per month for its service as recently as August, but has significantly lowered its prices and decided to operate at a loss in an effort to boost subscriber numbers and focus on building its brand. Subscribers can expect rates to go back up at some time in the future.
Related Links:
Why MoviePass Could Hit 1 Million Users This Year And What It Means For Helios & Matheson
Posted-In: AMC cinemark imaxEducation Opinion Top Stories Tech General Best of Benzinga
View Comments and Join the Discussion!