Bill Ford Says Detroit And Silicon Valley Are Frenemies, Thinks There's 'Lack Of Clarity' In Automaker Valuations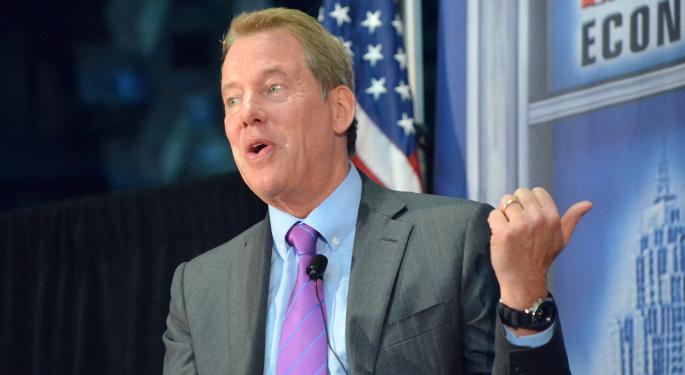 As automakers develop autonomous vehicles, it's not the finish date that's important — it's when the technology is ready for the road, Ford Motor Company (NYSE: F) Executive Chairman Bill Ford said Tuesday.
"Every single piece" of the automotive business is changing, Ford said in remarks to the Detroit Economic Club, including the ownership model; propulsion, from internal combustion to electric; and the integration of 3-D printing, artificial intelligence and autonomous systems in vehicles.
"I also don't think in many of these cases it's who's first to market. It's who's most thoughtful to market that I believe will win," Ford, 60, said at the luncheon at Ford Field, the Detroit Lions' home turf.
The Blue Oval is "well-positioned" in its investments across the technology spectrum, Ford said.
He singled out artificial intelligence as a technology with "the capability of either transforming things in an incredibly positive way or not."
In propulsion, Ford told outgoing Detroit Economic Club CEO Beth Chappell that his company is focusing on electric vehicles.
"Right now — and I think it's the right bet — most of us are betting hard on electrification."
Detroit And Silicon Valley: 'Frenemies'
Ford said he didn't want to make negative comments about electric car manufacturer Tesla Inc (NASDAQ: TSLA), a 14-year-old company with a market cap of $55.14 billion, to 114-year-old Ford's $48.72 billion.
"They've done a really nice job. My hat's off to them," he said. The executive chairman added "you're seeing them maybe struggle a little bit" with the "blocking and tackling" work of the auto business.
When Chappell asked Ford about the Motor City's relationship to Silicon Valley, he said, "The term out there is frenemies."
Ford must be "facile and nimble enough" to work with both legacy companies and startups, the executive chairman said.
"I do think this notion of friends and competitors — that's just the world we live in and we'd better get used to it."
'A Lack Of Clarity' In Automaker Valuations
After Ford left the stage, he told Benzinga his thinking on the relationship between automakers' stock valuations and their autonomous vehicle development.
"I think there's perhaps a lack of clarity, because on the one hand you have a group of auto analysts that look at the traditional side of the business. They will say 'you've had a good run for a number of years now, and we don't see a lot of upside from here,'" Ford said.
"Then you've got another group saying, 'well, there's going to be winners and losers in this new tech era and we're not exactly sure where to place the bets yet.'
"Once there starts to be convergence of the two and also a little bit greater clarity, I think you'll start to see the valuations change."
Related Links:
'It's A Huge Deal': Delphi Buys Autonomous Startup nuTonomy
A New Bull Case For Ford Sees More Than 100% Upside
Image Credit: Ford Executive Chairman Bill Ford addresses the Detroit Economic Club Tuesday, Oct. 31 at Ford Field. Photo by Dustin Blitchok.
Posted-In: Beth ChappellNews Travel Events Top Stories Tech Interview General Best of Benzinga
View Comments and Join the Discussion!