'It's A Huge Deal': Delphi Buys Autonomous Startup nuTonomy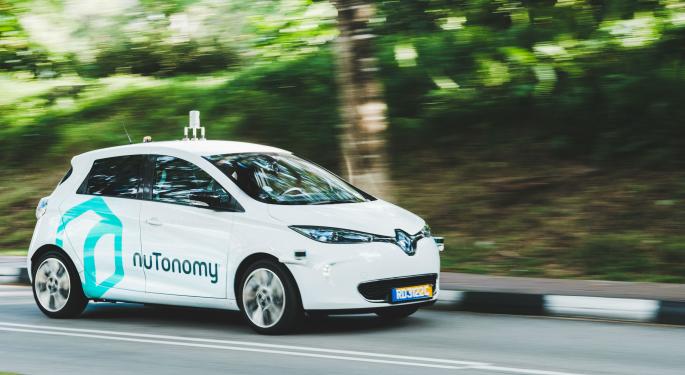 The autonomous driving startup nuTonomy — which received seed funding from the mobility-focused, Detroit-based venture capital fund Fontinalis Partners — is being acquired by Delphi Automotive PLC (NYSE: DLPH) in a $450 million deal.
The purchase accelerates Delphi's commercialization of autonomous driving and automated mobility-on-demand solutions, or AMoD, globally, the U.K.-based company said in an announcement.
Delphi is paying $400 million upfront for the autonomous startup, with earn-outs totaling about $50 million, the company said.
NuTonomy has driverless vehicle fleets deployed on the streets of Singapore and Boston and plans to launch a commercial self-driving taxi service in Singapore in 2018.
The Motor City Connection
"It's a huge deal. It's a huge deal for Detroit. It's a huge deal for mobility broadly. And it's a huge deal for Fontinalis Partners," Chris Thomas, a founder and partner at the venture capital fund, told Benzinga Tuesday.
Fontinalis Partners was founded in 2009 by former Ford Motor Company (NYSE: F) CEO Bill Ford; Booth American Co.'s Ralph Booth; venture capital executive Chris Cheever; and Thomas, who worked in investment banking and as a communications officer in the U.S. Army prior to joining the fund.
Fontinalis Partners invested in nuTonomy after an analysis of the global autonomous ecosystem, Thomas said.
"When we looked at the team, the tech approach and their ability to scale, nuTonomy checked every box first, every time," he said. "This is truly an instance where nice guys finish first."
Fontinalis was an investor in both nuTonomy's $3.6 million seed funding round in 2016 and a $16 million Series A funding round later the same year.
"What this deal represents is that autonomy is here to stay. This is just the beginning. We're in the first inning of the first game," Thomas said.
While Detroit is the birthplace of the automobile, that doesn't mean autonomous technology is the city's birthright, Thomas said.
"We have all the tools, all the talent [and] all the technology to compete and to win. But we have got to run after it," he said.
Deal Doubles Delphi's Autonomous Team
Karl Iagnemma and Emilio Frazzoli, two MIT PhDs, founded nuTonomy in 2013. The startup, which is developing proprietary full-stack autonomous driving technology, will bring more than 100 employees to Delphi's existing 100-person autonomous driving team, the companies said.
Delphi is the industry's "most formidable provider of autonomous mobility solutions," president and CEO Kevin Clark said in a statement.
"This transaction is another example of our ongoing dedication to developing, implementing and commercializing the highest performing and safest AD system available."
Related Links:
Your Guide To Trading The Autonomous Vehicle Theme
Transportation Startups Converge At Detroit's Techstars Mobility Expo
View Comments and Join the Discussion!
Posted-In: Chris ThomasM&A News Contracts Top Stories Startups Exclusives Interview Best of Benzinga