Ride-sharing apps such as Uber and Lyft have revolutionized travel over short distances. But what about college students who are 100 miles from home?
Wheeli, an app that connects students for ride sharing, is building a solution. The New York City-based company is one of 11 startups that showed off their platform to 150 manufacturers, suppliers and investor representatives Wednesday at the Techstars Mobility Industry Expo & Demo Day in downtown Detroit.
The idea for Wheeli — which is available on iOS and the web and launching on Android in about a month — came from CEO Jean-Pierre Adechi's frustration with spending $160 each weekend to travel the 100 miles from Wesleyan University to New York, said Lee Jorgensen, Wheeli's community manager.
Wheeli, which costs an average of 12 cents per mile, has launched on three eastern seaboard campuses: the University of Vermont, the University of New Hampshire and the University of Massachusetts Amherst.
"It's the cheapest transportation solution for college students, which is pretty great," Jorgensen told Benzinga.
Related Link: Startup Angels Debuts Marketplace Platform: 'We're Trying To Make It Easier For Potential Investors'
A Safety Net For Motorcycles
Wheeli was one of 11 startups from six countries at the event. Techstars Mobility, which is backed by Ford Motor Company F, has invested in 23 startups in the last two years that are now collectively valued at $200 million, said managing director Ted Serbinski.
Damon, another startup making its pitch Wednesday, brought two Yamaha motorcycles to Detroit. One was equipped with stereoscopic cameras, while the second was fitted with Lidar sensors.
The Vancouver-based company is developing a cloud-connected system for motorcycles with sensors that perceive more threats than a human operator can, said engineer Bob Cao. It's expected to cost between $700 and $1,000 when it reaches the market, and Damon is in discussions with both motorcycle manufacturers and tier one suppliers, he said.
"Over the last 20 years, as car safety technology has dramatically increased, motorcycles aren't really any safer than they were in the '60s and '70s," Cao said.
As a simulator showed a car passing a motorcycle on the left during a demonstration of Damon's technology for Benzinga, haptic feedback was sent to the Yamaha's left handlebar to alert the driver of the threat. In another scenario, both handlebars pulsated with increasing intensity as the system detected an imminent collision.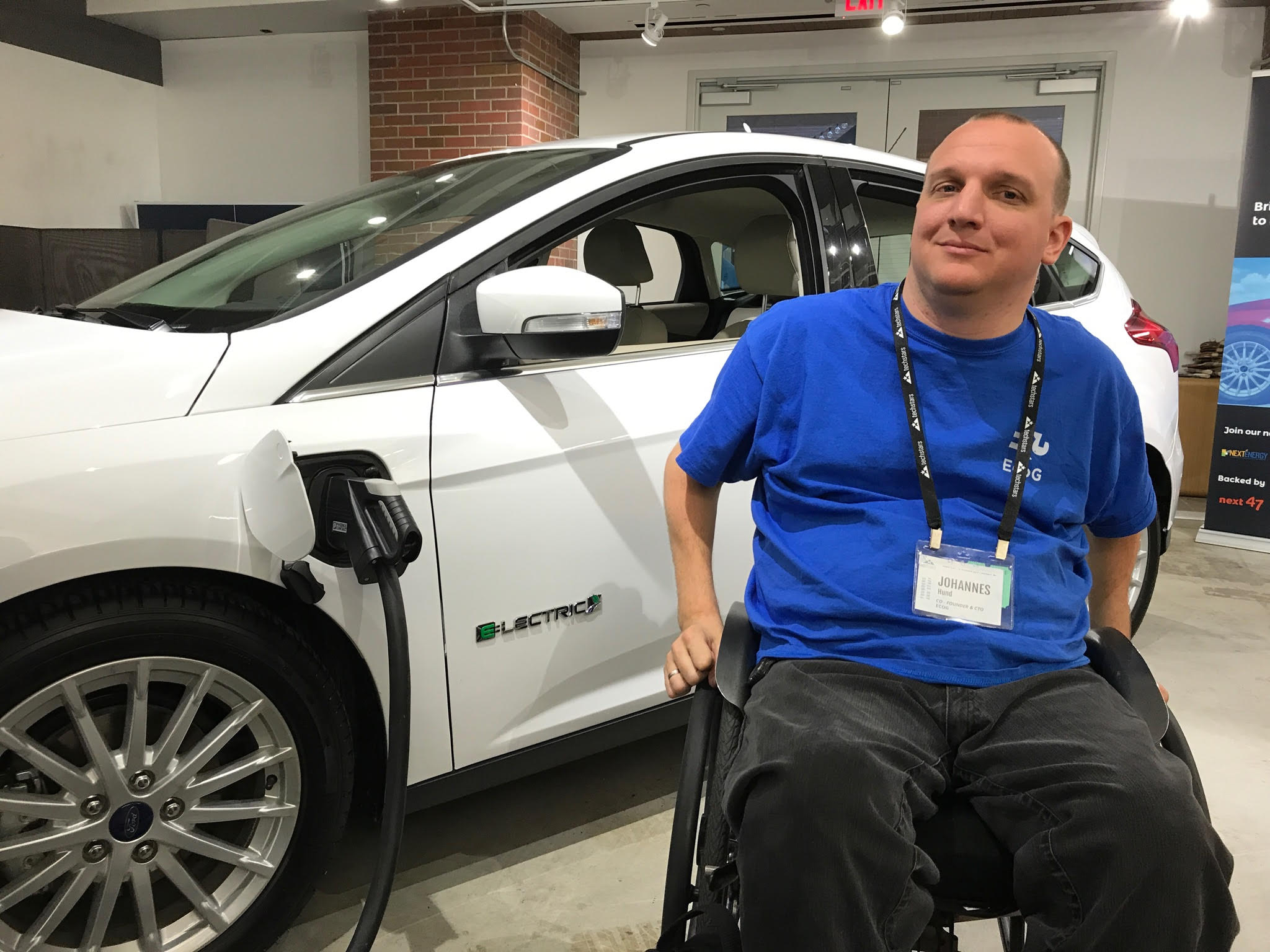 "What we're trying to solve is how to monetize a connected vehicle charging infrastructure," says Dr. Johannes Hund, founder and chief technology officer at the startup EcoG. Photo by Dustin Blitchok.
Monetizing The EV Infrastructure
As electric vehicles become more widely adopted, the Munich-based startup EcoG aims to connect vehicles, their drivers and businesses to further integrate EVs into the global infrastructure.
The platform-as-a-service company, which has a demo installed at the NextEnergy tech accelerator in Detroit, is bringing the app economy to charging stations, said Dr. Johannes Hund, a founder and chief technology officer at the startup. EcoG is in talks with businesses, charger manufacturers and fleet operators, he said. EcoG was founded by former Siemens employees.
The platform could allow ubiquitous businesses such as Starbucks Corporation SBUX and Subway to use EV charging stations at their locations as a perk, Hund said.
"What we're trying to solve is how to monetize a connected vehicle charging infrastructure."
Drones That Don't Drown
In another corner of the Techstars Mobility office, Chris Seto used a remote control to guide a drone submerged in a nearby pool.
Seto is a staffer at Fathom, a startup founded by three graduates of Hope College in Holland, Michigan — first as a senior design project at a school, then as a Kickstarter-funded venture that received $197,943 in pledges against a $150,000 goal.
The drones have modular thrusters and are rated for water depths of up to 150 feet, Seto said.
"We've never actually had a failure due to pressure. It probably can go deeper," Seto said with a laugh.
The company is partnering with resorts and launching a pilot program in Hawaii. The drones have a built-in 1080p camera and mounts for GoPro Inc GPRO cameras.
"We really wanted it to be affordable, intuitive and easy to use," Seto said.
Chris Seto demos an underwater drone made by the Michigan startup Fathom at the Techstars Mobility office in Detroit. The company was started by three Hope College graduates. Photo by Dustin Blitchok.
Related Link: How This Startup Accelerator Could Help Find 'The Next Uber' In Detroit
Main image: Bob Cao, an engineer at the Vancouver startup Damon, with a Yamaha motorcycle that's fitted with stereoscopic cameras designed to detect and prevent accidents before they happen. Photo by Dustin Blitchok.