How This Startup Accelerator Could Help Find 'The Next Uber' In Detroit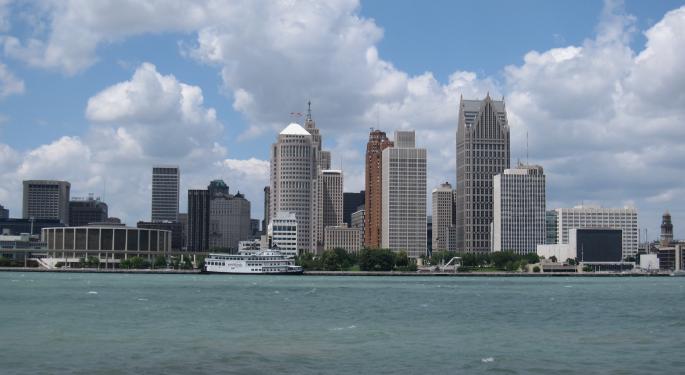 Techstars, one of the world's leading startup accelerators, has already set up shop in Austin, Boston, Boulder, Chicago, London, New York and Seattle. Now Techstars has teamed up with Fontinalis Partners to bring a new, mobility-only accelerator to Detroit.
"We've been working for more than two years to bring Techstars to Detroit," Chris Thomas, a Founder and Partner at Fontinalis Partners, told Benzinga. "This is the largest transportation technology cluster in the world. It's one that has amazing engineers and an amazing ecosystem."
There is a void, however when it comes to early-stage start-ups. Thomas believes that Techstars Mobility, the newest addition to the Techstars family, can change that. He said the accelerator will help attract companies that can add and improve the current ecosystem -- and help it transform.
"That was something that we identified very early on and wanted to make sure we played a role in bringing a great accelerator here," said Thomas. "We had a chance to look around the world at all the accelerators that were out there -- some of the best and brightest. Techstars, based on its success (both from a geographic and a sector-focused program perspective), really stood out."
Techstars Mobility is already attracting top talent, including Ted Serbinski, a former partner with Detroit Venture Partners.
"I'm joining Techstars to continue in my mission to make Detroit a top-10 startup hub in the country," Serbinski, who will serve as Techstars Mobility's managing director, told Benzinga. "[I want] to define Detroit as the startup mobility and next-generation transportation hub of the world."
Serbinski said that Techstars Mobility validates Detroit's growth as a startup community.
"It's growing and there is significant potential," Serbinski added.
"Techstars bets early on rising ecosystems (think Boston in 2008, Austin in 2010) before those ecosystems explode with growth. The writing is on the wall: move your startup to Detroit, it's the place to be!"
'The Next Uber'
Techstars Mobility is starting off with multiple sponsors, including Ford Motor Company, Magna International Inc. and Verizon Telematics. Their support reinforces Fontinalis' belief that the next-generation mobility sector will unearth countless innovations.
Related Link: Are Uber And Lyft Responsible For This Stock's 35% Decline?
"I very much want to see the next wave -- the next RelayRides, the next Uber -- founded here in Detroit," said Thomas. "I think this is a program that very much has the potential to make that hope a reality."
To date, Fontinalis has invested in road, rail and bike-related businesses. Thomas said there are also tremendous opportunities in maritime travel and logistics, air travel and logistics, and the utilization of drones (both from a data collection and asset utilization perspective).
'So Much Innovation'
Thomas, as well as everyone else at Fontinalis, has a great appreciation for the 100+ years of innovation that have come out of Detroit -- particularly in the mobility space. He now looks forward to supporting the Next-Generation Mobility companies of tomorrow.
"I like to say that Detroit's past and present has positioned it perfectly to drive the future of mobility here at home and around the globe," Thomas concluded.
"I believe that wholeheartedly and I'm really excited about this program and being a part of that."
Disclosure: At the time of this writing, Louis Bedigian had no position in the equities mentioned in this report.
Image credit: Bernt Rostad, Flickr
View Comments and Join the Discussion!
Posted-In: Chris Thomas Fontinalis RelayRides TechStars Ted Serbinski Verizon TelematicsTech Best of Benzinga