A Look At Tbh, The Hot New App Facebook Just Bought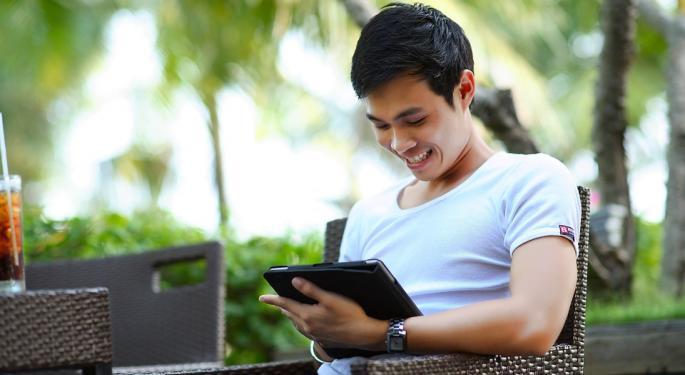 Just a few months ago, Facebook Inc (NASDAQ: FB) fell in infamy as it pumped suicide, sexual assault and even homicide clips through its channels. The platform was exposed to host child porn. Its good repute was sullied.
But now, the company is on a lighter path, intent on being a source of positivity.
On Tuesday, Facebook expanded its powerful communications portfolio with the acquisition of tbh, a free self-esteem app with the tagline "See who likes you." The name is shorthand for "to be honest," and the company promotes encouraging interactions through anonymous mock elections.
"We built tbh because we believe that social networks should make us feel better about ourselves — not worse," the site reads.
Users vote for "who is most likely to be president," "best person to roadtrip with," or the friend whose "perseverance is admirable," and the winner is notified of their victory, their slate of competitors, and their elector's grade and gender. Poll options are pulled from phone contacts, added by username or included in affiliated school networks.
"We worked backwards from the content we wanted to see, which was nice comments about ourselves — a product you'd open and it'd tell you all your strengths and things you're good at and make you happier and more productive," the tbh team told TechCrunch.
So far, the concept has been a hit. Since its Aug. 3 launching, tbh has seen 5 million downloads, transmitted more than a billion messages, accrued 2.5 million daily active users, and topped charts for free iOS apps.
Its popularity is no doubt appealing to Facebook as it struggles with both negative sentiment around trolling and the caprices of the teen user base, which increasingly prefers Instagram and Snap Inc (NYSE: SNAP)'s Snapchat. Tbh specifically targets that complex demographic by tapping into high school and college networks.
Facebook's strategic buy, which TechCrunch reported to be less than $100 million, lends exposure to the younger crowd while preventing the emergence of another social competitor. The parent will allegedly allow the app team to continue its operations with relative independence while assuming the four-person staff and contributing resources.
"TBH and Facebook share a common goal — of building community and enabling people to share in ways that bring us closer together," Vanessa Chan, a Facebook spokeswoman, said in a statement. "We're impressed by the way TBH is doing this by using polling and messaging, and with Facebook's resources TBH can continue to expand and build positive experiences."
Related Links:
How YouTube, Facebook Censorship Aligns With US Counter-Terrorism Efforts

What Is A Social Media Company's Responsibility To Fight Criminality On Its Platform?
Posted-In: SnapChat TBH techcrunchM&A News Psychology Tech General Best of Benzinga
View Comments and Join the Discussion!